Are you considering a career change or aiming to enhance your skills to advance in your current job? Pursuing an MBA can be a great option to fuel your ambitions, and India is known for offering top-notch MBA programs. However, with numerous best management courses available in India in 2023, choosing the right one can be challenging.
When deciding on an MBA specialisation for 2023, it is crucial to consider your career goals. With the increasing number of MBA specialisations in India, it may take some time to determine the most suitable program for you. India is home to a wide range of MBA specialisations, including finance, human resources, and marketing. In fact, according to MBA Universe, there are over 3000 MBA institutions in India, each offering approximately 8,500 different MBA programs. Therefore, depending on your career goals, one specialisation may prove more beneficial for you than another.
An MBA in Finance can be highly advantageous if you want to work in the banking or investment industry. This specialisation offers a comprehensive foundation in accounting, finance, and quantitative analysis. You will understand financial management principles, investment strategies and risk assessment, and acquire financial decision-making skills. Such capabilities are highly valued in finance-related roles, such as financial analyst, investment banker, portfolio manager, or corporate finance executive. With a focus on finance, this MBA program can provide you with the expertise and credentials needed to pursue a successful career in this dynamic and competitive field.
An MBA specialisation in human resources, management or organisational development will be beneficial for those looking to pursue a career in human resources. This specialisation provides an understanding of the fundamental principles of human resources management and skills in recruitment, planning, and development. It also teaches you how to manage people and create a healthy work environment effectively.
Find out more – MBA in Finance or MBA in HR: Which Degree Has a Better Scope?
A marketing specialisation may benefit those seeking a career in marketing, advertising or digital media. This specialisation will teach you how to develop and execute effective marketing strategies, from researching the market to creating a media plan. It will also provide you with skills in customer service and digital technologies.
It is essential to consider the job market and your career goals before you make a decision.
Also read – What is MBA in Marketing? Is it worth it?
MBA is still the best course to study in 2023!
As the world continues to evolve, the demand for business professionals with critical thinking and problem-solving abilities is growing. Consequently, MBA courses are increasingly popular among the youth in India who aspire to advance in their careers.
The rising demand for MBA graduates indicates that businesses rely on them to maintain competitiveness in an ever-changing business environment. MBA graduates have job prospects across various industries, including technology, healthcare, and financial services.
Which university to study best management courses in India?
In recent years, the number of students pursuing MBA courses in India has surged significantly. This is due to the high demand for MBA graduates in the corporate world, which offers a wide array of lucrative job prospects. An MBA degree can unlock numerous opportunities and pave the way for well-paying careers. However, thorough research and careful consideration are vital when choosing the right university to pursue an MBA in India. Factors such as accreditation, reputation, faculty expertise, curriculum, industry connections, and placement opportunities should be taken into account to make an informed decision that aligns with your career goals and aspirations.
Shoolini University
Shoolini University is India's No.1 private research university, renowned for its excellence. Recognised as one of the 'Top 65 Business Schools in India', according to the National Institutional Ranking Framework (NIRF), Shoolini University offers a unique program designed to provide a comprehensive learning experience.
What sets Shoolini University apart is its collaborative approach, integrating academia and business. Students can benefit from the stimulating environment and the opportunity to learn from experts in the field. With guidance from esteemed Indian and international corporations, students gain real-world exposure and explore various avenues for growth.
At Shoolini University, you can benefit from a dynamic learning environment that prepares you for success in the business world. The university's reputation, industry connections, and focus on practical experiences make it an attractive option for those seeking a high-quality and best management courses in India.
Chart your career with Shoolini MBA courses
Find your niche and shape your future with our diverse range of MBA specialisations.
Data Science: This specialised MBA program prepares candidates for professions in strategic planning, brand management, risk management, management consulting, and public finance. It equips applicants with a comprehensive understanding of data science and enhances their cross-functional management abilities.
Marketing: This program critically assesses the marketing function and its impact on organisational performance, both in commercial and non-commercial contexts. Professionals in the global market develop skills to evaluate and address ethical and environmental issues related to marketing activities. The state-of-the-art course examines key analytical frameworks and tools used in marketing.
Digital Marketing: Shoolini University designed this curriculum in collaboration with industry professionals to better educate students for the competitive and rapidly expanding digital marketing industry. The curriculum prioritises practical and application-focused learning.
Food Technology: The transdisciplinary MBA in Food Technology program at Shoolini University prepares students for the industry by teaching them management and food technology skills. It provides students with the business knowledge and abilities necessary to succeed in this field through a unique and relevant combination of subjects.
Human Resources: This uniquely designed curriculum emphasises hiring the best candidates, managing them effectively, and providing workforce direction and leadership. It is ideal for students with strong communication abilities, business acumen, and an interest in human resource administration.
Pharma and Healthcare: The MBA Pharma and Healthcare program at Shoolini University is a two-year postgraduate course combining management and marketing with studying pharmaceutical sciences. It introduces graduates to important organisational roles within the pharmaceutical business while emphasising their holistic development.
Biotechnology: This program provides students with comprehensive knowledge of the thriving biotech sector's strategic, financial, and managerial aspects. With a focus on business and management, candidates are well-prepared to face the challenges of this industry.
Retail: The MBA in Retail Management specialises in retail analytics and e-commerce, purchasing and merchandising, category management, retail store operations, visual merchandising, and supply chain management. Shoolini University explores the impact of retailing on the economy and society, as well as the effects of culture on retailing.
Banking and Insurance: This program provides specialised training in international banking and insurance, risk management, treasury operations, project & infrastructure, and investment banking. It covers fundamental management concepts and cultivates world-class banking and insurance industry expertise among graduates.
Finance: Shoolini University trains students for various management positions in finance, including resource collection management, investment control, and evaluation. The curriculum provides an in-depth understanding of financial resource administration and control within a company. Students learn to analyse the stock market, monetary systems, and other financial elements.
Logistics and Supply Chain Management: This course focuses on the supply chain's core components, roles, and responsibilities. It covers project planning, sourcing and logistics support for raw materials, production processes, and the delivery of finished goods. Supply chain management is a multidisciplinary field that plays a vital role in business operations.
Tourism: This program imparts knowledge of various aspects of travel, travel sociology, diverse cultures, finances, and marketing. Postgraduates have access to a range of job prospects in the tourism sector, including top management roles, sales, marketing, human resources, and event organising.
How is Shoolini MBA unique?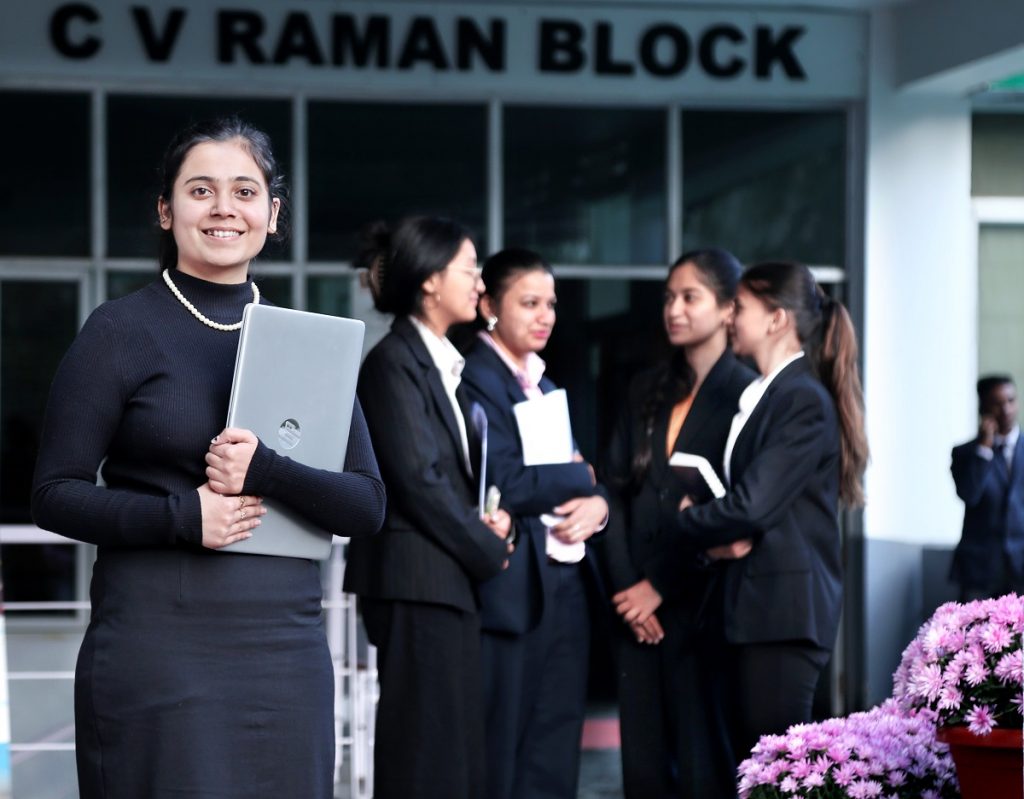 Shoolini University offers a residential MBA program that stands out among its peers. With a focus on providing students with a comprehensive and practical education, Shoolini has established rewarding partnerships with renowned institutions worldwide. Collaborations with the University of Naples in Italy, Sichuan University in China, and Magna Carta College in Oxford, UK, have expanded the university's global reach. This is further reinforced by more than 250 Memorandums of Understanding (MoUs) with universities around the world.
The university's commitment to providing international exposure to its students is evident through internships and workshops in countries such as South Korea, Japan, Russia, Egypt, Austria, the United Arab Emirates, Germany, the USA, the United Kingdom, China, and Taiwan. This global perspective enriches the learning experience and equips students with a well-rounded understanding of business practices across diverse cultures.
Shoolini University's MBA program incorporates the unique SPRINT (Skill Progression through Rapid, Intensive & Innovative Training) module. These skill-development modules, held during each quadmester, provide students with hands-on experience, industry exposure, team-based activities, leadership development exercises, etiquette lessons, management simulations, and guest lectures. The emphasis on practical learning through group projects and practical tasks ensures that students are well-prepared for the challenges of the business world.
One notable advantage of pursuing an MBA at Shoolini University is the institution's commitment to 'Mission 130', which aims at 100% student placements with 30% in top corporations. While other institutions may only offer placement assistance, Shoolini University goes the extra mile to guarantee job opportunities for its graduates. This dedication reflects the university's commitment to its students' success and career prospects.
In conclusion, Shoolini University's MBA program stands out for its residential nature, global collaborations, practical learning opportunities, and strong focus on student placements. By offering a well-rounded education that combines theoretical knowledge with hands-on experience, Shoolini prepares its students to excel in their chosen fields. With its commitment to ensuring 100% placements, Shoolini University provides a secure and promising path for students seeking a future-proof career in business management.