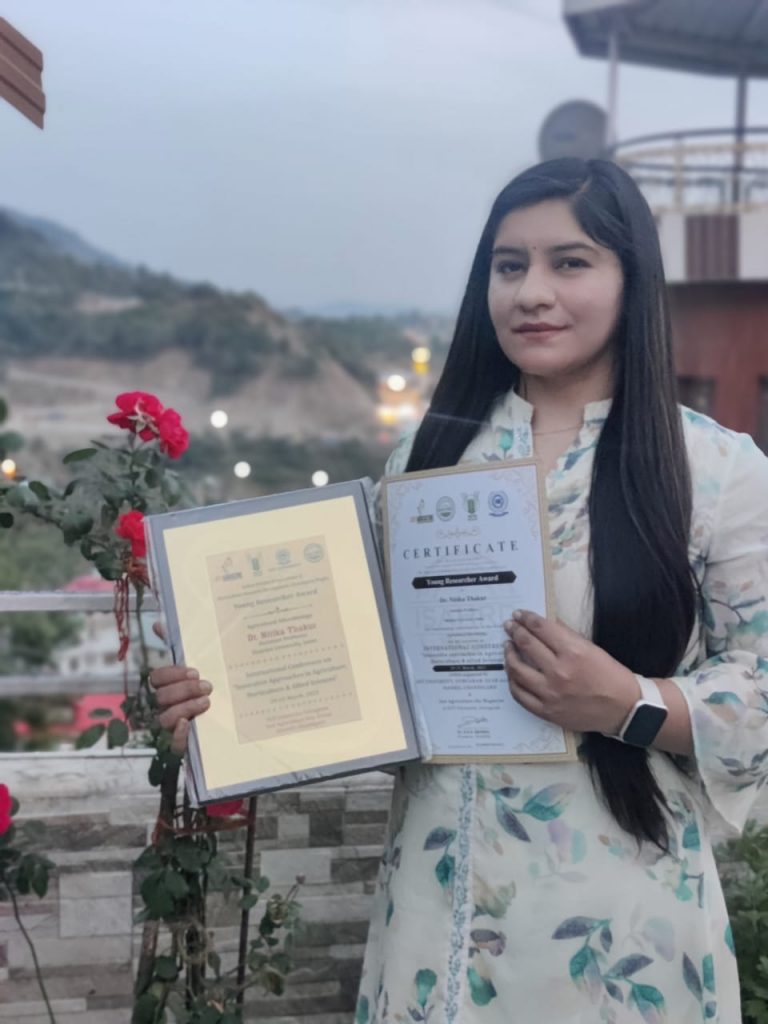 Nitika Thakur, an Assistant Professor of Microbiology at Shoolini University, received the Young Researchers Award at the International Conference on 'Innovative Approaches in Agriculture, Horticulture, and Allied Science' held in Delhi (29th-31st March, 2023).
Prof Nitika's research paper, titled "Synergistic soil-less medium for an enhanced yield of crops: a step towards incorporating genomic tools for attaining net zero hunger," impressed the judges and audience with its innovative approach towards enhancing crop yield. Her research addressed the global challenge of net zero hunger by introducing sustainable agricultural practices.
In her acceptance speech, she expressed her gratitude towards the conference organisers and the panel of judges for recognising her work. She also thanked the Shoolini University community, including Chancellor PK Khosla, Vice Chancellor Atul Khosla, Deans and Directors, faculty members, and staff, for their constant support and encouragement during her research journey.
Her achievement reflects the calibre of the faculty members at Shoolini University, who are trained and educated at some of the world's best universities, including the National Cancer Institute and NIH in the USA, IISc and Oxford.
Shoolini University offers students access to state-of-the-art laboratories and research facilities, and opportunities to collaborate with leading researchers and industry experts globally.
This award is a proud moment for Shoolini University. It demonstrates the university's commitment to nurturing talented young researchers who can bring about positive change in the world through innovative ideas and research.