Returns Rs 1 lakh help paid by VC for MBA fee
Vishakha Thakur
Success is not measured by wealth, but the trials and tribulations one encounters during the journey to triumph over all odds, and gratefully remember every person who contributed to the effort on the way.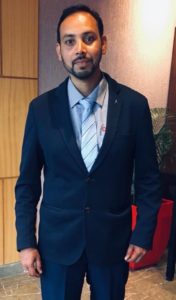 One such successful person is our illustrious alumni, Mr Gopal Das, who rose from a humble background to attain success in his career. If it wasn't for Vice-Chancellor Prof PK Khosla, Mr Das would never have been able to achieve his goals in a top multinational corporation. Brimming with gratitude, he fondly recalls the personal financial assistance provided by the philanthropist, Prof Khosla, during his hour of need.
He recently met Prof Khosla and expressed his desire to return the money, over Rs 1 lakh, given by him for his MBA fee. Prof Khosla was pleasantly surprised with the gesture as he had completely forgotten about it. He immediately announced that a revolving fund would be created from the money returned by Mr Das to help deserving and needy students. It was also decided to honour him at the next convocation.
Mr Gopal Das hails from Solan. His father, Late Pat Ram, passed away when he was in the 10th standard and his mother, Mrs Vidya Devi, did menial jobs to raise the family. He completed his schooling at Raja Delip Government Senior Secondary Boys School, Solan, in the non-medical stream and then moved on to pursue graduation and post-graduation diploma at the Government PG College, Solan. He used to take tuition to meet his financial needs.
After completing his diploma, it was impossible for him to bear the cost of a professional degree. By God's grace I chanced upon Prof Khosla and Mrs Saroj Khosla and divulged to them all about my passion for studies but my inability to afford it, he recalls. Offering to personally bear all his expenses, Prof Khosla advised him to continue his education in management and join MBA. The guidance and monetary support given by Prof Khosla at this critical juncture completely turned my life around as well as my way of thinking."
This bright student then joined the Department of Management (MBA 2008-2010) batch. He said: Now, I want to help others and spread the same message of humanitarianism to society.
After a year, he got selected in B?yer, which ranks Number 3 in an international ranking of the best and strongest company brands.
For the past nine years, I have been working as the senior area business manager, India, (North Zone) in Punjab, Haryana, Chandigarh, Himachal Pradesh and Jammu and Kashmir for a world-leading and one of the oldest German multinational corporations, B?yer, for which most of the Nobel Prize scientists have worked, he added.
When asked about his future plans, he shared, I want to be the youngest manager to step into top management in India and I know I will achieve this with my performance in a competitive and challenging environment.
Recalling his days in the University, he said I really enjoyed my time in the department of management at Shoolini University under the expert guidance of Dr Khosla, Dr J B Nadda and other faculty members, including Dr Yasmin Jhanhua, Dr Sulochana Sayal and Dr Nisha Raghuvanshi. I would like to thank all of them from the bottom of my heart for their direct or indirect contribution to my career, he smiled.
His message: Never give up!