If you want to learn all about market strategies, advertising and resource management in marketing, a degree in MBA in Marketing will be perfect for you. It will help you strengthen your management skills and pursue a competitive career in a challenging field like marketing.
Why opt for MBA in Marketing?
Students learn traditional marketing strategies and new age concepts like email, social media and digital marketing.
A range of career options open up after MBA in Marketing, including consultancy and Enterprising Management.
One of the most in-demand and popular MBA specialisations.
Key Subjects include
Management Concepts
Management and Cost Accounting
Marketing Management
Business Environment
Marketing Management
Operations Management
Digital Marketing and Social Media Management
Consumer Strategy
Course Options
Unique options are available in an MBA Marketing course. Students can choose one of the many options that work best for them. Every course is designed to meet industry standards and student requirements.
Full-Time MBA in Marketing
It would be the best option for a fresh graduate.
Eligibility:
Minimum of 50% marks in graduation.
They should have qualified GMAT/CAT/MAT or state-level MBA entrance examination.
Many colleges offer a full-time MBA with marketing as a specialisation like Shoolini University.
MBA in Marketing at Shoolini University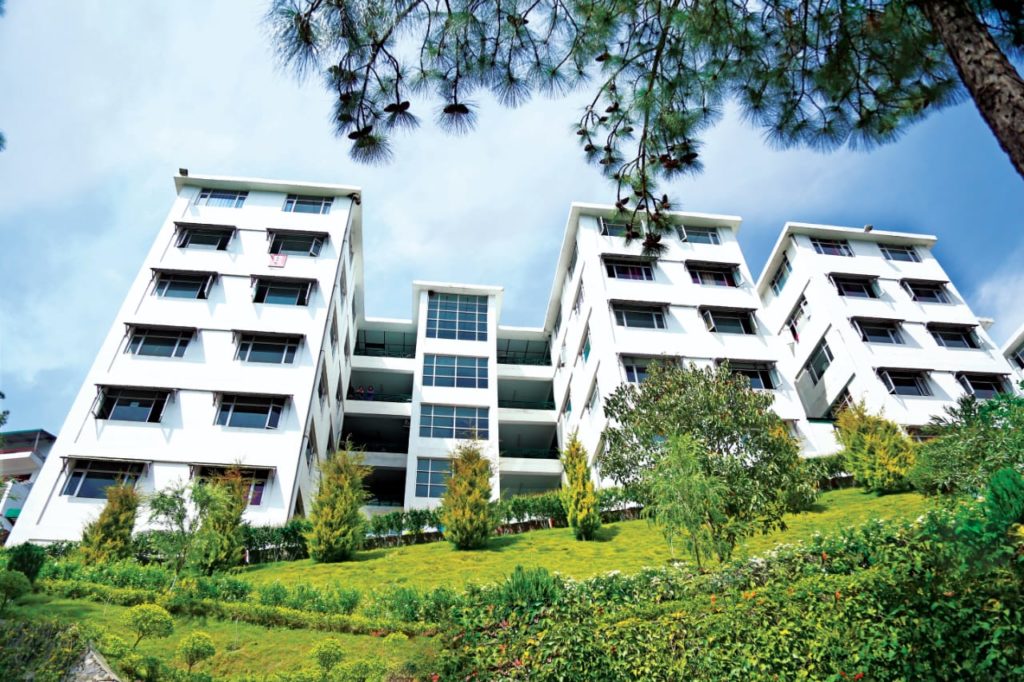 For those who wish to do a full-time MBA in marketing from a prestigious university in North India, Shoolini University located in Kasauli Hills is a great option. The course prepares students for the fierce corporate world. With its 100% placement record and global alliances with leading international universities, Shoolini is the perfect place to pursue a full-time MBA in marketing.
Shoolini University is an apt institution for pursuing a competitive MBA degree. Students get an opportunity to study in-depth concepts related to management. The Stanford-based SPRINT program is an accelerated development program that enables students to reach their true potential, imbibe knowledge, gain practical skills and acquire the confidence required to thrive in a competitive workplace. A range of opportunities open for them as the university provides experiential learning through various internship opportunities.
The Faculty of Management Sciences at Shoolini University is among the Top 65 Business Schools of India (NIRF).
Shoolini students get global experience through various exchange programs on offer at the university. The dedicated and proactive Placement Cell ensures 100% placements for students.
Employment Areas for MBA Marketing
There are different job sectors in which a student can seek employment after completing MBA Marketing. These include:
| | |
| --- | --- |
| FMCG Companies | Tourism-related companies |
| Consultancy Firms | Retail Units |
| Nationalised Banks | Advertising companies |
This course is a well-paying degree and those who successfully complete it can expect packages ranging from Rs 5 lakh per annum to Rs 20 lakh per annum. The remuneration depends on the location and viability of the company as well.
Multiple job profiles open up for students who successfully complete this degree. Some of the job profiles are:
Business Development Executive
Marketing Manager
Media Planner
Sales Manager
Product Manager
Asset Manager
Starting as a Marketing executive, students can rise to the position of Marketing Head, etc., with experience.
Is an MBA in Marketing worth it?
There are many career choices these days. Students find it difficult to make the "right" choice. Let's find out if this course is worth it.
Students who want to pursue a career in Marketing choose the course to gain professional competency in the field. The degree prepares students for different components of marketing. With exposure to different marketing strategies, they are ready for global challenges. It strengthens the skill set of students and gives them the knowledge of sectors like line management, entrepreneurial management and consulting.
The fee for this program is between Rs 4 Lakh and Rs 10 Lakh. This also depends on the fee structure of a specific university and the student's rank in the MAT/CAT entrance test, etc.
The knowledge and competitive edge the degree offers is incomparable. Working professionals gain networking ability and get the opportunity to put their theoretical knowledge into practice.
Such students have a competitive edge in marketing jobs over other candidates who do not hold a professional Marketing degree. We can conclude that pursuing MBA in Marketing to sharpen marketing skills and gain a competitive job in this sector is definitely worth it.
The degree will help them attain their dream job. If establishing a foothold in the marketing sector is your ultimate goal, MBA marketing will definitely help you achieve it.
Want to learn about MBA? Check out: MBA Admissions 2022: How to Apply, Eligibility, & Curriculum