When it comes to academic quality, a university or institutes most valuable assets are its faculty. The role of a professor extends above and beyond the classroom imparting vital life skills, training for a dynamic career, and playing mentors.
At Shoolini University, a team of proficient and accomplished global faculty inspires and motivates youth to innovate and devise creations that change the world.
Our students learn from some of the best educators in the world, who were trained and educated at top global institutions, including the National Cancer Institute, the National Institutes of Health in the United States, Oxford University, and the Indian Institute of Science in Bangalore.
The extraordinary faculty at Shoolini University works in tandem with the varsitys goals and objectives, creating innovations to make the world a better place. Lets look at some of the most outstanding faculty achievements of 2022.
5 Shoolini researchers among top 2% of world scientists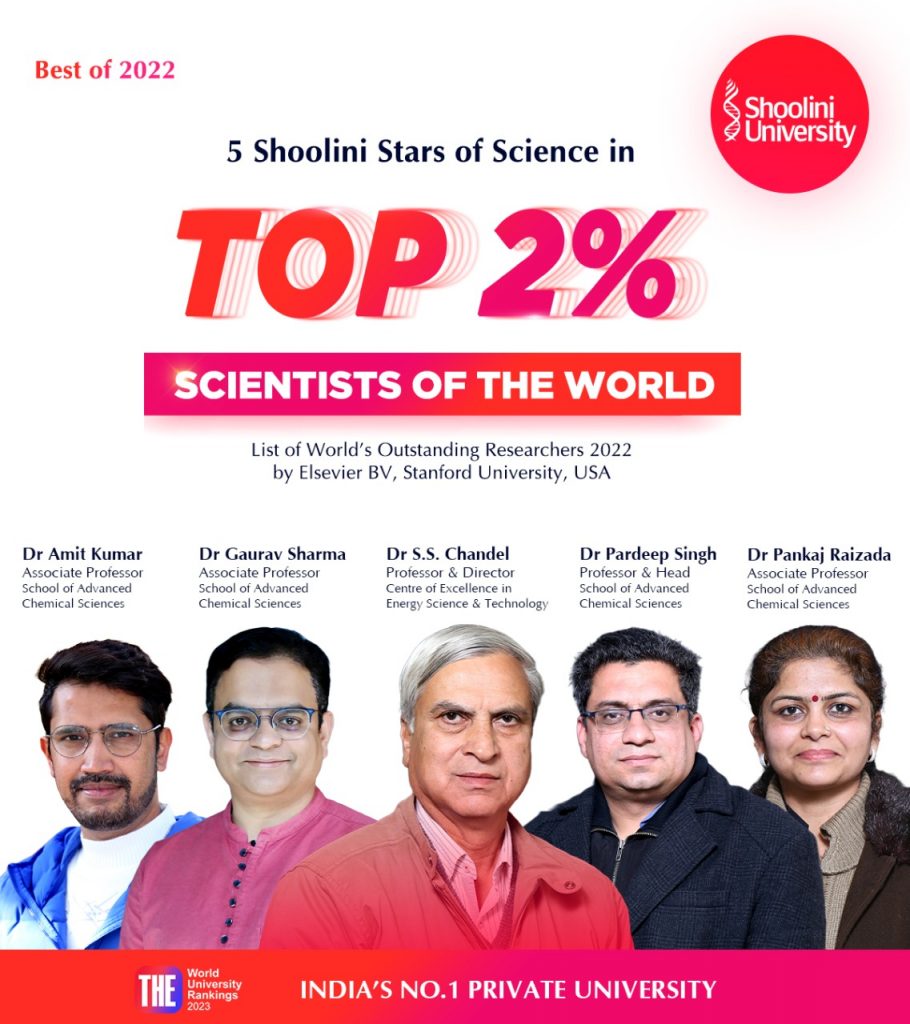 Shoolini is the top research university of India and No.9 in Asia (Citations per Paper) as per QS Asia University Rankings 2023. The Times Higher Education World University Rankings 2023 ranked Shoolini as the No.39 in Citations in the world. This is an extraordinary achievement for a young university (seeded in 2009).
Stanford Universitys list of World Ranking of Scientists has featured five faculty members of Shoolini in the top 2 per cent of scientists.
The faculty members featured in the list are:
Dr Gaurav Sharma, an Associate Professor at the School of Advanced Chemical Sciences, started his research activity in 2009 at Shoolini University and completed his research work as a PhD student.
Prof SS Chandel is a former Professor and founder Head of the Centre for Energy and Environmental Engineering, National Institute of Technology, Hamirpur. With an experience of over four decades, he is now the Director of the Centre of Excellence in Energy Science and Technology at Shoolini University.
Associate Professor Dr Pankaj Raizada whose specialised area is Inorganic Chemistry. She is a Young Scientist Awardee under the Department of Science & Technology with New Delhi with a Fastrack Project and HIMCOSTE, funded Project from HP Council for Science Technology & Environment, Shimla.
Dr Amit Kumar is an Associate Professor at the School of Advanced Chemical Sciences. He started his research career with a PhD in Chemistry at Himachal Pradesh University.
Professor and Head at the School of Advanced Chemical Sciences, Shoolini University, Dr Pardeep Singh teaches Physical Chemistry.
Prestigious grants for research work
The achievements of our faculty members are the result of countless and dedicated hours of work over months, years, and even decades. Their quality of research highlights the breadth of interests and expertise. No wonder they have bagged many prestigious awards and grants, demonstrating their brilliance as educators and researchers.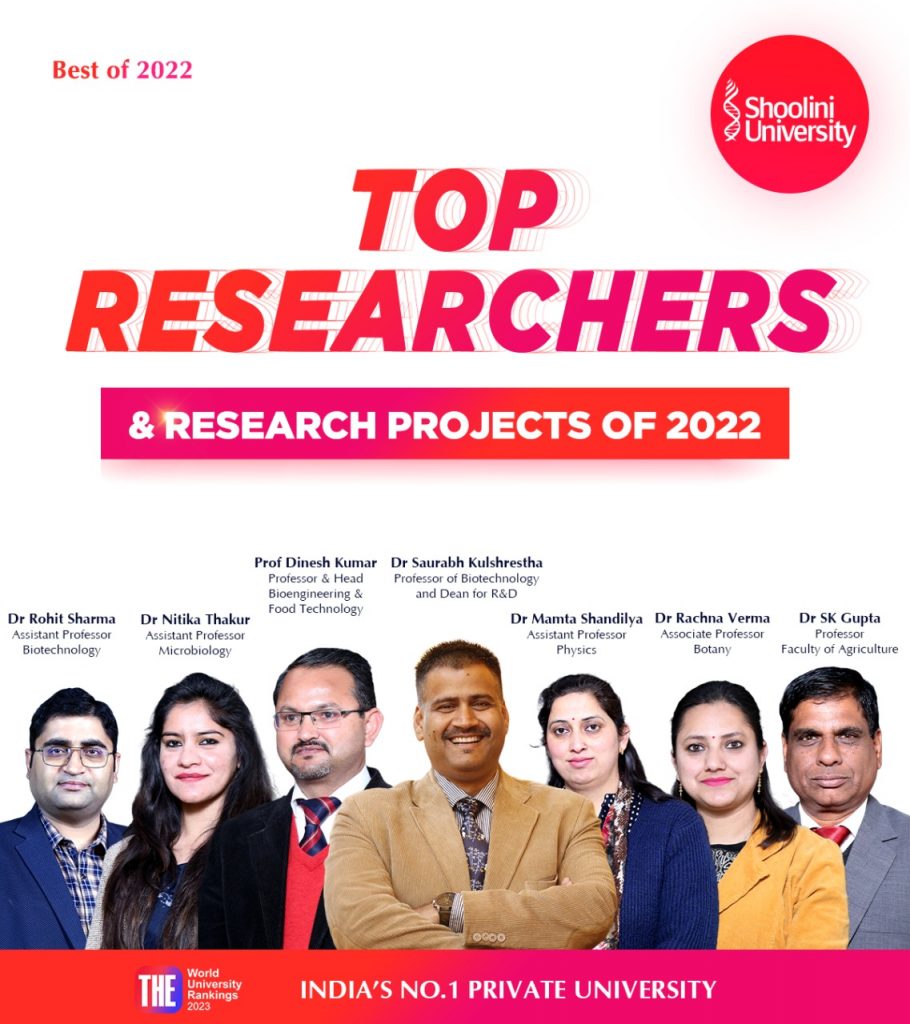 Dr Kulshrestha gets huge grant for projects
Prof Saurabh Kulshrestha, Dean for Research & Development, got two grants for his outstanding research projects. IUVA Labs sanctioned Rs 3,00,000 for his consultancy project Production of Dairy Proteins using Recombinant DNA Technology and Suitable Expression Platform. Another big name in Biotech, Henkel AG & Co., awarded him Rs 9,78,092 for the project Removal of Dyes from Salon Wastewater using Moringa Oleifera Seeds.
Prof Kulshrestha actively teaches undergraduate and postgraduate programs at Shoolini University.
Dr Kulshrestha, Dr Gupta, Dr Nitika get Rs 43 lakh for DBT Project
Dr Saurabh Kulshrestha, Dr Nitika Thakur, and Dr Satish Gupta got Rs 43,87,360 for a joint project from DBT. The title of the project is, Development of Mycovirus-Based Biological Control Strategy for the Control of Rosellinia Necatrix Infecting Fruit Crops and Sclerotinia Sclerotiorum Infecting Vegetable Crops in the Indian Himalayan region.
Dr Kumar, Dr Rachna get Rs 31 lakh for SERB project
Dr Dinesh Kumar, professor at the Faculty of Applied Sciences and Biotechnology, and Dr Rachna Verma, professor at the Faculty of Sciences, were awarded Rs 31,37,000 from SERB for a joint proposal. The project is titled,Prospecting of Wild Ganoderma Lucidium Growing in Himachal Himalayas for Hyperpresence of Biomolecules and Cultivation of Potential Strain for Value-Added Nutraceutical Products.
Dr Mamta gets Rs 30 lakh for SERB project
Dr Mamta Shandilya is a professor at the Faculty of Sciences. Her project titled,Potency of rGO as electron transport layer to enhance the photovoltaic behaviour for perovskite solar cell application has been sanctioned by SERB. The sanctioned amount received for the project is Rs 30,00,000.
Dr Rohit Sharma gets Rs 46 lakh for SERB project
Dr Rohit Sharma, Professor at the Faculty of Applied Sciences and Biotechnology is working on the project, Elucidating the impact and biological relevance of cellular senescence in macrophage ageing and identification of mitigative nutritional immunotherapy. For this, SERB awarded him an amount of Rs 46,00,000.
Thank you, Shoolini faculty
Our faculty is a unique blend of academicians and industry professionals with the proper convergence of corporate experience and academic knowledge. Students from across the globe choose to join Shoolini to learn from top CEOs, industry leaders, and researchers.
For each program, Shoolini brings together a dedicated group of educators with relevant experience and passion for their field. The faculty members engage in prestigious national and international academic activities for conferences, workshops, sessions and forums.
As 2022 comes to a close, we thank the excellent faculty at Shoolini University for their commendable work and achievements.