Sept 1, Solan 
In a move to ignite student-led innovation, Shoolini University recently unveiled its Student Research Council. Founded by Anitya Kumar Gupta and introduced at the iconic Peter Drucker Hall on campus, the council will be a dynamic platform fostering student research, collaboration, and creativity. 
Distinguished speakers shared valuable insights and experiences at the ceremony. These included Shoolini University Founder and Chancellor Prof PK Khosla, Dean for Research & Development Prof Saurabh Kulshreshtha, President (Innovation and Marketing) Ashish Khosla, Chief Learning Officer Dr Ashoo Khosla, President & Dean (Faculty of Management Science) Munish Sahrawat, Dean of Engineering Prof Virendra Rihani, Asst Profs Puneet Kapoor and Arwind Sharma.  
Underlining his commitment to promoting academic advancement, Prof PK Khosla announced an allocation of Rs 5 Lakh as Special Funds for the Student Research Council. He lauded the students for their dedication and innovative ideas, encouraging them to contribute to research for a progressive world.  
Encouraging interdisciplinary research, Prof Kulshreshtha urged that it should extend beyond STEM fields. He emphasised the societal impact of research and how collective academic efforts could shape a brighter future.  
Moving from finance to philosophy, Ashish Khosla reminded the audience about the role of curiosity in fostering innovation. Drawing from history's renowned thinkers like Newton and Einstein, he encouraged a multidisciplinary approach to problem-solving.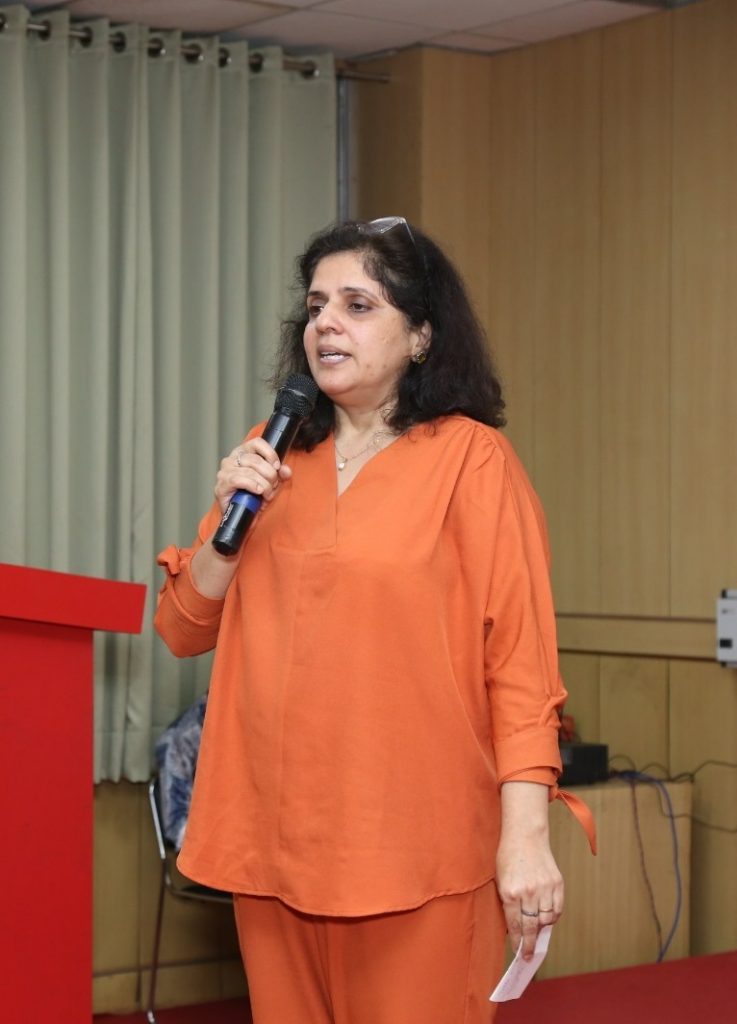 Dr Ashoo conveyed to students the timeless adage that 'God helps those who help themselves,' highlighting the essence of prioritisation by understanding where to commence and conclude a journey. "Prioritising involves carving out time from busy schedules to focus on solving common problems," she said. Dr Ashoo also emphasised the role of adaptability, talking about how the pandemic had changed the world.  
While teamwork was the highlight of Prof Munish Sehrawat's talk, he noted the significant role that effective communication and dedication played in forming a cohesive unit. He explained how face-to-face interactions enhanced teamwork and the importance of effective communication, understanding, and timely conflict resolution. Drawing a parallel from the world of 'Avengers' and 'Formula 1', he highlighted the effectiveness of collaborative efforts over solitary endeavours.  
Discussing the intersection of academia and industry, Prof Virendra Rihani, Dean of Engineering, discussed the dual benefits of research. Not only can it be commercially profitable, but it can also address significant health conditions like leukaemia, he added. 
Insights into the rapidly advancing field of neural networks were offered by Asst Prof Puneet Kapoor, while Asst Prof Arvind Sharma focused on the preparatory aspects of research. He urged budding researchers to engage with review papers before diving into their research projects. 
The ceremony closed on an inspiring note, issuing a collective call to action for exploration, collaboration, and focused efforts.
Student Research Council to partner with Govt of India 
The unveiling of the Student Research Council wasn't the only headline-maker at the ceremony. It was announced that this new student-driven research hub would soon collaborate with the Government of India. This forthcoming alliance is aimed at amplifying the council's reach and impact on a national scale. To cement this partnership, the university is gearing up for its second meeting with the Public Scientific Advisor in October 2023.