Poonam Nanda is an extraordinary individual who wears multiple hats as the Dean of Student Welfare (DSW) at Shoolini University. With a remarkable background in soft skills training from Infosys and freelancing work for Mahindra First Choice, she has become an inspiring role model, mentor, and guide to every student on campus.
Poonam's story took a turning point when she moved to Shoolini in 2013, accompanying her husband. Little did she know that this move would lead to a life-changing opportunity. Struck by her impressive profile, Vice Chancellor Prof Atul Khosla invited her to be part of the SPRINT Team, a Skill Development Program at the university. Over the years, she climbed the ladder of success, eventually becoming the Director of the SPRINT Program and subsequently taking on the prestigious role of Dean of Student Welfare. Her passion for nurturing the potential of young minds and supporting them in their journey of growth and self-discovery knows no bounds.
Beyond her professional achievements, Poonam is a powerhouse of strength and resilience. She is a cancer survivor, and her personal triumphs inspire students to face challenges with courage and determination. Her own experiences have led her to become an ardent advocate for social work. She actively engages the student community in various social organisations like Goonj, YouWeCan, Indian Association of Muscular Dystrophy (IAMD), among others.
As the head of numerous clubs at Shoolini, she ensures students have ample opportunities to explore their interests and passions, fostering a vibrant and enriching campus environment. She is also the driving force behind the National Cadet Corps (NCC) and National Service Scheme (NSS) initiatives, instilling a sense of service and responsibility in the hearts of young students.
In her role as Dean of Student Welfare, Poonam goes above and beyond to empower students to make informed choices, not just in their academic pursuits but also in their personal lives.
In an exclusive interview with Bhavna Sharma, Poonam shares her journey as an inspiring leader, cancer survivor, and dedicated mother.
Q1: Your dedication to student welfare is evident in the success of various initiatives and events on campus. Can you share some of your most memorable experiences in this role?
I have had countless memorable experiences as the Dean of Student Welfare. Seeing the transformation of students, from their initial days on campus to their growth as confident and responsible individuals, has been immensely gratifying. The passion and dedication the freshers display in supporting voluntary initiatives and events, such as YouWeCan, have left a lasting impression on me. Whether it's organising seminars, cleaning drives, or volunteering for social causes, their enthusiasm and selflessness inspire me every day.
Moreover, collaborating with organisations like Indian Association of Muscular Dystrophy (IAMD) has been an extraordinary experience. The emotional growth and empathy students develop by engaging with children facing significant challenges have been remarkable. The conduct art workshops, dance sessions as well as special programs during festivals like Holi, Christmas, Diwali, New Year.
Our students have now become a strong support system for these children, and it fills me with pride to see how they are cultivating the values of empathy and well-being.
Q2: You have encouraged students to communicate openly and seek support. How do you ensure a supportive environment for mental health on campus?
Creating a supportive environment for mental health is our top priority. We actively encourage students to discuss their concerns with friends, family, teachers, and the counselling support available on campus. Breaking societal taboos and addressing sensitive topics is essential to this approach. By providing a safe space for open discussions, we strive to promote mental well-being and reduce the stigma surrounding mental health issues.
Additionally, we invite survivors and experts to share their stories and insights, conveying to students that they are not alone in their struggles. This sense of community and understanding goes a long way in ensuring students feel comfortable seeking help and support when needed.
Q3: You have fought and overcome cancer, which is a tremendous feat. How has this experience shaped your outlook on life and influenced your role as the Dean of Student Welfare?
Battling cancer was undoubtedly one of the most challenging phases of my life. However, it also became a turning point that strengthened my resilience and made me empathetic. Facing such a life-threatening situation made me acutely aware of the struggles others might be facing. This experience deepened my commitment to fostering a supportive and caring environment for our students. I encourage open communication where everyone seeks help and support whenever needed. My battle with cancer has taught me to cherish every moment and inspire others to do the same.
Q4: How does the university maintain a strong alumni network and support the professional growth of its graduates?
The alumni network of Shoolini University is a strong and vibrant community. Many of our alumni have pursued opportunities in foreign countries, and we ensure they stay connected with current students. This alumni engagement is a valuable resource for our students as they receive guidance on scholarships, study abroad programs, internships, placements, and career coaching. The personalised attention given to each student is one of the university's unique strengths, fostering an environment where students feel valued and supported throughout their academic journey.
Q5: How can students make the most of their college life and grow personally at Shoolini University?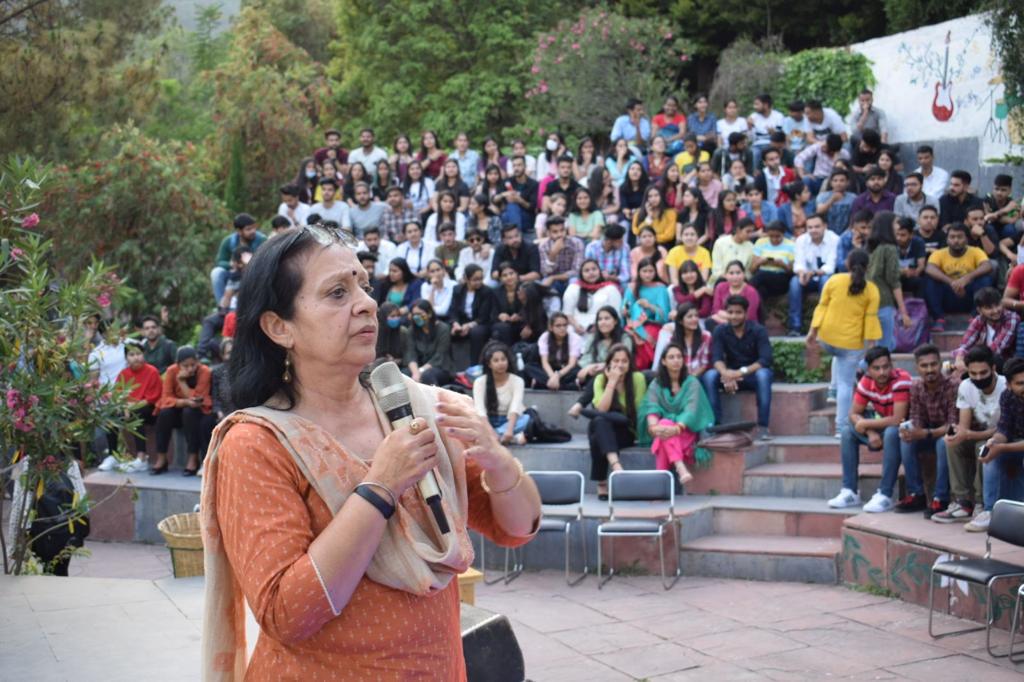 I encourage students to embrace every opportunity that comes their way. Engage in extracurricular activities, join clubs that align with your interests, and participate in events that challenge and inspire you. College is not just about academic learning but also personal growth and development. Embrace the freedom of college life with responsibility and use it as a chance to explore your passions and discover your true self. Surround yourself with positive influences, seek guidance from mentors, and remember that every experience — both triumphs and setbacks —contributes to your individual growth.
Q6: What are the plans for the induction program for new students?
We call the Induction Week the 'Week Of Welcome' or the WOW Week. We put in all our efforts to ensure that students have a seamless experience of settling in and getting familiar with the campus.
The freshers get a chance to interact with the Vice Chancellor, Deans, Faculty and fellow students. We explain all about our academic and extracurricular activities. Students learn all about the clubs and societies on the campus and then make a selection as per their interest. The evenings are laced with fun, games and music during the Zumba Night, Club Mela, Meet 'n' Greet, etc.
Q7: What are your aspirations for the university's future, and how do you envision its continued growth and impact?
My aspirations for Shoolini University revolve around creating an even more nurturing and empowering environment for our students. I envision a future where the university becomes a global hub for innovation, research, and holistic education. Our focus will remain on empowering students to become compassionate leaders who bring positive change to the world. I see the university reaching new heights, adapting to the changing needs of society, and staying at the forefront of academic excellence. Shoolini University's impact will be felt not only in the lives of its students but also in the communities they live in and worldwide.