Do you know John Pemberton invented the most popular soft drink, Coca-Cola? He was a pharmacist. Thats the power of pursuing Pharmaceutical Sciences! Not just drugs, pharmacists create products we could never think of.
Do you believe you should serve humanity by producing drugs that save lives? Or do you want to invent something new and distinctive?
Yes! The pharmaceutical industry is the right choice for you.
To begin with, a degree in Pharmaceutical Sciences teaches you about medicines, salts, and chemicals. The skills you learn will make you versatile allowing you to choose from diverse career prospects. Pharmaceutical scientists create products right from paints to cosmetics, drug development to food manufacturing.
Not convinced? Here are the top 5 reasons why you should opt for Pharmaceutical Sciences.
Top 5 Reasons to Choose Pharmaceutical Sciences
With the growth of the medical industry, the demand for qualified pharmacists has grown manifold. Pharmacists play a key role in treating patients and helping them recover faster.
Apart from a career as a pharmacist, there are several other reasons to choose Pharmaceutical Sciences.
Various factors can help you decide if choosing Pharmaceutical sciences as a course is worth it or not.
Promising Career Opportunities
Demand for pharmacists is not only high in the medical or hospital industry but in the retail industry as well. Besides functioning as a pharmacist after pursuing Pharmaceutical Sciences, aspirants can work as a lecturer and share knowledge with students.
Scientist
Entrepreneur
Drug Inspector
Pharmacist
Pharmaceutical Marketing
Research Lab Scientist
Pharmaceutical company
R&D Executive
Health inspector
Chemical/drug technician
Medical devices and quality control manufacturing
Medical Underwriter
Job Security & Stability
After pursuing Pharmaceutical Sciences, you dont have to worry about job security and stability. The medical industry pays well. If you wish to start your pharmacy, this course will do wonders for your career. Getting the required licenses and degrees is essential to start your pharmacy.
Work flexibility
Pharmaceutical Sciences is the top choice if work flexibility is a priority. You can operate in shifts and choose your working hours as per your convenience. To attain maximum financial benefits, you can work for additional hours as well.
If you are preferably looking for fixed working hours, research jobs and clinical jobs will suit you perfectly.
Chance to Serve the People
Pharmacists are at the forefront of serving people across the globe, helping them live healthier and fuller lives.
Pharmacists are easily accessible and available to people. They are an integral part of the healthcare team and serve as medication experts. They are adept at identifying problems charting a course of action for ailing patients.
A Noble Profession
The medical field is the most respected and dignified one. Pharmacists are associated with the medical community and are highly specialized in their subjects. Their priority is to take care of the patient and provide advice related to medication.
Pharmacists provide people with knowledge about their health. Simultaneously, they help them make informed decisions.
What do you Learn in this program?
Pharmaceutical Science is a field of science that includes drug design, drug discovery, drug action, drug analysis, Pharmacoeconomics, clinical sciences, and regulatory affairs.
Drug Discovery and Drug Design
Drug discovery and drug design are associated with the design and creation of new drug molecules. This is a specialized field of study which includes combinational chemistry, medicinal chemistry, identification of biological targets, and structural biology.
Drug Delivery
Drug delivery is associated with the design of injections, tablets, and patches which deliver the drug to the site of action in a person or a patient. This is done to ensure that the drug is delivered in the right concentration and at an accurate time. Drug delivery specific fields include biomaterials, pharmaceutics, and pharmacokinetics.
Drug Action
The process through which a drug works in a human body is examined by drug action. How drugs act on the human body is called pharmacodynamics.
Everything you Want to Know about Pharmaceutical Sciences
Pharmacy courses are among the top choices of students these days. Colleges and universities across the country offer D Pharmacy, B Pharmacy, and M Pharmacy.
If you have decided to choose Pharmaceutical Sciences as a career, here is a list of the entrance exams.
Pharmacy Entrance Exams 2022
To check the aptitude of students for Pharmaceutical Sciences, universities conduct various entrance exams. These exams may be at the national, state, or university level.
GPAT 2022: National-Level Entrance Test
National Testing Agency (NTA) conducts the Graduate Pharmacy Aptitude Test or GPAT.
University-Level Entrance Test
Some universities and colleges conduct their pharmacy entrance exams. As an illustration, Shoolini University organises a university level entrance test. This entrance test decides if the candidate is ready to take Pharmaceutical Sciences as a course or not. Admission of the candidate depends on the interaction with the faculty.
What is the Duration of Degree?
The duration of a bachelors degree in Pharmacy is 4 years. Students learn all about the ways and procedures of making drugs. If a person wishes to work as a pharmacist, he needs a graduate degree in Pharmacy.
Master of Pharmacy (MPharma) is a postgraduate degree with a time duration of 2 years.
Shoolini is Top Pharmacy College in India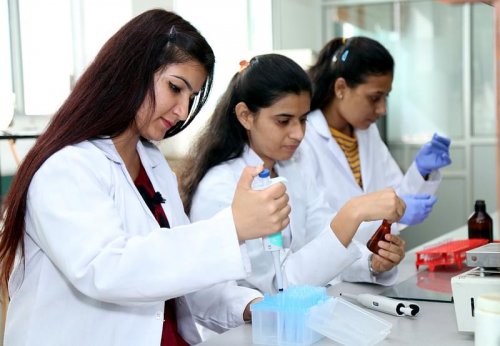 The School of Pharmaceutical Sciences is ranked 36th among Top Pharmacy Colleges in India by the Ministry of Human Resource Development (MHRD), Government of India. The university is located in Kasauli Hills, Solan, Himachal Pradesh.
Shoolini is the only Pharmacy School in Himachal Pradesh to acquire NIRF ranking and the only university in the state to have an NBA Accredited B Pharmacy program.
List of Pharmacy Programs at Shoolini
What are the job opportunities after Pharmaceutical Sciences?
Choosing Pharmaceutical Sciences as a subject after +2 opens doors to unlimited job opportunities.
Pharmaceutical Companies
The most obvious option after completing graduation in Pharmaceutical Sciences is a Pharmaceutical company. You can explore new areas and gain expertise in them.
Forensic Scientist
One can work as a forensic scientist after pursuing pharmacy. The main work of a forensic scientist is to help investigate accidents, crimes, and other major incidents. A forensic scientist must gather and examine the evidence found at a crime scene.
Regulatory Affairs
Want to work outside the lab? You can choose Regulatory affairs as a career opportunity. An employee in this department ensures that the products manufactured by the company meet government regulations. This job requires a deep knowledge of ins and outs of the medical marketplace.
Sales and Marketing
Opted for Pharmacy and want to build a career in sales and marketing? You have an option for that. Those with knowledge of formulations and active pharmaceutical ingredients are perfect for this job role.
Science Writer
If you are the kind of person who is interested in content creation or writing, you can be a science writer. All science-based degrees prepare students to enhance communication and observation. These skills can be used to make a career as a science writer.
Other job opportunities after Pharmaceutical Sciences include:
Patent Attorney
Medicinal Chemist
Quality Assurance
Quality Control Chemist
Clinical Research Advisor Associate
Medicines Adviser
Biomedical Researcher
PhD in Pharmaceutical Sciences
Shoolini University offers PhD in Pharmaceutical Sciences of 3 years duration. The focus of research here is aligned with the theme of the university to explore the potential of Himalayan biodiversity, medicinal plants, and therapeutic potential. The Faculty of Pharmaceutical Sciences has formulated research groups with a focus on thematic areas. This helps to engage in high-impact research of global relevance.
Shoolini University has secured research projects from DST, ICMR, DRDO, and INMAS, along with industrial projects from Meridian Medicare Ltd and Tirupati Medicare Ltd.
Our BPharma Summit Research Programme is a unique, research-oriented degree that prepares students for global opportunities. They join leading academic institutions and corporate R&D teams in the Pharmacy sector. This one-of-a-kind program in India has been created to encourage students at the undergraduate level to pursue research. This helps them get the best jobs in the Pharma and aligned industries.