Coding — the foundation of modern technology, empowers us to shape and expand our world. From Ada Lovelace's groundbreaking algorithm in the 1800s to Tim Berner- Lee's internet invention in 1989, Coding has driven remarkable progress.
Today, computer programming languages like Python, JAVA, JavaScript and PHP power social media, apps, and streaming services, revolutionising our home and work lives. As technology advances, coding expertise becomes increasingly valuable.
Fact: The US Bureau of Labor Statistics predicts that there will be 1.4 million coding jobs to fill in the US alone over the next 10 years, with 67% of those jobs outside the technology industry.
The future holds immense potential but also a challenge — a shortage of coding experts. Coding courses worldwide are embracing Coding to bridge this gap. So, let us find out how you can become a better coder?
What is coding?
Before delving into the discussion of courses, it is of utmost importance to understand what Coding truly is. Coding revolves around creating a set of instructions that computers follow to perform specific tasks. In essence, Coding acts as the intermediary between humans and machines. Let us find out now the top courses that can make you a better coder in the 21st century?
Courses in India to become a better coder
BTech CSE: Offers a comprehensive understanding of computer science principles, algorithms, and programming languages, preparing students for a wide range of coding careers.
BCA with Specialisation in AI and Machine Learning: Equips students with specialised skills in AI and ML, enabling them to create intelligent applications and work in cutting-edge fields.
BCA Full Stack Developer: Teaches both front-end and back-end development, allowing students to build complete web applications independently.
Some of the top careers in coding in the 21st century
According to Forbes, the number of software developers worldwide is expected to reach 45 million by 2030, indicating a significant increase in demand for coders. As a result, various coding jobs have become available, with new opportunities arising each year. If you are interested in pursuing a coding career, here are some of the top roles you can consider:
Software Engineers create applications for mobile devices like smartphones and tablets, impacting users directly. Learning languages like JavaScript and Python can be beneficial in this role.
Web Developers help businesses build and manage their websites, focusing on how a webpage looks and functions. As every company needs an online presence, web developers are in high demand. Learning languages like JavaScript or HTML5 can be advantageous for aspiring web developers.
Computer Systems Engineers are professionals who tackle complex issues in applications or networks and work with clients to develop solutions. Learning languages like Python or C++ can pave the way to becoming a computer systems engineer.
Database Administrators handle large amounts of data stored in databases, ensuring its organisation and utilisation. As companies collect vast amounts of online data, the demand for database administrators is significant. Learning Python or SQL can be beneficial for entering this field.
Quality Assurance (QA) Engineers are crucial in determining if the software is market-ready by running tests and documenting issues. With the constant emergence of new technology, QA engineers are in high demand. Learning Java or Python can help secure a job in this area.
Skills to become a better coder
Learn to Code: Master programming skills, from basic syntax to advanced data structures and algorithms. Solve complex problems and create scalable, maintainable, and debuggable software.
Design and Develop Software: Acquire skills to build intuitive, user-friendly, and reliable software applications. Gain insights into software development methodologies, project management, and quality assurance.
Analyse Data: Develop the ability to extract valuable insights from complex data sets using statistical methods and machine learning algorithms.
Algorithm Development: Dive into the world of artificial intelligence and gain expertise in designing cutting-edge AI algorithms to solve intricate problems and enable intelligent decision-making.
Where to study?
Shoolini University situated in the foothills of the Himalayas is the top-ranked university with best coding courses in India. Let's know why Shoolini is the best university and can help you become a better coder?
Top rankings
Shoolini University is the No.1 Private University in India according to THE World University Rankings 2023 and QS World University Rankings 2024. Shoolini University's engineering program has garnered many accolades, including a Diamond Rating in the QS I-Gauge rankings for 2021. Shoolini Engineering is also ranked No.2 by THE World University Rankings 2023. The program also secured an impressive third position in the SCImago Institutions Rankings 2023, highlighting its commitment to academic excellence.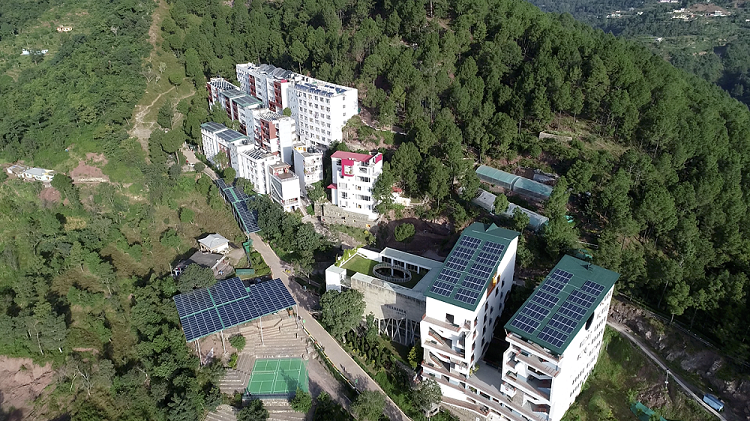 Top faculty
Faculty at Shoolini comprises top-notch professionals from renowned national and international institutions such as IITs, NITs, NCI, NIH, UPenn, Columbia University, Stanford, Oxford, IISc, and IIMs.
Top courses for aspiring coders at Shoolini University
BCA (AI & ML): In this course, students learn the basics of computer science and mathematics while also diving deep into AI and ML concepts and applications. The course includes topics like machine learning algorithms, deep learning, computer vision, natural language processing, and robotics.
BCA (Full Stack Developer): This course prepares students for diverse roles in the ever-changing design industry. They learn how to gather and analyse data, and create design ideas that meet clients' needs. They become skilled at making visually appealing graphic elements and become proficient in using various design software. Through real-life projects, students gain hands-on experience and become experts in the field of UI/UX Design.
BTech CSE: The BTech Computer Science and Engineering program encompasses a vast array of concepts such as AI, Data Analytics, Data visualisation, Machine Learning, Deep Learning, Semantic Web and Social Network Analytics, Blockchain Technologies, Data Security and Privacy. Through this holistic approach, students gain comprehensive insights into the multifaceted world of computer science.
But that's not all! Shoolini University offers numerous specialisations to students of BTech CSE, giving them the opportunity to explore and master a specific area of interest.
From Artificial Intelligence to Cyber Security, Cloud Computing to Game Design & AR/VR, and Blockchain & IoT to DevOps, Shoolini provides all these BTech CSE courses for a successful career in Coding.
These programs at Shoolini are definitely your code to creating a lucrative and successful career in the field. Additionally, Shoolini provides specialisation in Python, has a collaboration with Ikigai Lab at IIT Kanpur and industry collaborations with Algo8.AI and AADDOO.AI. All these features at Shoolini make your career even more beneficial.
Furthermore, Shoolini aims at 'Mission 130', which means 100% employability for students, of which 30% are in top organisations. Students are also provided with hands-on experience through internships in top companies. This prepares them for challenges in the job market.
Shoolini also organises sessions for students to keep them abreast of the latest updates and advancements in technology. For example, the Code Yoga Boot Camp, organised by the university for engineering students. 
Apart from this, students develop skills required in the workplace through skill development programs like SPRINT and various other guest lectures and invited talks.
The final verdict
With the rapidly evolving technology, Shoolini University is at the forefront of innovation. If you're also planning to stay ahead of your peers, become a better coder and create a mark in the field of Coding, joining Shoolini will be the best decision you can make.