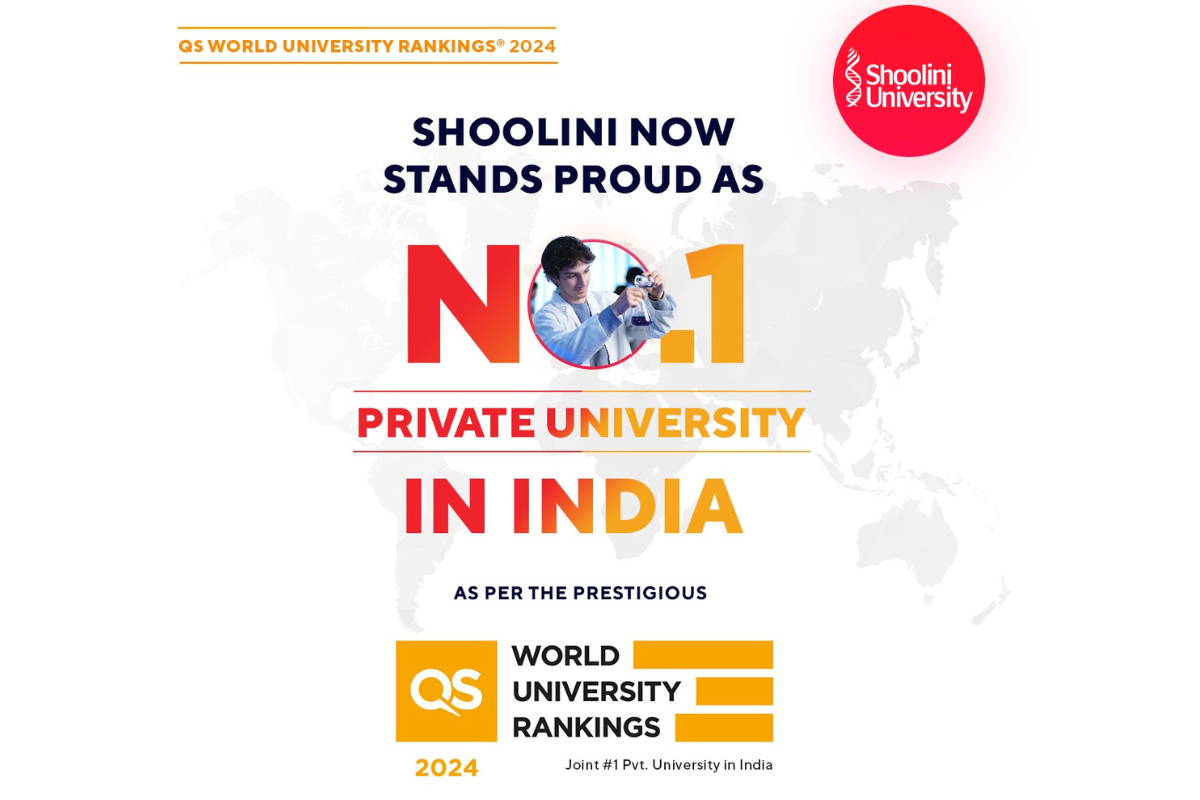 Shoolini ranked as No.1 Private University in India as per QS World University Rankings 2024.
Solan, June 28
After being ranked the No.1 Private University in India by the Times Higher Education (THE) World University Rankings, Shoolini University of Biotechnology and Management Sciences has bagged the same position under the Quacquarelli Symonds (QS) World University Rankings 2024. Shoolini has also clinched 20th place in India (Overall) and is in the 771-780 band worldwide.
The 20th edition of the world's most-consulted university rankings, QS, were released in London on Wednesday. Both THE and QS are considered global gold standards for rankings of higher education institutions.
The Indian Institute of Technology, Bombay, has bagged the first rank in India followed by IIT Delhi and the Indian Institute of Science.
Shoolini University has also been placed at Rank 319 for Citations per Faculty and at 545 for International Faculty in the world.
Congratulating the faculty and students of the university for the winning streak in rankings, Chancellor Prof PK Khosla said, "This is the result of sustained, dedicated work to enhance the standard of education in the university."
Pro Chancellor Vishal Anand said, "This is a remarkable achievement for a 13-year-old university. We are poised to achieve many more such milestones."
Vice Chancellor Prof Atul Khosla said the latest top rankings reinforced the accolades the university has been getting in the past couple of years. "Such recognition propels us to work harder towards academic excellence and to promote a research-centric learning environment," he added.
In celebration of the 20th anniversary of the ranking and to reflect the growth in data availability and changing priorities of students and society over the past two decades, QS has implemented the largest methodological enhancement since its inception. This has been done by introducing three new metrics: Sustainability, Employment Outcomes and International Research Network, and adjusting the weighting of some existing indicators, namely Academic Reputation, Employer Reputation, and Faculty Student Ratio.
This year's QS World University Rankings is the largest ever, with 1,500 universities across 104 locations, up from 1,418 last year. The results account for the distribution and performance of 17.5 million academic papers published between 2017 and 2021 and the 141.6 million citations received by those papers. They also account for the expert opinions of over 144,000 academic faculty and over 98,000 employers around the world.
Globally, the Massachusetts Institute of Technology has been ranked Number 1, while the University of Cambridge and the University of Oxford have been ranked second and third, respectively. Harvard and Stanford universities have ranked four and fifth, respectively.
QS Senior Vice President Ben Sowter said, "The 2024 QS World University Rankings represents a major step in the evolution of the exercise, marking the most significant innovation in its methodological paradigm since its inception two decades ago. More than ever, it aligns with Gen Z and Alpha priorities, providing institutions with a unique lens through which to assess their performance in areas paramount to shaping a brighter future for generations to come."