When you buy something online, you are contributing to the ever-expanding online markets. This accounts for more than 20 per cent of all retail sales, confirmed a number of trade surveys. Web developers are the unseen architects of this expansion, producing websites and mobile apps that boost online sales, simplifying customers' lives.
Web developers are responsible for designing, coding, and modifying websites and applications. They work with various computer languages and coding systems to create interactive websites and web applications. Web developers can create well-organised, visually appealing websites and perform the required tasks.
To become a successful web developer in India, a person must possess a few skills. First, they should be familiar with the various coding languages necessary to create a website, such as HTML, CSS, and JavaScript. They should also have knowledge of multiple software applications such as Dreamweaver and Photoshop. Further, they should know all about web servers and databases and be able to troubleshoot any issues.
In addition to technical skills, web developers should have excellent communication skills. As they must work with different clients, a proficient web developer should understand every customer's varied requirements. They should also be able to manage projects and coordinate with other development team members. Finally, a top developer should have a basic understanding of marketing and be able to promote their websites to the right target audience.
Steps to Become a Web Developer
So, to be a successful web developer in India, you must follow a few steps.
First, you should earn a BTech degree in either Computer Science Engineering or Information Technology. This will give you the necessary skills and knowledge to step into the world of web development. You can also opt for a specialised BTech program in web development to increase your chances of success.
Once you have your degree, gaining experience in web development is crucial. Many universities offer internships or hands-on training that help hone development skills and provide an in-depth understanding of the process. Alternatively, you can gain experience through freelance work and by taking on smaller projects.
Its also essential to stay up-to-date with the latest trends and technologies in web development. This can be done by attending webinars, online courses, and conferences. Additionally, taking advantage of online forums and networking opportunities can be highly beneficial.
Finally, it would help if you considered attending a web development program at Shoolini University. This will give you the skills and knowledge needed to become a successful web developer. It will also allow you to network with other professionals in the field.
Job roles in Web Development
There is a wide range of job roles in web development in India. Web development is a rapidly growing field and provides numerous opportunities to those who wish to pursue a career in this industry. But to become a leading web developer in India, having the right qualifications and knowledge is vital.
Keeping up with the latest web development trends and technologies is equally essential. Main job roles associated with web development are:
Web Designers understand the user experience and create websites that are simple to understand, browse, and use while adhering to design standards and criteria.
Full-Stack Developers are adept in both front-end and back-end coding. Designing user interfaces for websites, creating servers and databases for website operation, and writing code for mobile platforms are their primary tasks.
Web Analysts, often called web analytics professionals or digital analysts, utilise data analytics to troubleshoot a website's design to boost page views, enhance the user experience, and increase the number of visitors who become paying customers.
User Experience Designer or UX Designer works on web-based programmes to ensure they are intuitive and functional. A UX designer makes apps that are simple to use and pleasurable for end users by combining technical expertise with design understanding.
There are 4.48 billion active users of social media. In India alone, 467 million individuals use various social media platforms. As much as 73 per cent of businesses spend money on web design to set their goods and brands apart. Every minute, over 400 new websites are launched globally. So, the demand for web developers in India is constantly rising.
The job market for web development is expanding rapidly! According to the Bureau of Labor Statistics, the demand for web developers and designers may increase by 8% between 2020 and 2030, significantly faster than the average growth rate for all occupations. This is an exciting opportunity for those looking to enter the field, as the demand for web developers and designers is expected to remain high for the foreseeable future. As businesses continue to rely on the internet and digital technology, the need for web developers and designers will grow manifold.
Shoolini paves way for a successful career in Web Development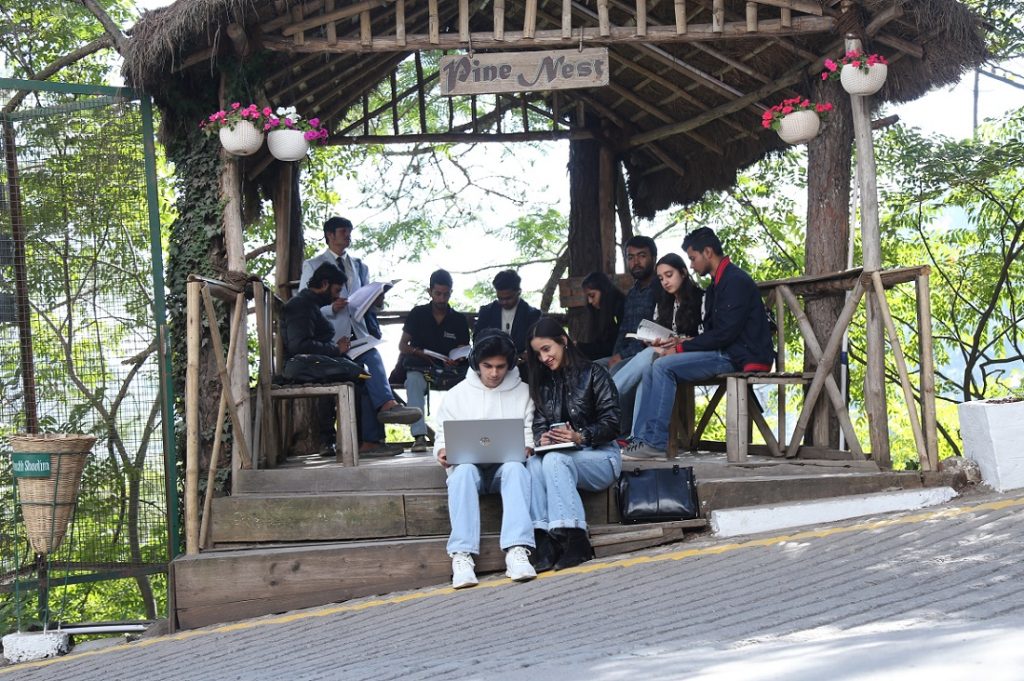 Shoolini University is the perfect launchpad for a thriving career in web development in India. The university's Bachelor of Technology (BTech) in Computer Science Engineering (CSE) program offers specialisations in Artificial Intelligence, Blockchain & IoT, Cloud Computing, Cyber Security, Data Science, and DevOps. Additionally, students can pursue a full-stack developer, Gaming and Graphics, and UI/UX program in Bachelor of Computer Applications (BCA) and MA/MSc in Data Analytics, MCA, and various PhD programs in AI, Big Data, Cloud Computing, CSE, Cyber Security, and Data Science.
At Shoolini University, students have access to a faculty with exceptional qualifications from prestigious institutions such as Berkeley, UPenn, Columbia University, Stanford, Oxford, IISc, IITs. The university provides cutting-edge technology platforms and certifications from industry giants like AWS, IBM, Google Digital Academy, and Bosch. Additionally, the university boasts an incredible 100% placement track record and a "Mission 130" initiative that aims to achieve 100% employability with 30% in top companies.
Shoolini University offers merit-based scholarships and incentivises research and innovation through its 'One Student One Patent Policy'. The university has secured the 2nd position in Engineering in the Times Higher Education World University Rankings 2023. It offers over 250 international exchange opportunities and has numerous industry-academic collaborations.
The BTech in CSE program is an excellent choice for students who aspire to become successful web developers. The program focuses on web development, database management, and computer programming courses. Students learn essential programming languages such as HTML, CSS, JavaScript, MySQL, and AJAX to create interactive websites. The university emphasises soft skills, such as communication, critical thinking, and problem-solving, to make students better professionals.
Shoolini University offers comprehensive courses, workshops, internships, and activities that help students gain work experience and valuable connections with potential employers. With its exceptional faculty, state-of-the-art technology platforms, and outstanding placements, Shoolini offers an ideal platform to students who want a rewarding career in web development.