Imagine stepping onto a university campus that buzzes with the energy of creativity and innovation. Everywhere you turn, you see students and professors engaged in cutting-edge research, experimenting with new technologies, and exploring novel approaches to teaching and learning. The air crackles with excitement and possibility as the university community embraces the challenge of preparing students for the rapidly changing professional realm.
Let's explore the exciting path that educational institutions have followed to turn this imagination into reality.
Evolution of university education: From traditional to innovative
From traditional pedagogies to modern learning and teaching approaches, universities have adapted to meet the demands of the rapidly growing world.
Traditionally, universities were seen as ivory towers, isolated from the real world and focused on transmitting knowledge from professors to students. Lectures were the primary mode of instruction, with little emphasis on hands-on learning or practical applications. This approach was highly standardised, with little room for flexibility and creativity. However, as the world became more complex and interconnected, it became clear that this approach was insufficient in meeting the needs of modern society.
In response, universities began embracing innovative teaching and learning approaches focused on student-centric learning, experiential learning and interdisciplinary collaboration. Instead of remembering facts and memorising, students are encouraged to develop critical thinking, problem-solving, and communication skills. This shift in focus helped students develop a more holistic understanding of the world, allowing them to apply their knowledge to further their professional life.
Let us learn more about the changes that educational institutions have gone through to become leading innovation universities.
Creating culture of innovation: How universities foster creativity and change
In this dynamic environment, universities are no longer static institutions of higher learning but vibrant centres of innovation that push the boundaries of what is possible. State-of-art labs, makerspaces, and innovation centres, such as incubators for new ideas and projects, provide students with the tools and resources they need to bring their visions to life. Collaborative learning spaces encourage students to work together across disciplines, building the skills they need to thrive in the global economy.
As a result, the university experience is no longer simply about acquiring knowledge but about developing a mindset of innovation and creativity. Students are motivated to think out of the box, question assumptions, and challenge conventional wisdom. Through experiential learning and real-world projects, they gain the practical skills and experience they need to tackle complex challenges.
In this new paradigm, university leaders, educators and students are all partners in the pursuit of innovation. They share a common goal: to create a more meaningful and fulfilling university experience and transform higher education, creating a more dynamic and relevant educational experience that prepares students for the challenges of the future.
Shoolini University, ranked as the top private university in India according to THE World University Rankings 2023, is a shining example of innovation and technological advancement in the education sector. Equipped with cutting-edge infrastructure and employing innovative pedagogical approaches, the university fosters interdisciplinary research and a well-rounded perspective.
Dive in to explore more about Shoolini University!
Shoolini University: Where innovation meets creativity
Shoolini University is a dynamic institution that works towards making the students industry-ready. The university ensures that students are equipped with skills like critical thinking, problem-solving abilities and communication to create an impact globally. Shoolini offers the best opportunities and top facilities so that the youth of our country receives the best knowledge and practical learning. Let us study the facilities and opportunities Shoolini offers students to drive innovation.
24*7 Library:
The Yogananda knowledge centre at Shoolini University is where students spend most of their time. The library is open to students 24*7 and is an ideal place for studying. The infrastructure and ambience of the library set people in awe. The library is also open to the commoners. The university has a well-stocked library with a vast collection of books, journals, and research papers. The library is fully automated (EBSCO access) and has an online database allowing students and faculty members to access information from anywhere.
Centres of Excellence:
Shoolini University is a leading research university and encourages students to file patents. Shoollini strictly follows a one-student-one-patent policy. The university is known for its focus on technology and innovation and has established 10 Centres of Excellence to promote research in different fields of study.
104+ labs:
Shoolini has 104+ research laboratories to speed up and elevate research. Students perform experiments in these laboratories and file patents for their research. They are trained to become the best research scientists globally. The labs have the latest equipment and tools that enable students to gain hands-on experience in their respective fields.
Fundings for student startups:
Shoolini promotes the entrepreneurial spirit of students. Chai Shack and Brunchies are student-driven cafes on campus. Shoolini supports their students in setting up their own startups in and out of the campus.
Helping hand for sustainability:
Shoolini is involved in various platforms nationally and regionally for policy development related to sustainable development goals. The university is an active member of the International Centre for integrated mountain development ICIMOD and the Himalayan University Consortium and is actively engaged in organising and participating in various policy-making initiatives.
Also read: Shoolini Leads in Self-Sustainability & Energy-Efficiency
Futuristic hostels:
Students reside in seven beautifully constructed hostels — separate for boys and girls. Shoolini offers all amenities students need to enhance their learning experience. The university provides free Wi-Fi, Hangout Zones, common rooms, study areas, recreational areas with TV rooms, Table Tennis, Chess, Carrom Boards, etc. Additionally, there is a 200-seater Cineplex, caretakers for routine care and emergencies available 24×7, a Medical Centre with support services like an ambulance, a unisex salon, vending machines for snacks and refreshments available 24×7, and laundry services.
My Shoolini App:
This application is a cutting-edge tool that provides students with easy access to a range of essential resources and information. Developed specifically for the university, the app offers a user-friendly interface that allows students to stay connected and informed no matter where they are.
One of the key features of the Shoolini app is its ability to provide students with real-time updates on their academic progress. Students can use the app to view their grades, check their attendance records, and keep track of upcoming assignments and exams.
Skill development programs: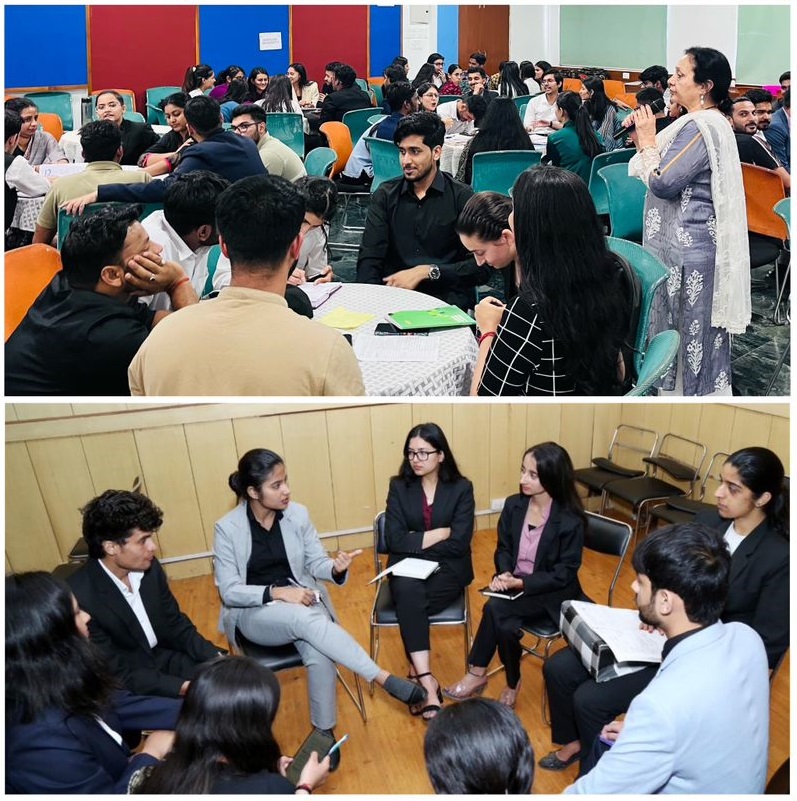 Shoolini trains its students for placements through various skill development programs like SPRINT, ATP, and The Troops. These are a part of their academic curriculum and make their degree even more valuable. These programs are designed with a futuristic vision.
Also Read: Placement Ratio or Skill Development: What is the Focus of Shoolini's Management School?
International collaborations:
Shoolini has 250+ international collaborations that allow students to gain international exposure. These collaborations are highly beneficial to both students and faculty.
State-of-the-art infrastructure:
Shoolini University has an excellent infrastructure that provides students with a conducive environment for learning and growth. One of India's most dynamic learning environments, Shoolini University offers world-class, thought-inspiring infrastructure that integrates with our eco-system and promotes 21st century learning. The award-winning clean and green campus is at par with international standards. The state-of-the-art Seminar Complex and Amphitheatre provide collaborative learning and performances.
Innovative pedagogy & modern teaching methods:
Shoolini prioritises innovative teaching strategies and project-based learning. Students gain experiential learning through industrial visits and internships in reputed organisations. They attend guest lectures, seminars, and conferences that enhance their learning process. Students also work on assignments, social projects, and group activities that prepare them for the outside world. Additionally, they get placed with the top organisations globally.
Shoolini is, therefore, the best university for innovative learning of the future. Students get to work with the brightest minds — who are global leaders from top national and international institutions like McKinsey, Oxford, ISB, IIT, IISc, NCI, NIH, Berkeley, and many others.
Conclusion
In a world where change is the only constant, universities must keep pace with innovation to stay relevant. Shoolini University, the No.1 Private University in India (THE World University Rankings), is leading the way by prioritising creative and engaging teaching strategies, incorporating technology to enhance learning, and emphasising hands-on, experiential learning opportunities. By doing so, Shoolini is shaping the future of higher education and preparing students for success in a rapidly changing world. With its commitment to innovation and student-centred learning, Shoolini University is a shining example of what the future holds.