The literacy rate in India is at 70%, which is lower than in some of the world's poorest countries. Literacy, however, encompasses more than just basic education; it also involves technical, professional, communication, digital, and other skills required for job preparedness and livelihood. Investing in skill development is an important investment in developing competence, following passions, and increasing task success rates.
Individuals' access to well-paying work possibilities is hampered by a lack of skill development training, which also stops them from contributing to economic growth and nation-building. To generate a competent workforce, institutions must link their talent development strategy with industry demands.
The present worldwide talent scarcity and high turnover rates make it more difficult than ever to locate talented staff, particularly for highly technical professions. As a result, it is critical to prioritise skill development training and provide chances for students to properly begin their professions.
Shoolini University focuses on skill development in order to assist placements. To generate a creative talent pool and improve students' employability, we emphasise instilling corporate principles, polishing complex decision-making abilities, developing functional domain knowledge and cultivating commercial acumen.?
Shoolini infuse lifelong learning with skill development and enhancement
An MBA Program at Shoolini University includes concepts and beliefs that go beyond classroom study. Our world-class education prepares students for a wide choice of extracurricular activities, allowing them to meet with alumni and current students and form significant bonds.?
Shoolini's strategy to develop future-ready people for the business sector is outstanding. We work with industry partners to analyse talent trends, tailor our approach and prepare students for leadership positions.
At Shoolini, each student develops a skill set and subject expertise that will help them for a smooth transition into the corporate sector. Our exclusive training program assists students in developing the critical competencies necessary to thrive in today's fast-paced corporate world. Students learn decision-making, problem-solving, communication and other vital abilities under Shoolini's tutelage, making them effective assets to their future companies.
Skill development programs
SPRINT: Shoolini University believes in producing well-rounded individuals who are prepared to face the world. SPRINT (Skill Progression through Rapid Intensive and Innovative Training), our patented student development program, is designed to deliver precisely that. SPRINT is an accelerated development program inspired by Stanford's mini MBA that provides students with the practical skills, knowledge and confidence to compete in the competitive corporate world. The program improves our students' entire learning experience by utilising current and collaborative learning methodologies. SPRINT is held twice a year and focuses on intense and creative training to assist students in laying a solid foundation before entering the job. The program is designed to provide students with the abilities they need to succeed in their chosen careers. SPRINT gives our students the competitive advantage they need to thrive in today's quickly changing employment environment.
Exceed: This model is inspired by the corporate culture. This program is broadly confined and inclined towards life coping skills, perseverance, yoga and meditation.
Advance Training Program (ATP): Shoolini University provides a one-of-a-kind 21-day residential program for MBA students alone. The program is completely funded by the university and is intended to give scholars with an all-encompassing learning experience.?
The program, which begins at 9 a.m. and ends at 11 p.m., focuses on building domain-specific skills necessary for success in today's corporate environment. Finance and investment, business process design and operations, retail, banking, insurance & wealth management, marketing and branding, human resources and people skills, business analytics, social media marketing and business research and consulting are all included in the program.
Male and female students reside together in the same hostel during the program, emphasising diversity and mutual respect. This one-of-a-kind arrangement provides a friendly and inclusive atmosphere in which youngsters can learn and grow together. MBA students may gain the skills and information they need to flourish in their jobs by enrolling in Shoolini's unique and comprehensive program.
Key features of Shoolini MBA
The Management School of Shoolini University, is an extraordinary school committed to developing the next generation of business leaders. Shoolini University's School of Business Management is widely regarded for its commitment to academic quality and creative teaching techniques and was recently listed between 102-125 among all Indian institutes in the 2022 NIRF Ranking.
The MBA program at the institution is meant to prepare students for a variety of jobs in the business sector. Because of their remarkable abilities and industry-specific expertise, graduates of Shoolini's MBA program are in great demand by companies.
"Mission-130," which strives to place 100% of students in jobs with 30% in the top ones, is at the centre of the university's educational goal. The school's commitment to provide students with a world-class education and unequalled opportunities for professional growth distinguishes it as a global leader in business education.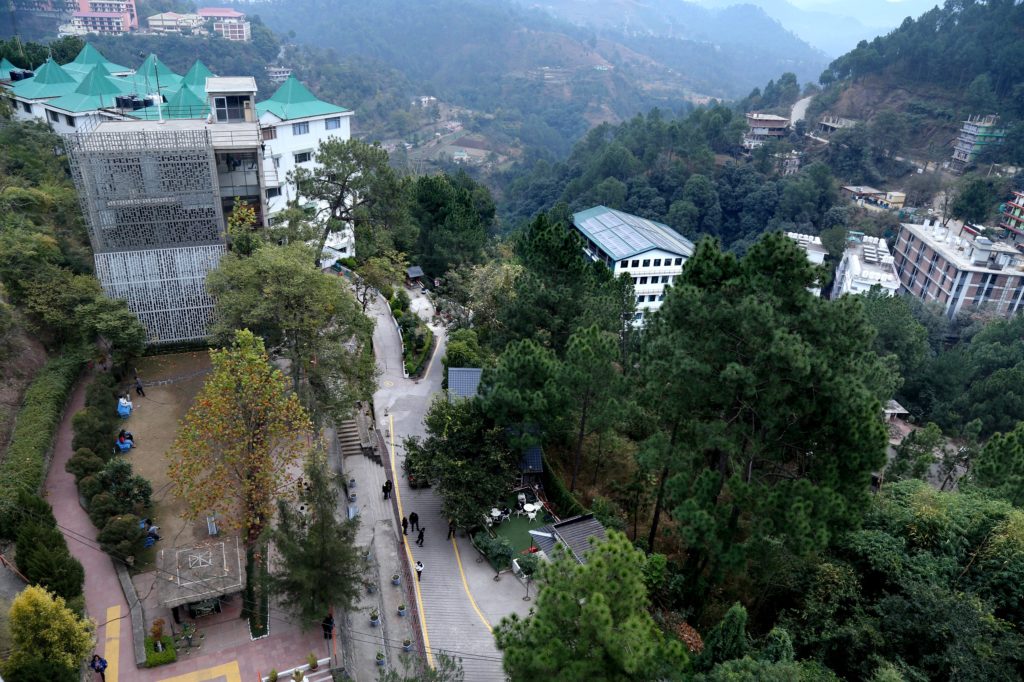 Passionate faculty
Shoolini University's faculty is broad and experienced, with a great blend of industry professionals and academic giants. The faculty members contribute a lot of knowledge and expertise to the MBA program with over two decades of teaching experience.?
Top CEOs, industry leaders, and notable scholars who produce high-impact factor publications lead the MBA program at Shoolini. This unique educational method guarantees that students obtain a complete and practical education that is complemented by the most recent industry insights and scholarly research.
Shoolini University delivers an engaging and relevant learning environment by blending the best of both worlds – corporate experience and academic knowledge. The institution equips students to be future leaders in the global business community by emphasising real-world experience.
Partnerships with top corporates
Shoolini University ensures that all of its students get placed in top companies by providing them with 100% placement support. Through partnerships with over 300 large Indian and global corporates, students have been placed in companies such as Mankind, Hindustan Unilever Limited, Airtel, SBI, ICICI Securities, Pepsico, Nestle, Tata Hitachi, Eicher, LG, Cipla, Meridian, Microtek, and Bank of America. As a highly reputed institute which ranks the No.1 position among all private universities in India by Times Higher Education University Rankings-2023, Shoolini University is regularly invited by partner companies to provide expertise on talent-allied matters, resulting in 100% placement for programs like Shoolini MBA year after year.
As an institute of great repute (No. 3 private university in India as per QS World University Rankings-2023), the university is regularly invited by partner companies to brainstorm and provide expertise on talent-allied matters. As a result, Shoolini MBA and many other programs have delivered 100% placements year after year.
Leading-edge placement policy
A structured and transparent approach, from counselling to creating the right opportunities, prepares students to excel in interviews. The Training & Placement Cell at Shoolini University, led by a team of professionals, works tirelessly to provide students with the proper handholding. The team is vital in aligning the academic curriculum to industry requirements. With the belief that student training & development interventions are vital for success, the university inculcates corporate values and skills among students. This enhances their decision-making skills, developing superior expertise in functional domains and garnering business knowledge.?
Strong alumni network
The universitys Alumni network plays a crucial role in campus placement. Today, this network is spread globally and integrated deeply through technology. We also leverage these contacts to drive our placement efforts. At Shoolini, not only will you learn alongside a select group of professionals in the classroom, but youll also expand your professional network through sparkling alumni networks spread across the world. Youll gain a broader, more interconnected perspective on business issues and how they impact the global economy.?
Opportunity to study abroad
Shoolini MBA also provides multiple learning opportunities through international student exchange programs, projects, etc. There are 250+ MOUs between the University and international universities across the globe. 
The majority of organisations favour skilled employees over less skilled ones as they have exceptional career growth. A skilled workforce help boosts the organisation with proficient working. Skills boost productivity and quality of work for more impactful outcomes. The World Trade Organisation estimates that if India concentrates on skill development and training, its GDP might rise by 35% in 2035. With a clear focus on developing skills, knowledge, attitude and abilities toward employability, entrepreneurship and research, Shoolini University aims at providing quality education at affordable prices. Join Shoolini where we encourage you to think out of the box! Apply Now!