"Skill development is no longer a matter of choice. It is imperative to adapt, survive and succeed." appropriately stated by the Indian government.
India has a literacy rate of roughly 70 per cent, which is less than some of the least developed countries, and when it comes to employability, just 20 per cent of them are employable. Literacy is not simply constrained to education but also broadens to the concept of skills, which entails technical expertise, professional skills, communication skills, digital skills, and other similar knowledge and abilities essential for job and livelihood.
Fundamentally, skill development is a one-time investment to enhance proficiency, any agilities that one follows as a passion, and the capability to do a task with better success rates at a given time. It is necessary since individuals' skills decide whether or not they will be able to carry out their objectives successfully.
In today's world, a lack of skill development training restricts people from the opportunities for self-advancement by limiting their access to well-paid employment. Eventually, this prevents such individuals from making an influential contribution to economic growth which further precludes nation-building. It is widely accepted that education and training are significant to the development of a nation.
Record turnover rates and a global talent shortage make the quest for skilled employees more challenging than ever. A global skills shortage compounds the problem, particularly for highly technical roles that require specific expertise. Hence, Universities must align their talent development approach with industry needs and create opportunities for students to start their careers effectively. This will not only help create an innovative talent pool but also increase students' employability.
Along these lines, Shoolini University focuses on placements through skill development. A special emphasis is placed on inculcating corporate values and skills required for complex decision-making, besides developing superior expertise in functional domains and garnering business knowledge.
Shoolini infuse lifelong learning with skill development and enhancement
The principles and values learnt while pursuing a Shoolini MBA transcend beyond learning within the four walls of a classroom. By Virtue of world-class education MBA students are able to take part in a broad array of extracurricular activities interact with current students and alumni and establish deeper relationships.
Shoolini's effort to offer to the corporate community future-ready employees is unique. The University work cohesively with industry partners to identify the right talent trends, create a customised approach, and prepare students for leadership roles.
Let's dive deeper into how every student at Shoolini develops a suitable skill set and domain knowledge for a smooth transition into the corporate world:
Skill development programs
SPRINT: Shoolini's trademark student development program, Skill Progression through Rapid Intensive and Innovative Training (SPRINT), ensures that students are job and life-ready. Inspired by Stanford's mini MBA, this accelerated development program helps students reach their true potential and gain knowledge, practical skills, and confidence to thrive in the competitive corporate world. SPRINT uses modern, collaborative learning techniques to enhance students' overall learning experience. The program runs twice a year. It focuses on imparting students with skills through intensive and innovative training and is meant to strengthen the foundation of the students before they are placed.
Exceed: This model is inspired by the corporate culture. This program is broadly confined and inclined towards life coping skills, perseverance, yoga and meditation.
Advance Training Program (ATP): A completely 21-day residential program for MBA scholars. It starts at 9 in the morning and ends at 11 in the evening. This is entirely sponsored by Shoolini University. There is a lot of focus on domain-specific skills like finance and investing, business process design and operations, retail, banking, insurance & wealth management, marketing and branding, human resources and people skills, business analytics, social media marketing, and business research and consulting. In this residential program, boys and girls stay together in the same hostel to incorporate diversity and respect for the opposite gender.
Key features of Shoolini MBA
The Management School of Shoolini, which is designed and run for future business enthusiasts, is ranked 102-125 among all Indian institutes in the recent 2022 NIRF Ranking. MBA students at Shoolini University are prepared to succeed in a wide range of job profiles in the corporate world. School of Business Management, Shoolini University is a globally sought-after business school. The University is committed to its organisational goal of 'Mission-130', which means 100% student placements with 30% top jobs.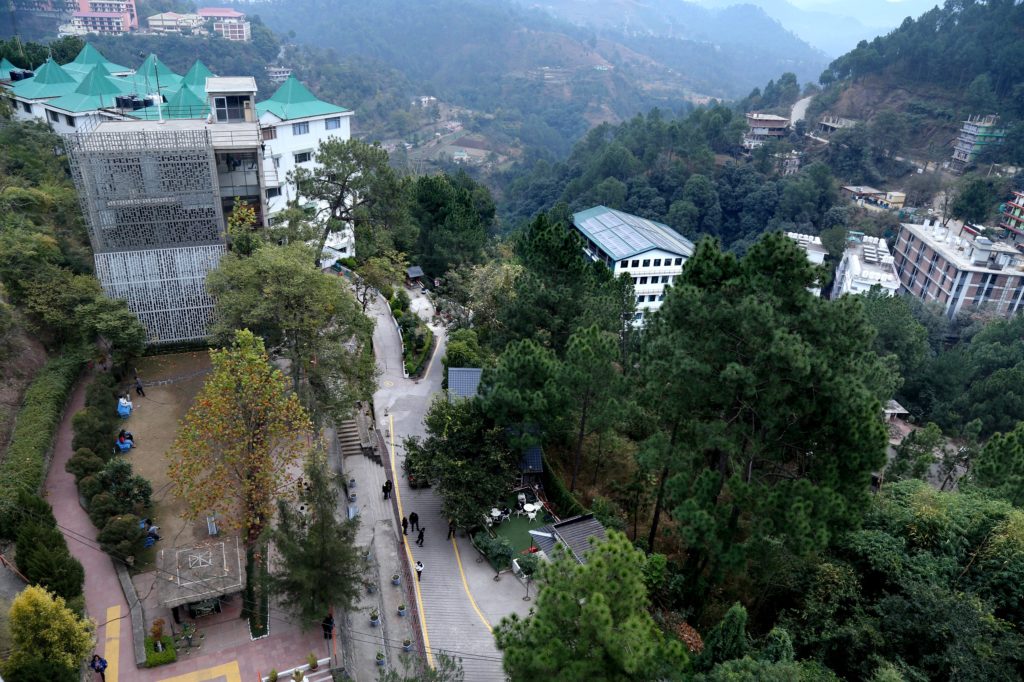 Passionate faculty
Shoolini has a blend of faculty from the industry as well as academia. They have experience in academia for about 20 years. The MBA program in Shoolini is led and learning comes from top CEOs, industry leaders and researchers who publish high-impact factor articles. There is a right convergence of corporate experience and academic knowledge.
Partnerships with top corporates
Shoolini University provides 100 per cent placement support along with getting 2000+ students employed across all the fields such as Management, Engineering and Pharmaceutical Sciences, among others. The Shoolini MBA Career Management team is committed to connecting students with top companies and innovative startups in the global arena.
Partnership with 300+ large Indian and global corporates helps students achieve quality placement in the companies such as Mankind, Hindustan Unilever Limited, Airtel, SBI, ICICI Securities, Pepsico, Nestle, Tata Hitachi, Eicher, LG, Cipla, Meridian, Microtek, Bank of America, etc.
As an institute of great repute (No. 3 private university in India as per QS World University Rankings-2023), the university is regularly invited by partner companies to brainstorm and provide expertise on talent-allied matters. As a result, Shoolini MBA and many other programs have delivered 100% placements year after year.
Industry-ready curriculum
An Industry-driven curriculum, hands-on futuristic learning and deep industry connections make sure of a cent per cent placements for graduates. The curriculum is designed and run for the future leaders of the corporate world. Students are prepared to excel at a plethora of job profiles in the corporate world through innovative training. School of Business Management, Shoolini has adopted The Harvard-inspired Quadmester Pattern, which divides each semester into two semesters.
Leading-edge placement policy
A structured and transparent approach, from counselling to creating the right opportunities, prepares students to excel in interviews. The Training & Placement Cell at Shoolini University, led by a team of professionals, works tirelessly to provide students with the proper handholding. The team is vital in aligning the academic curriculum to industry requirements. With the belief that student training & development interventions are vital for success, the university inculcates corporate values and skills among students. This enhances their decision-making skills, developing superior expertise in functional domains and garnering business knowledge.
Strong alumni network
The university's Alumni network plays a crucial role in campus placement. Today, this network is spread globally and integrated deeply through technology. We also leverage these contacts to drive our placement efforts. At Shoolini, not only will you learn alongside a select group of professionals in the classroom, but you'll also expand your professional network through sparkling alumni networks spread across the world. You'll gain a broader, more interconnected perspective on business issues and how they impact the global economy.
Opportunity to study abroad
Shoolini MBA also provides multiple learning opportunities through international student exchange programs, projects, etc. There are 250+ MOUs between the University and international universities across the globe.
The majority of organisations favour skilled employees over less skilled ones as they have exceptional career growth. A skilled workforce help boosts the organisation with proficient working. Skills boost productivity and quality of work for more impactful outcomes. The World Trade Organization estimates that if India concentrates on skill development and training, its GDP might rise by 3–5% in 2035. With a clear focus on developing skills, knowledge, attitude and abilities toward employability, entrepreneurship and research, Shoolini University aims at providing quality education at affordable prices. Join Shoolini where we encourage you to think out of the box! Apply Now!