Bachelors in Technology (BTech) is a popular technical engineering program. Undergraduate applicants earn this degree after four years of in-depth research and practical experience in the field. Equipped with a BTech degree, graduates can look forward to a rewarding career in engineering as the growth opportunities are unlimited in this sector.
Let us explore this course in detail here.
Why should you enrol in a BTech program?
Ever-growing demand
The demand for good engineers is ever-growing. Students must understand that engineers are not limited to only one sector. Instead, they are needed and accepted in every sector. The recruiters and HR experts of reputed companies are always on the lookout for great engineers who will take their company's name to new heights.
Dream to settle abroad
Dreams of settling abroad are not far-fetched when it comes to engineering, as their demand is rising abroad. This industry is progressively international in structure, which is why more and more engineers from India find plump engineering jobs abroad. It does not matter if they have graduated recently or are mid-career, doing a job in engineering abroad can be one of the best chances for them to see a new part of the world, get engrossed in a new culture, and at the same time find the perfect place to fit in and work. International companies offer attractive salary packages as well.
Diverse job opportunities
Due to various specialisations available during the coursework, the opportunities in this field are diverse. Besides being Engineers, BTech graduates are also recruited as researchers, consultants, and subject matter experts.
Specialisations in BTech
Various specialisations are offered under BTech. Here is a list of the popular specialisations in BTech:
BTech Nanotechnology
In this blog, we will learn everything about the specialisation which has shot into prominence, i.e., Bachelors in Technology in Food Tech.
What is BTech in Food Technology?
Bachelors in Technology in Food Tech is a 4-year undergraduate program that explores the application of food science and food engineering. It discovers application in various aspects of food processes and preservation, which makes it extremely useful in fields like food processing, engineering, packaging, nutrition, preservation and more. The context of the program is more practical in nature as it is based on applied science.
Why one should choose Food Technology?
Emergence of Food Engineering and Technology courses
All of us know the necessity of making sure that the food we consume is nutritious and that quality checks are being maintained. This is why the need for domain-specific experts is on the rise. This awareness and demand have led to the emergence of Food Engineering and Technology courses.
Job security
The food industry is one of the biggest in any country and food is the basic necessity of life, which means it will always be in demand. So, working in any form along the food supply chain ensures you always have a job.
Practical implementation of knowledge
If you want to join the food industry as a Food Engineer, a BTech degree is a must. Students who want to find a rewarding job right after completing a bachelors degree must opt for a Bachelors in Technology in Food Tech. This program has various applications and is an interesting training for students curious about the practical implementation of Food Science and Engineering and the subjects associated with the course.
Diverse environment
The moment one steps into the food industry, the innumerable jobs available in diverse fields hit you. They are not just limited to lab work or a desk job. You can be in Quality, Research or Development, Teaching, Marketing, Sales or even get a Government job. It is a multidisciplinary degree with thousands of opportunities.
Also, if you think and compare Food Engineering with other degrees like BTech in Civil, Mechanical and other sectors, the Food Chain undoubtedly is booming because of the ever-changing taste, priorities, and preferences of the customer. However, it is a challenging and demanding course at the same time. Only students who have the passion and are ready to face challenges throughout the course should join BTech in Food Engineering.
Role of Food Tech Engineers
A Food Engineer is a professional who provides solutions to problems or addresses concerns in food areas from an engineering viewpoint. She/he has to provide ways of maintaining the nutritional value of food along with optimum use of food resources. They work in the Agriculture, Food Processing, or Food Manufacturing Industry and are directly involved in the process of supplying safe, secure, and healthy food materials and bio-products across the world.
Their primary focus remains on the development of packaging techniques and processes, and on improving the food quality. They are supposed to apply engineering principles for the storage, processing, and distribution of food materials and other products. A Food Engineer working in stores ensures adequate storage of canned, boxed and bagged food that is high in quality and nutritional value in compliance with food processes as per the local and state regulatory standards.
Job opportunities for Food Tech Engineers
Those with BTech Food Tech have a bright career ahead of them with ample opportunities. Graduates or postgraduates in Food Technology apply for jobs in various disciplines as per their areas of interest such as:
Hospitals
Restaurants
Food Processing Companies
Soft Drink Manufacturing Firms
Cereal and Spice, Rice Mills
Catering Establishments
Quality Control Organisations
Packaging Industries
Food Research Laboratories
Jobs are not limited here& there are specialised career opportunities in bioinformatics and biotechnology companies, the pharmaceutical industry, and water conservation as well as research institutes where students find lucrative employment.
The flexible and multidisciplinary program makes sure that students have the option to pursue careers such as:
Food Engineer
Production Manager
Nutrition Specialist
Food Storage Manager
Analytical Science
Shoolini University imparts industry-relevant education to create an immediately employable pool of engineers. All students at Shoolini are encouraged to have a strong research knowledge base so they can make a difference in the world with their high-impact research, innovations, and inventions.
Why pursue BTech Food Technology at Shoolini University?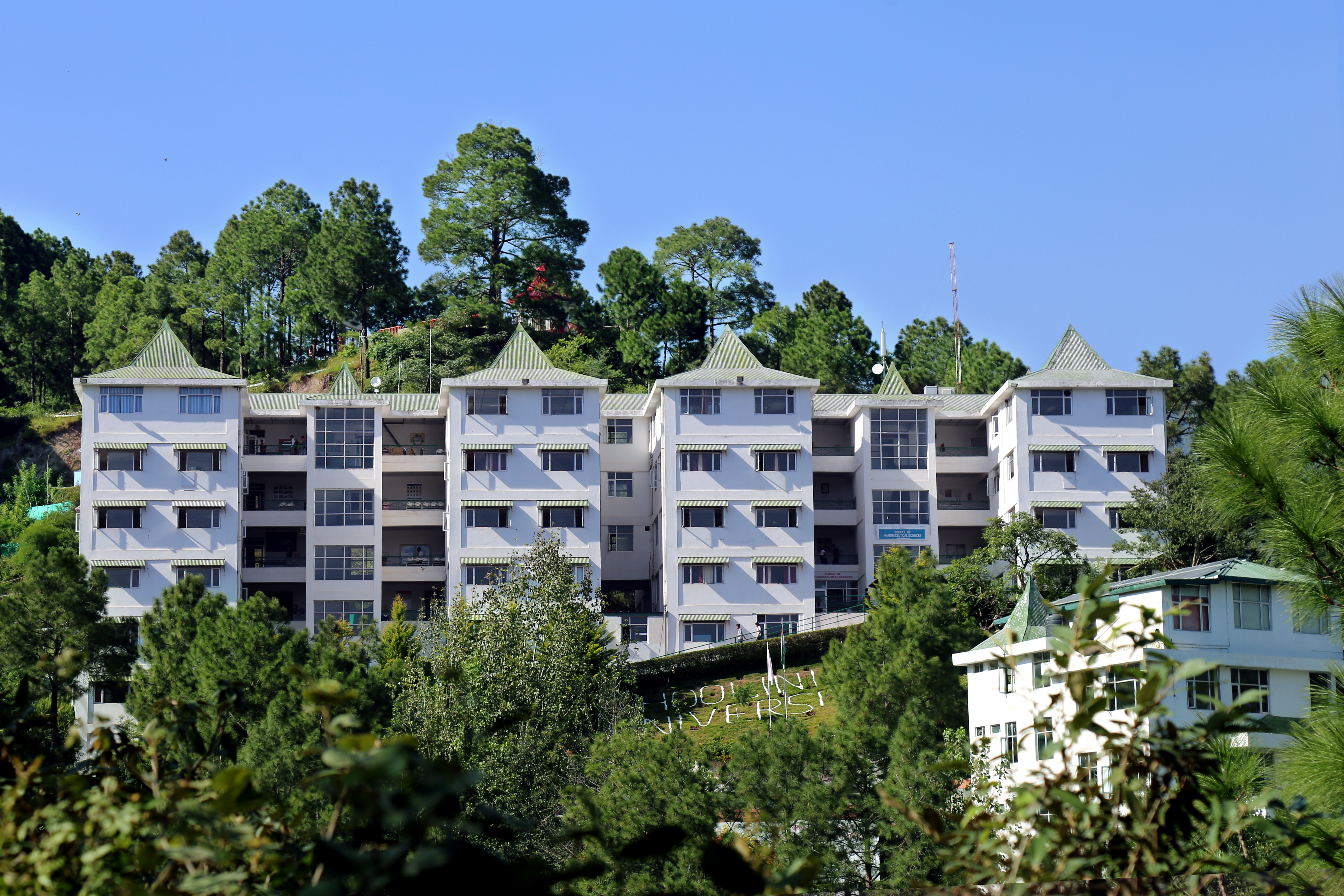 Shoolini University is a leading private university in North India and is located in Kasauli Hills in Himachal Pradesh. Shoolini University is ranked in the
89th among all universities in India by the National Institutional Ranking Framework (NIRF) Ranking in 2021
36th in NIRF Pharmacy Ranking of 2021
76-100 in NIRF Business Management Ranking
103rd in NIRF Engineering Ranking
Innovative course
Shoolini University offers an innovative Bachelors in Technology in Food Tech course for students. The programs are designed to offer an optimum blend of theory and practice to provide a solid foundation with specialisations. Food technology courses encompass a thorough study of food processing, manufacturing, preservation, labelling, distribution, and quality control.
Collaborations available with foreign universities
Shoolini University has international alliances for student exchange programs. Students tend to pursue their masters program and conduct valuable research from foreign universities in the US, UK, Netherlands, etc.
Top faculty
Teachers and mentors of Engineering courses at Shoolini University include experts from academia as well as industry. Academicians for engineering are highly qualified and have degrees from reputed universities in India and abroad, IIT and NIIITR, etc. The faculty of international repute, brilliant student community, and excellent technical staff contribute to an environment of global excellence.
The BTech in Food Technology program at Shoolini University aims to equip students with skills and knowledge to lead and succeed in the 21st-century workplace.
Conclusion
The food industry is one of the largest, so numerous government and private job opportunities are available everywhere in the world. The market for food science and its branch is growing fast, so job prospects are increasing day by day. It covers all departments, starting from Research to Marketing, making the job holder adaptable and multifaceted.
So, a BTech in Food Tech opens a plethora of job opportunities for you as soon as you complete your graduation from a reputed institution.