The onset of several new viral fevers and lifestyle-related diseases has created a huge chasm between diseases and lifesaving drugs. Healthcare professionals are working on several new drugs and treatments. Pharmaceutical sciences, which deals with the discovery and development of new drugs and therapies, has become a key area of study because of this growing need.
With the emergence of healthcare facilities and advancements in the healthcare industry, there is a perpetual demand for competent graduates in the field. The Bureau of Labour Statistics reports that individuals with a master's degree in pharmaceutical sciences are most likely to work profitably in this industry. Thus, obtaining a masters degree in pharmaceutical sciences is beneficial. It makes you highly versatile and gives you the freedom to choose from diverse career prospects.
Here are some of the key advantages of enrolling for a masters in pharmaceutical sciences.
1. Be part of a booming industry
The pharmacy industry has become a significant part of the global economy.Within that, ?India has an advantage because several companies here produces a wide range of critical but affordable drugs. They are being manufactured for use in the domestic as well as foreign markets. With a masters in pharmacy, you have access to career opportunities that are a part of this growing sector.
2. Diverse career options
There is a wealth of opportunity in the pharmaceutical industry for those with pharmaceutical sciences degrees along with the room for growth. A graduate of the program can find jobs in hospitals, nursing homes, healthcare facilities, and community health clinics. Those with entrepreneurial interest in the pharma industry also pursue this program for professional growth.
3. Continuous learning
The pharmacy field is dynamic. Since new challenges and opportunities emerge regularly, pharmacy professionals need to stay updated about the latest developments. For example, new viruses and diseases necessitate cutting-edge pharmaceuticals and medical interventions. Therefore, a masters in pharmacy helps you to understand the key factors that need to be kept in mind when you are in this field. Postgraduates can also keep up with the latest industry trends by participating in seminars and conferences held worldwide.
4. Job security
A masters degree in pharmaceutical sciences guarantees a person a lifetime of employment. You can work across different states, countries, and continents if you earn the degree. Even during the COVID-19 pandemic, which severely impacted all sectors of the economy, there was a sharp increase in demand for pharmaceutical specialists to create vaccines. So, its fair to say that this field offers its practitioners job stability.
5. Acquire business knowledge related to Pharmaceutical Sciences
You can gain the knowledge and competence required to establish and manage your own pharma business with a master's degree. If you're interested in working for yourself and being your own boss, opening a pharmacy is a fantastic choice. With the rising need for pharmaceuticals today, there's plenty of potential for profit.
Also read: Why Choose Pharmaceutical Sciences? Is It Worth It?
Benefits of obtaining your Masters in Pharmaceutical Sciences from Shoolini University
Shoolini University, the No.1 Private University in India (Times Higher Education Rankings 2023), is located near one of the major pharmaceutical hubs of India (Baddi). As such, it allows students to participate in industrial internships and placements with some of the world's most renowned researchers at leading pharmaceutical and biotechnology firms.
1. Programs maximise Return on Investment:
MPharmacy (Pharmacognosy)
2. Exposure to better research opportunities:
Shoolini University is a research-intensive institution with over 200 high-quality applications or papers published in Scopus-indexed publications. The research focus is aligned with the university's theme to explore the potential of Himalayan biodiversity, medicinal plants, and therapeutic potential. The Faculty of Pharmaceutical Sciences has formulated research groups focusing on thematic areas. The university provides a valuable research landscape for students, emphasising various fields of pharmaceutical sciences. These include medicinal plants from the Himalayan region, nanotechnology, novel drug delivery systems, neurodegenerative disorders, natural products, synthetic chemistry, and cancer biology.
3. Varied career opportunities:
After completing master's in pharmaceutical sciences from Shoolini university, postgraduates perform many distinct roles and hold different responsibilities in the health and retail industries. They can start their own pharmaceutical company or work as an entrepreneur. Postgraduates have more options in pharmaceutical research and development. You can also enrol for a PhD, and upon completion of the program, work as teaching faculty.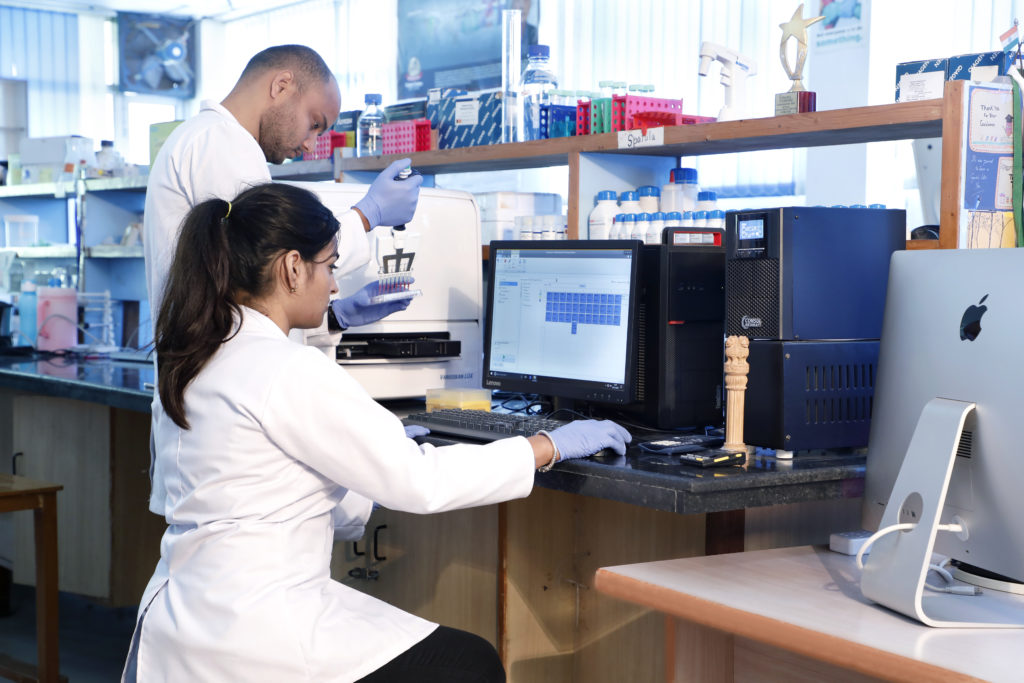 Also read: How Pharmacy Proves to be a Rewarding Career?
4. Exposed to Himalayan flora and its curative properties:
Since Shoolini University is in the Himalayas, there is much scope to study and research various plants and the Himalayan biodiversity. Postgraduate students work on multiple types of medical plants sourced from the Himalayan flora. They work on extraction, fractionation, isolation, and characterisation of various phytoconstituents present in these medicinal and aromatic plants. The faculty and students work towards developing multiple formulations for different plant materials.
5. Better placements in renowned Pharma companies:
Our 'Mission 130' aims at 100 per cent employability of students with 30% in top companies. The university is committed to creating highly competitive and valuable human resources per the industry and community requirements. The School of Pharmaceutical Sciences at Shoolini University has a high placement rate. Top pharmaceutical conglomerates visit the campus to hire students at lucrative packages during campus placements. Cipla, Ranbaxy, Novartis, Mankind, and others are among our top recruiters.
6. Intensive personality development via VEmpower coaching, SPRINT:
The SPRINT program, modelled after Stanford's mini-MBA program, assists students in reaching their full potential and gaining knowledge, practical skills, and confidence to flourish in the competitive corporate world. VEmpower Coaching is a one-of-its-kind program approved by the International Coaching Federation and prepares Shoolini students to be future leaders.
7. Exposure to good laboratories:
Advanced laboratories are equipped with UPLC, HPTLC, GCMS, and HPLC, among other things. The university provides students hands-on training to help them excel as professionals in the pharmaceutical industry.
8. Achievement of sustainable development goals through intensive research activities:
Research is directly linked to SDG 3, which concerns health and well-being, by working on different drugs and improving their efficacy to ensure improved treatment outcomes.
9. Top ranking in Pharmaceutical Sciences:
The Ministry of Human Resource Development (MHRD), Government of India, has ranked the School of Pharmaceutical Sciences, Shoolini University, 39th among the 'Top Pharmacy Colleges in India'. This is the only NIRF-accredited school in Himachal Pradesh and the only university in the state with an NBA-accredited curriculum.
10. Applied teaching and innovative pedagogy:
Top academics and industry experts designed and upgraded the research-based curriculum. Graduates participate in various programs, FDPs, workshops, and conferences globally. As a result, students are involved in application and problem-solving projects. The faculty comes from prestigious national and international institutions such as Oxford, the National Cancer Institute (USA), the National Institutes of Health (USA), IISc, and Oxford. Students are encouraged and mentored to file patents as early as their undergraduate years.
Pharmacy is a progressive profession; when you earn a degree, there are innumerable career options.