Yoga is the science of activating your inner energies to such a vibrant and exuberant state that your body, mind, and emotions function at their highest peaks. Sadhguru
The word Yoga literally means Union.
Today, modern science reveals beyond a doubt that the entire existence is just one energy manifesting itself in various forms. Yoga means discovering the keys to the nature of reality.
The basis of the world's spiritual practices, which transcend religion by thousands of years, is this fundamental yet profound science of enhancing human consciousness. Yoga is about achieving ultimate balance, searing clarity, and boundless exuberance. With this, you are effectively prepared for life.
What do you study in PhD Yoga?
A doctoral degree in Yoga includes its physiological and psychological benefits. It covers different skills associated with the practice of Yoga and how it can heal diseases. As a result, it helps students develop a deeper understanding of the human body and improve their overall well-being.
Scholars imbibe the philosophy of Yoga and learn all about Yama & Niyama, Yoga Therapy, Prayers, Sukshama Vyayam, Asana, Pranayam, and Meditation. The primary goal of a PhD in Yoga is to teach, practise, understand, and share the wisdom of Yoga.
The program follows a rigorous academic conceptual framework and research-based training. It also focuses on the power of Yoga and its significance in modern culture.
Career prospects after PhD in Yoga
A doctorate in Yoga has a promising future. In a society where lifestyle diseases are on the rise, Yoga is exceptionally vital. As a result, students in this course should learn everything they can about Yoga by researching, practicing and reading relevant books during their learning years.
The scope of this field is mounting like never before, and a PhD in Yoga will open up various employment opportunities for you. Many prominent firms like Hyatt Hotel Group, ESIC General Hospital, IGNOU, Best Aromatics Limited, and Ayur Bethaniya Limited constantly seek qualified practitioners, and the market is expanding rapidly.
Job profiles:
Ayurvedic Doctor
Yoga Instructor
Yoga Therapist
Research Officer
Clinical Psychologist
Yoga Therapist
General Therapist
Research Officer
Yoga Trainer
Skills required for the course
In addition to academic qualifications, you also need to have some primary and relevant skills, including:
Better communication skills
Interpersonal skills
Skills to inspire others to believe in Yoga
Strong determination
Willpower to practice challenging asanas or Yoga postures
Top recruiting platforms
Government & Private Schools
Yoga and Naturopathy Colleges or Institutions
Central Council for Research in Homoeopathy
Research Centres
Resorts
Health Clubs
Yoga and Pilates Studios
Special Needs Centres
Private gyms
Individual Client Homes
Top 7 reasons to pursue PhD in Yoga
PhD in Yoga is a research-based program, so scholars with this degree will undoubtedly have better opportunities than those with a master's or a bachelor's degree.
Yoga is a growing field in India and all over the world. The number of people choosing a career in Yoga is less compared to other areas, such as biotechnology or engineering. This means that people who want to do a PhD in Yoga will have less competition and more chances of enrolling in the PhD course.
Yoga is a part of the fitness industry, and the entire fitness industry is inclined towards Yoga. While hiring, the fitness industry prioritises doctorates in Yoga because they have much more experience and expertise than graduates.
During the pandemic, the entire world showed massive faith in Yoga practices. And with this vast faith came the need for Yoga Instructors worldwide. Companies providing online Yoga classes want to hire PhDs to meet international standards.
In the current scenario, 5-star hotels, resorts, and airports have Yoga practice and meditation centres. Also, world-class gyms have separate Yoga studios and meditation centres. Such places are always looking for highly skilled Yoga instructors, especially PhDs who are Indians, because of the originality of their learning in Yoga.
All the Central, State, and Private Universities or Higher Education Institutions (HEIs) are establishing Yoga departments and hiring PhDs in Yoga as facultyTeaching Associates, Assistant Professors, Associate Professors, and Professors, depending on their expertise and experience.
In the last three years, vast appointments of PhD Scholars have been made at Higher Education Institutions or HEIs as faculty. Also, PhD scholars can work as faculty in universities overseas.
Many world-class projects are in progress at renowned universities in different countries, providing PhD Yoga fellows with the opportunity to avail postdocs. PhD Yoga fellows have a higher chance of enrolling in their first attempt because of the lack of competition in the field.
Health benefits of Yoga
When you listen to yourself, everything comes naturally. It comes from inside, like a kind of will to do something. Try to be sensitive. That is yoga. Petri R?is?nen
Yoga helps people:
Improve general wellness by relieving stress, supporting good health habits, and improving mental/emotional health, sleep, and balance.
Relieve low-back pain and neck pain, and possibly pain from tension-type headaches and knee osteoarthritis.
Lose weight.
Quit smoking.
Manage anxiety or depressive symptoms associated with difficult life situations.
Relieve menopause symptoms.
Manage symptoms of chronic diseases and improve quality of life.
Why pursue Yoga at Shoolini University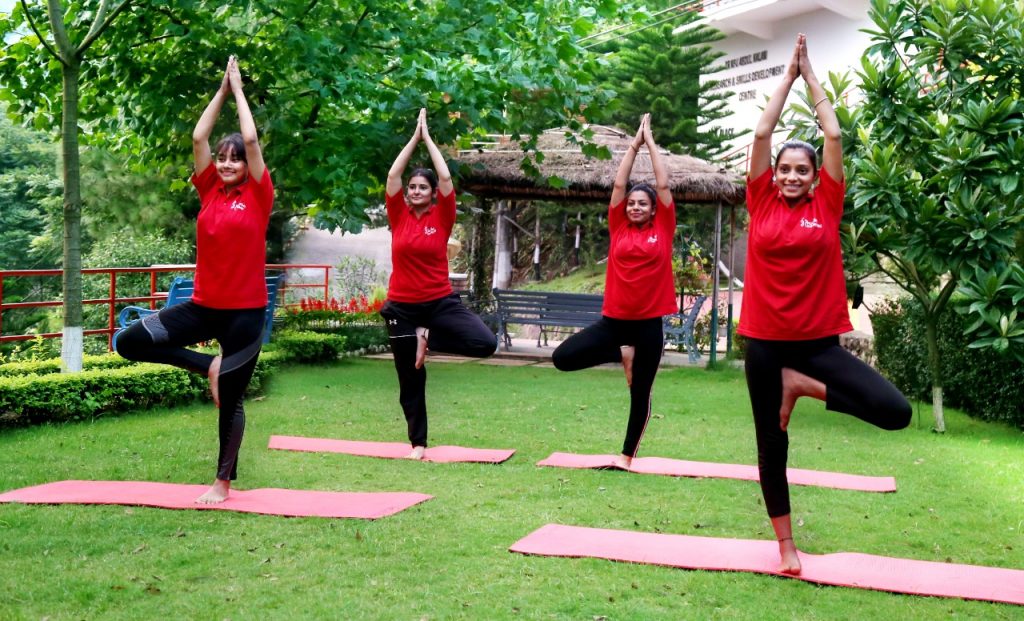 Since ancient times, India has been the centre of knowledge for the entire world. Our sages and yogis spent countless years meditating and preaching the Science of Yoga in the Himalayas.?
You can embark on your Yoga career with Shoolini University to help people heal and discover their inner selves. Shoolini is the first private University to start a holistic BSc degree in Yoga Sciences in Himachal Pradesh.?
The School of Ancient Indian Wisdom and Yogic Studies at Shoolini University creates a fusion of Yoga and Ayurveda. It aims to spread its knowledge and help build a healthy, prosperous, and spiritually aware community.?
Yoga programs at Shoolini outline the origins and historical development of Yoga and meditation in India, from ancient times to the contemporary world. The program provides theoretical knowledge and hands-on learning apart from imparting transformational education.This institution has one of the best-landscaped campuses in the Himalayan foothills, making it an ideal destination for yogic practices and scientific research.
Shoolini provides scholars with the knowledge they need to succeed professionally within the framework of Vedic knowledge and contemporary science.?
Yoga Programs Offered by Shoolini University
PhD in Yoga from Shoolini University
PhD in Yoga at Shoolini University is a research-based program for students interested in Yoga, healthy living, and fitness. It highlights the virtues of Yoga and how it may change the world. The program emphasises three aspects of Yoga: mental, physical, and spiritual, and teaches students Yogic therapy, Yogic training, and new ways to heal diseases and disorders in the human body.
Eligibility: Four-year graduation degree or Master's degree in a related discipline with a minimum of 55% marks.
Admission Criteria: Shoolini University's multiple choice entrance test (SU-SAT) and assessment of research aptitude through concept note & faculty interaction.
Duration: 3 years.
Before the youth manage the country, the world and business, they must learn to govern themselves. The entire process of Yoga is the science of internal management. You create an inner possibility where being blissful, joyful, and peaceful is your nature, not because of something happening around you.If you're seeking Yogic expertise, then Shoolini is the best choice! Explore More!