Today, the world yearns for peace like never before! And on the International Peace Day on September 21st, the theme, 'Actions for Peace: Our Ambition for the #GlobalGoals" is a clarion call to action, recognising our individual and collective responsibilities. Peace is not just an abstract goal; it is an essential step towards realising the Sustainable Development Goals (SDGs). Achieving these goals will create a culture of peace that resonates across nations.
Observed around the globe, the International Peace Day is a declaration by the UN General Assembly to dedicate 24 hours to the ideals of peace, embracing non-violence and ceasefire. In the words of United Nations Secretary-General António Guterres, "Peace is needed today more than ever. War and conflict are unleashing devastation, poverty, and hunger, and driving tens of millions of people from their homes. Climate chaos is all around. And even peaceful countries are gripped by gaping inequalities and political polarisation."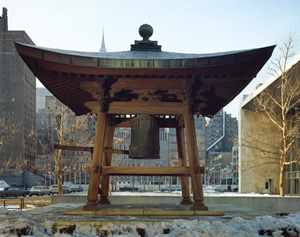 Iconic Peace Bell, a symbol of unity and tranquillity, was a gift from the United Nations Association of Japan in 1954. This remarkable bell has become a tradition, chiming twice a year: on the first day of spring, during the Vernal Equinox, and on September 21st, celebrating the International Peace Day.
Let's celebrate International Peace Day by exploring self-care tips and the transformative power of meditation and Yoga, and shine a spotlight on Shoolini University. But first, hear what Dr Saamdu Chetri, director of the recently established Happiness Centre at Shoolini University, says about peace and its connection to Yoga: "If you investigate quantum mechanics, peace is at the highest positive vibration of every human being… After peace, there is only enlightenment… And to achieve world peace, the only way is inner peace."
Elaborating further, he said that peace is not an external construct but an intrinsic aspect of every individual. Peace is not something pre-existing but a journey that begins from within, exploring one's being. To embody peace, one must shed dualistic perspectives and perceive reality as it is, appreciating each aspect for what it brings to life.
Self-care tips for college students
College life is a thrilling rollercoaster filled with new experiences, friendships, and challenges. While conquering the academic mountain, it is essential not to lose sight of inner peace. Here are some invaluable self-care tips to help you maintain balance:
Prioritising Selfcare – Take moments throughout your day to prioritise yourself. Whether indulging in a favourite book, pampering yourself with a spa day, or simply going for a mindful walk, self-care rejuvenates your spirit and fuels inner peace.
How to Find Inner Peace – Finding inner peace amidst the whirlwind of college life is crucial. Embrace mindfulness and be present in each moment. Learn to let go of stressors beyond your control and focus on what truly matters. Inner peace is a journey. Start with mindfulness practices, like meditation that calm your mind. Shoolini University offers expert meditation tips tailored to college students, helping you kickstart your quest for inner peace.
Meditation Tips for College Students
Your Path to Inner Peace: Meditation is a potent tool to silence the noise in your mind and uncover inner peace. It is not time-consuming; even a few minutes daily can make a significant difference. Find a quiet spot, close your eyes, and focus on your breath. Shoolini University's mindfulness programs are tailored for college students, providing invaluable meditation insights.
Yoga is more than just a physical practice; it is a holistic journey that combines postures, breathing techniques, and meditation. It enhances not only your physical flexibility but also your mental clarity. Integrate Yoga into your daily routine to discover the profound sense of inner peace it offers.
Yoga Benefits: Yoga offers a plethora of benefits tailored to college students. It reduces stress, amplifies concentration, and fosters self-awareness. Beyond the mental advantages, regular Yoga boosts your physical well-being, making it a priceless addition to your self-care regimen.
Shoolini University's Yoga Courses: A Glimpse into Excellence
So far, we have explored the incredible benefits of Yoga for inner peace and well-being. But if you have ever aspired to turn your love for Yoga into a meaningful profession, taking your first step into the world of Yoga could begin with a journey to Shoolini University.
Shoolini University, nestled in the serene Himalayan foothills, Yoga is not just a program but a journey towards finding your inner calm amid chaos. Being India's No.1 Private University (THE World University Rankings and QS World Rankings), Shoolini is the best university in India for Yoga. Also, it was the first university in Himachal Pradesh to introduce a comprehensive BSc course in Yogic Sciences, making it a pioneer in the region.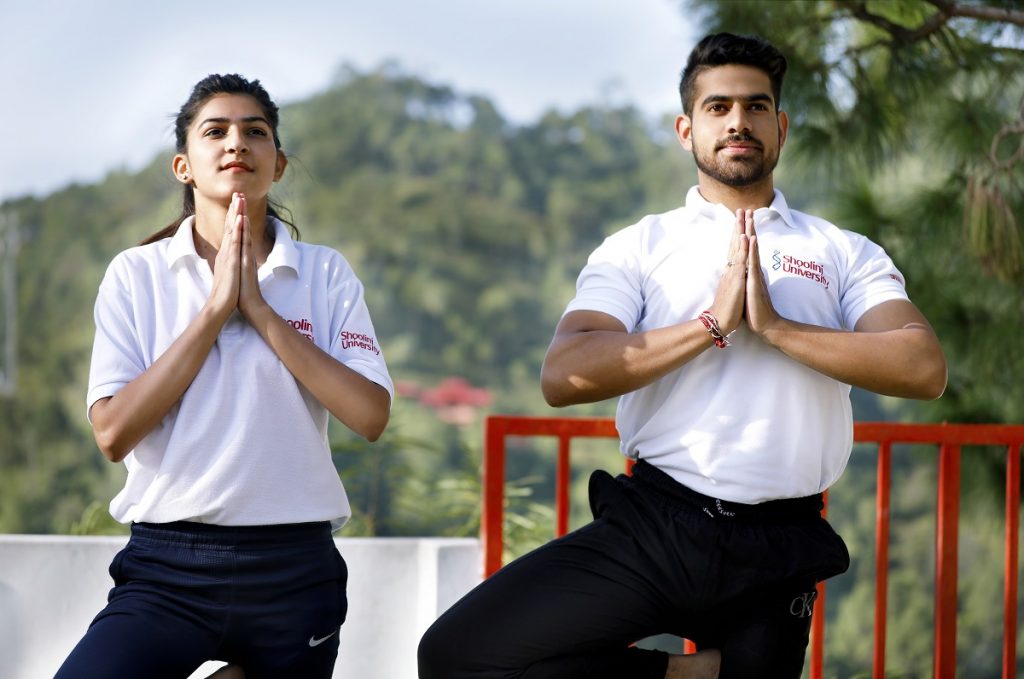 The Yogic Journey at Shoolini: What Makes it Exceptional?
When you choose Shoolini University for your Yoga education, you embark on a journey that blends ancient Indian wisdom with modern academic rigour:
The Yoga Research Centre: In 2016, Shoolini University established a dedicated Research Centre in Yoga on its campus. The centre blends ancient Indian philosophy and spirituality with contemporary academic programs. Here, students delve into the profound realms of the inner self and the essence of human existence.
A Faculty of Distinction: Shoolini's School of Ancient Indian Wisdom & Yogic Studies boasts a faculty that is second to none. The university prides itself on having globally recognised NET-qualified teachers, including professors holding PhDs in Yoga. In fact, Shoolini University is the only institution in India with six doctorate professors in Yoga.
Job-Oriented Programs: Shoolini University's Yoga programs are meticulously designed to meet the demands of a rapidly growing market. Schools, colleges, universities, resorts, hotels, hospitals, and organisations across the globe are seeking qualified Yoga instructors. By enrolling in Shoolini's programs, you position yourself at the forefront of this burgeoning industry.
Balanced Curriculum: Whether you choose BSc/ BA Yoga, MSc Yoga, or PhD Yoga, your daily routine includes morning Yoga sessions alongside daytime theory classes. This balanced approach ensures you gain theoretical knowledge and practical experience.
Guaranteed Placements: Shoolini University is the first in India to offer 100% placements to Yoga students. This commitment to your future career ensures that your journey from student to professional is smooth and successful.
Global Exposure: Shoolini University believes in broadening horizons. The institution conducts student exchange programs with foreign universities, providing invaluable exposure to the international corporate world and enhancing your professional growth.
Special Days and Events: The university actively promotes special days and events like Yoga Day, Naturopathy Day, and Yoga Sessions. These platforms offer you the opportunity to highlight your talents and participate in activities that celebrate the essence of Yoga.
NET Preparation Support: For master's students interested in pursuing the National Eligibility Test (NET), Shoolini University's dedicated Yoga professors offer specialised classes to help you excel in your preparations.
Invitation to Explore Ancient Indian Wisdom & Yogic Studies
Shoolini University warmly invites enthusiastic students to explore the realms of Ancient Indian Wisdom & Yogic Studies on its picturesque campus. Set against the backdrop of the mighty Himalayas, often regarded as the birthplace of Yoga, this idyllic destination provides the ideal environment for both theoretical knowledge and hands-on training in Yogic Practices and Scientific Research.
If your heart resonates with the call of Yoga, consider Shoolini University as your companion on this transformative journey. Here, your passion can evolve into a profession, and your pursuit of inner peace can become a path to guide others towards their serenity.
As you embark on your college journey, prioritise self-care and explore the enriching yoga programs offered by Shoolini University, an institution dedicated to nurturing your holistic development. Remember, finding inner peace is not a destination but a lifelong, rewarding journey.