Behind every research scholar and their groundbreaking achievements is an institution that motivates them to put in that relentless effort. Any research work is not just a matter of hours or days… it is years of hard work, failure, trying again and then succeeding. This journey requires a strong infrastructure built to support all those brave and innovative minds wanting to bring a change. One such research university is Shoolini University. 
From vibrant campus life to undergraduate research opportunities, this university has truly understood what research is all about and why it shouldn't exist only within hierarchical boundaries. 
Shoolini's unique approach to research has broadened the opportunities for students. From inventing biodiesel to finding a significant method to slow down the development of Alzheimer's, Shoolini scholars are at the forefront of establishing a global footprint. 
As we progress, let's explore the research of a Shoolini University faculty member in the field of Alzheimer's, which gained international recognition. We'll also examine how Shoolini, the best private research university in India (QS Asia Rankings 2023), supported him on this journey.
Shoolini Researcher and Associate Prof Lalit Sharma at AAIC 2023
Assoc Prof Lalit Sharma from the Department of Pharmaceutical Sciences presented his innovative idea at the Alzheimer's Association International Conference (AAIC) 2023 in Amsterdam. Renowned universities around the globe participated in this conference.
But Assoc Prof Lalit Sharma's unique approach to the disease and its cure caught the attention of his fellow members. He talked about amyloid beta, the primary component of the abnormal protein build-up in the brain cells, which later leads to Alzheimer's.
His research showed how evaluating compounds derived from Himalayan plants could slow down the growth of amyloid beta. As we all know, Alzheimer's is an incurable disease, but its effects can be mitigated. Associate Professor Sharma's research can be considered a breakthrough in this field.
Inspiration behind the success
As we discuss the countless efforts behind every research paper, it's important to recognise how Shoolini University's inspired Assoc Prof Lalit to think beyond the "possible".
When asked about the driving force behind his achievement, the scientist credited Shoolini University, where he is currently employed. He emphasised how the university's environment fosters research and encourages anyone with a single idea to pursue it further.
Furthermore, he acknowledged the comprehensive support from Shoolini as a research university. In addition to the unwavering backing, he noted that this research work contributed not only to the university's growth but also aided him in finding value in Alzheimer's research.
Shoolini research: A glimpse of the infrastructure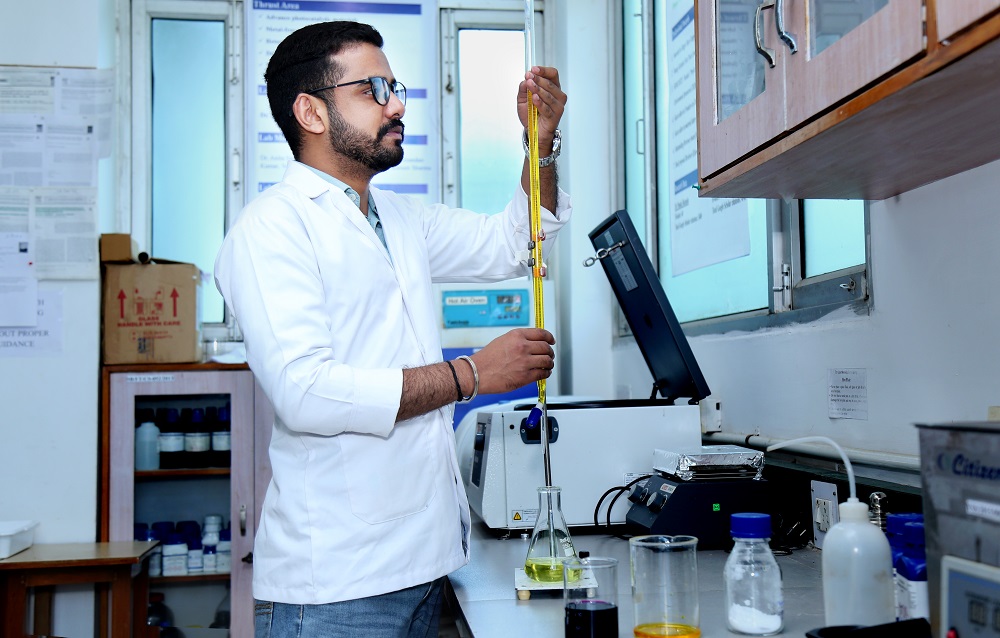 Moving forward, let's talk about why this university focuses on research so much and what steps it has taken to make its PhD or doctoral programs worthwhile. There must be a reason behind considering it among the top research universities in India, right? So, let's look at what Shoolini offers its research scholars. 
Before jumping into the awards and recognitions, we will talk about what really matters — the infrastructure. Shoolini never compromises with quality. No matter what subject you choose, the entire infrastructure will help you to get what you want.
Before talking about the awards and recognitions, let's focus on a fundamental aspect that truly matters — the infrastructure. Shoolini University never compromises on quality. Regardless of the subject you choose, the comprehensive infrastructure is designed to help you achieve what you desire.
As a researcher at Shoolini University, here's what you can expect:
104+ advanced labs 
At Shoolini University, researchers are welcome to use any of the 104+ advanced laboratories, offering a diverse range of cutting-edge tools and equipment. This environment facilitates hands-on experimentation and exploration across various disciplines, empowering researchers to transform theoretical concepts into practical solutions.
24-hour access to resources
Shoolini's commitment to research shines through its provision of 24-hour access to resources. This uninterrupted access ensures that researchers can engage with their projects whenever inspiration strikes, promoting a dynamic and flexible approach to inquiry and discovery.
Best mentorship
PhD students receive exceptional mentorship, ensuring their academic journey is guided by the best. With a distinguished faculty comprising accomplished experts in diverse fields, students benefit from personalised guidance, constructive feedback, and invaluable insights. This mentorship fosters skill development, research excellence, and a strong foundation for scholarly success.
40+ PhD programs 
Shoolini University boasts more than 40 PhD programs. These programs provide specialised resources, expertise, and collaborative platforms to researchers, fostering a thriving ecosystem of interdisciplinary research. Such an environment encourages the exchange of ideas and the pursuit of impactful breakthroughs.
Apart from the doctoral programs, there are 9 Centres of Excellence which make Shoolini the first choice for students. From disaster management to Nanotechnology, these centres are all about research on levels that only a few universities recognise. They are as follows: 
Research Centre in Nanotechnology
Research Centre in OMICS and Biodiversity Research
Centre of Excellence in Energy Science and Technology
Research Centre in Automobile Engineering
Research Centre in Data Analytics
Research Centre of Postgraduate Legal Studies
Centre for Excellence in Visionary Learning Community of India
Research Centre in Yoga
Research Centre in Disaster Management
Awards & recognitions
Shoolini University is the No.1 Research University in India (QS Asia University Rankings). Till date, the students and faculty have filed more than 1300 patents. Not only that, Shoolini has an h-index of >111. It is the first university in India that has an undergrad research program called the Summit Research Program (SRP) for Biotech/Food Tech students. Through this program, the Biotech/Food Tech students conduct research from their first year of college. Students get professional assistance in patent filing, along with all the other facilities. Moreover, it is the top patent filer in the country, with over 1300 innovative patents filed by students and faculty.
But wait, the best part is yet to come. You might not know, but Shoolini's scholars are among the top 1% of scientists on the list published by Stanford University.
Bonus highlights 
Shoolini University's Researchers in Residence program offers a remarkable opportunity for scholars worldwide to immerse themselves in a vibrant academic ecosystem for six months to a year. With 10 available positions across various streams, including Biotechnology, Physics, Economics, Artificial Intelligence, and more, this program provides a unique platform for interdisciplinary collaboration. Researchers are not only welcomed into Yogananda Ville's comfortable accommodations, but are also granted unrestricted access to cutting-edge research labs, academic infrastructure, and the enriching Yogananda Knowledge Centre.
The benefits are comprehensive and holistic. A sustenance allowance, in line with GOI norms, ensures a worry-free stay. Beyond financial support, the program includes yoga and meditation sessions, fostering well-being and enhancing focus amidst research pursuits. Group excursions to nearby cultural heritage sites provide a glimpse of India's diversity, further enriching the experience. 
Moreover, the program's expectations align with mutual growth. Researchers contribute to the academic community by guiding students and faculty in research activities, culminating in joint paper publications. 
This symbiotic exchange empowers researchers to continue their work while at Shoolini University, facilitating a dynamic cycle of knowledge dissemination, collaborative advancement, and personal development.
But this is not the end yet, Shoolini has something more for researchers. Read: Benefits of Conducting Research at India's No.1 Research University to know more.
Final Takeaway
Research and development go hand in hand. Doctoral programs are two-way learning systems where different brains with fresh ideas and years of experience collaborate to build something innovative. 
Shoolini is one of the top research universities in the world with a research impact (2.22) at par with leading institutions like the University of Oxford, Yale University, and the University of Cambridge. It ranks No. 1 in India for Citations per Paper and No. 9 in Asia (according to QS Asia University Rankings). What do you think contributes to all these achievements? It is nothing but Shoolini's dedication to nurturing minds capable of making a significant impact.
As we always say, without the support of the institution, it is challenging for a student or a scholar to achieve the desired results. It is the collaborative effort of the students and the faculty members that make Shoolini the best option for research. 
In the end, it's up to you to decide where to give your ideas the right platform to flourish, and Shoolini is that platform.