A university campus is more than just a place of education; it's a space where knowledge, culture, and nature come together to create a vibrant and enriching environment. Shoolini University, nestled in the serene hills of Himachal Pradesh, is quintessential of such a campus. With its unique campus wonders, breathtaking natural beauty, modern amenities, Shoolini stands out as one of the most beautiful college campuses in India. Let's explore the campus wonders at Shoolini.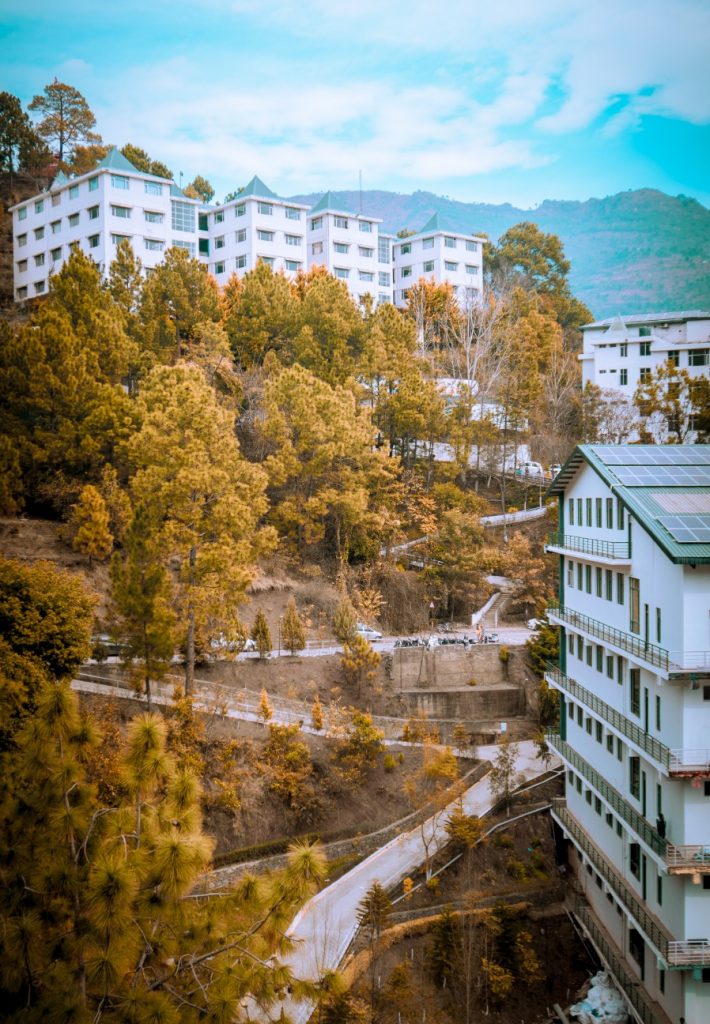 The enchanting setting
Shoolini University's campus is situated amidst the picturesque landscape of the Himalayan foothills. Surrounded by lush greenery and towering mountains, the campus offers a serene and peaceful atmosphere that nurtures both academic pursuits and personal growth. The beauty of the natural surroundings provides a calming backdrop to the bustling life of the university.
The Amphitheatre of ideas
At the heart of the Shoolini Campus lies the Amphitheatre of Ideas, a unique architectural marvel that serves as a hub for intellectual and cultural activities. This open-air theatre hosts lectures, seminars, workshops, and artistic performances, fostering a dynamic exchange of ideas among students, faculty, and guest speakers. With a myriad of performances, the amphitheatre brings the campus community together, creating lasting memories and fostering a sense of belonging.
APJ Abdul Kalam Auditorium: Inspiring minds
Among the campus's treasures, the APJ Abdul Kalam Auditorium inspires all. Inaugurated by the visionary himself, this auditorium boasts a seating capacity of 200, serving as a versatile space for workshops, guest lectures, and conferences. It stands as a tribute to the pursuit of knowledge and innovation, perpetuating the legacy of a great visionary.
Gyan Vridhi Park: Where wisdom blooms
Gyan Vridhi Park is a testament to pursuing knowledge in harmony with nature. This idyllic haven features an artificial waterfall cascading gently, surrounded by unique plant species. As students walk through its lush pathways, they are greeted by a symphony of colours and scents, igniting the senses and fostering a sense of wonder.
Pine Court: Beneath the canopy of peace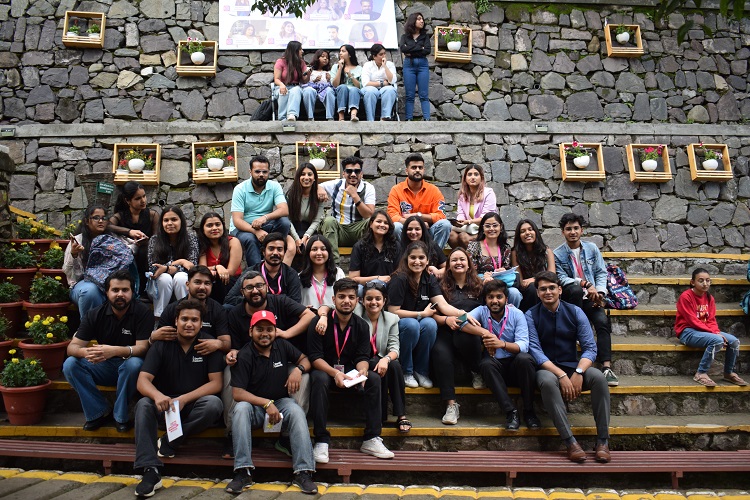 Nestled amidst the towering pines, Pine Court beckons with its open expanse and benches placed strategically to embrace solitude and companionship. This sprawling garden offers a serene escape where students can immerse themselves in quiet contemplation, engage in heartwarming conversations, or bask in the natural beauty that envelops them.
Serene Vrindavan Garden: A gateway to solace
Nestled on the fringes of the forest, the Serene Vrindavan Garden is a tranquil oasis that offers respite from bustling campus life. The soft rustling of leaves, the gentle chirping of birds, and the crisp mountain air create an enchanting ambience that soothes the soul. Here, students can find solace in the embrace of nature, allowing their thoughts to flow freely amidst the serene surroundings.
Chai Shack: Grooving to campus vibes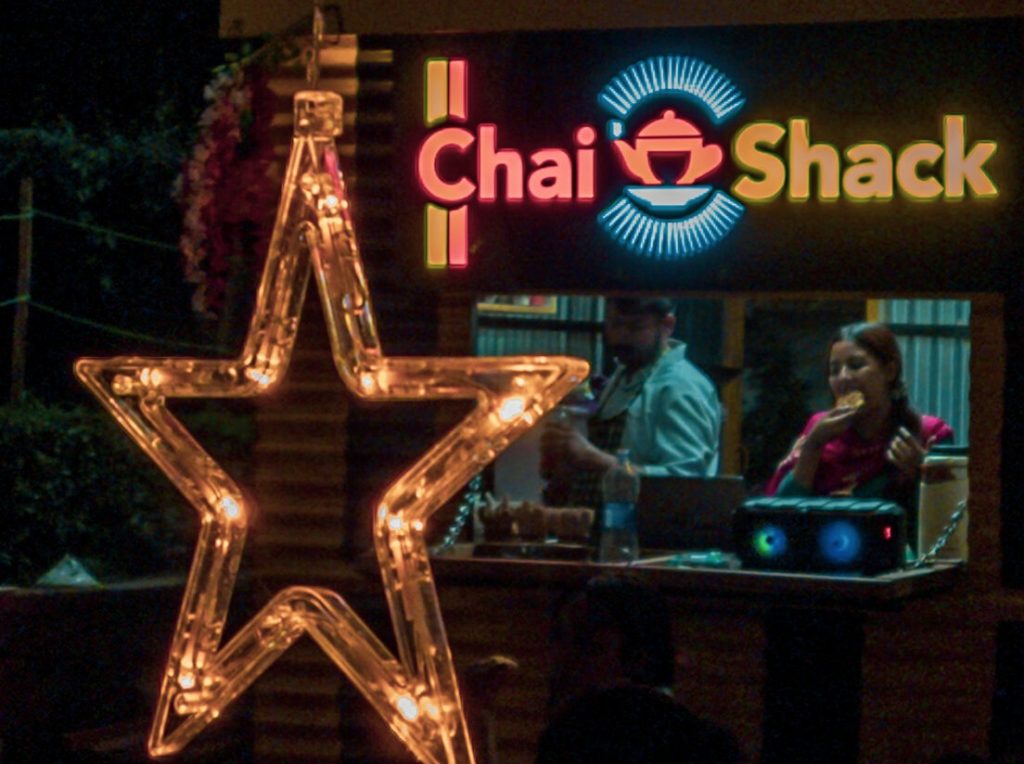 Chai Shack, a student-run cafe, is more than just a place to sip tea; it's a vibrant hub of social interaction and creativity. As the sun sets over the campus, students gather here to unwind, share laughter, and groove to the rhythm of the music. Chai Shack epitomises the essence of camaraderie and relaxation, where friendships are forged, and memories are etched.
Shoolini Mata Temple: A haven of tranquillity
Perched atop a hill, the Shoolini Mata Temple is a haven of tranquillity and spiritual reflection. Amidst the lush greenery and the symphony of nature, the temple's serene atmosphere invites students to seek solace and connect with their inner selves. It's a place where one can find moments of introspection and gratitude.
The Wisdom Tree
One of the most iconic spots on the Shoolini Campus is the Wisdom Tree (Rudraksha Tree) which was seeded by Dr APJ Abdul Kalam, former President of India. One of the iconic campus wonders of Shoolini, this tree stands as a symbol of knowledge, wisdom, and growth. Underneath its sprawling branches, students often gather for discussions, group activities, and informal learning sessions. The Wisdom Tree embodies the spirit of learning that permeates the entire campus.
Botanical Gardens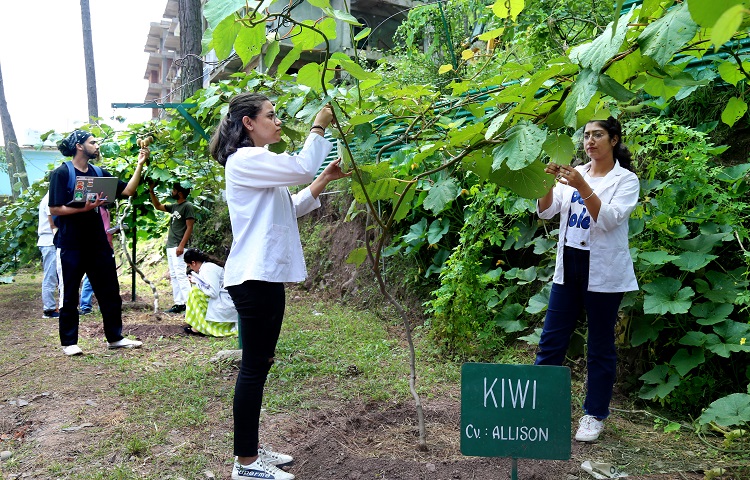 Shoolini University takes pride in its expansive botanical gardens, displaying a diverse collection of plant species. These gardens not only serve as living laboratories for students studying botany and environmental science but also offer a place of beauty and serenity for the entire campus community.
Breathtaking Campus Trails
For those who appreciate outdoor exploration, Shoolini Campus offers a network of well-maintained trails that wind through the hills and forests surrounding the university. These trails provide opportunities for hiking, jogging, and simply enjoying the scenic beauty of the campus. The trails also lead to vantage points that offer stunning panoramic views of the surrounding landscape.
A green oasis of learning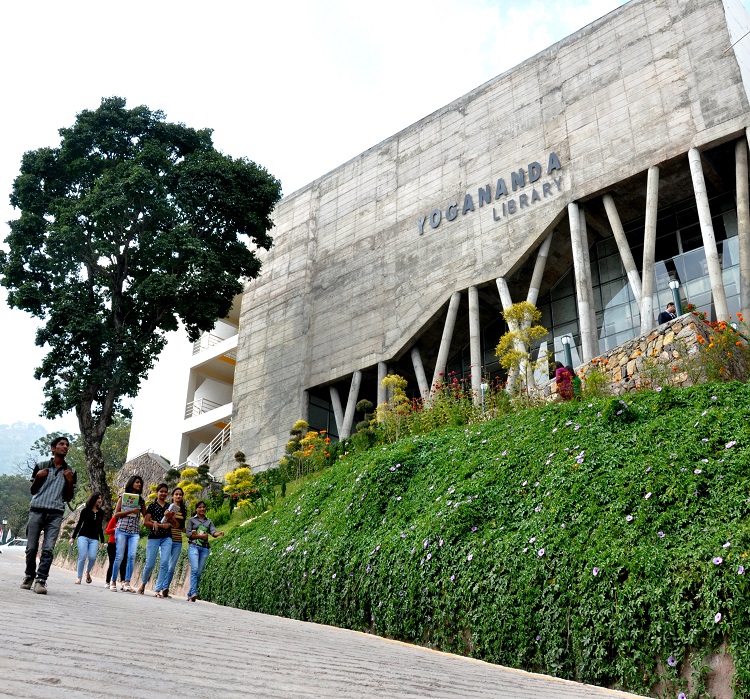 The Yogananda Library is housed in an iconic and architecturally award-winning building. The library is well stocked with approximately 3 million book titles in physical and electronic forms, and 9000+ e-journals through USA-based EBSCO and DELNET databases. This hub of learning provides round-the-clock access to a wealth of knowledge.
Unlocking the healing power of nature: Cancer Research Centre
Shoolini University hosts a state-of-the-art Cancer Research Centre at the forefront of innovation, harnessing the medicinal wealth of the Himalayas for cancer treatment. Research groups delve into areas like herbal cancer therapy and cancer immunotherapy with a multidisciplinary approach. The centre's vision is to pioneer innovative cancer therapies that enhance global quality of life, solidifying its status as a Center of Excellence in cancer research.
Wooden huts or eStudios: Where nature and learning converge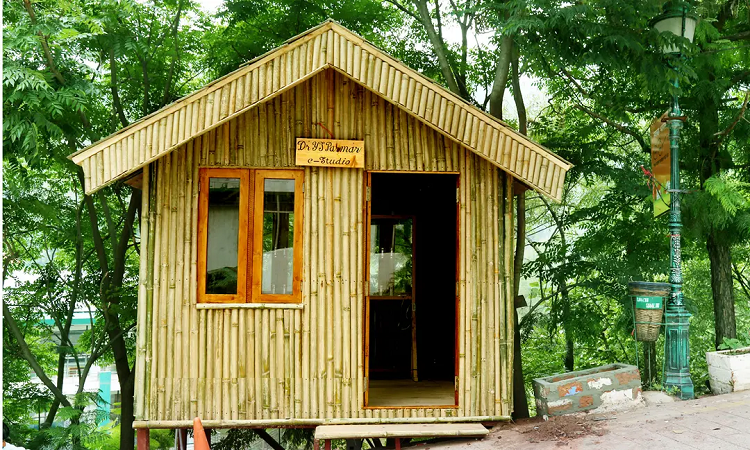 The wooden study huts offer a serene escape for focused learning. Balancing rustic charm with modern connectivity, these huts provide a haven where students can study amidst nature's tranquillity while staying connected through high-speed Wi-Fi. From solitary contemplation to collaborative discussions, these huts embody the essence of academic growth and community building. As the gentle breeze whispers through the leaves, the wooden study huts become sanctuaries where knowledge blooms and connections flourish.
Harmony with nature: Yogananda Ville
Yogananda Ville, nestled atop the campus, offers a serene escape in sync with nature. These earthy huts, surrounded by lush greenery, provide a peaceful haven for meditation and inspiration, reflecting Shoolini's holistic approach to education.
Unleashing the athlete within: Sports facilities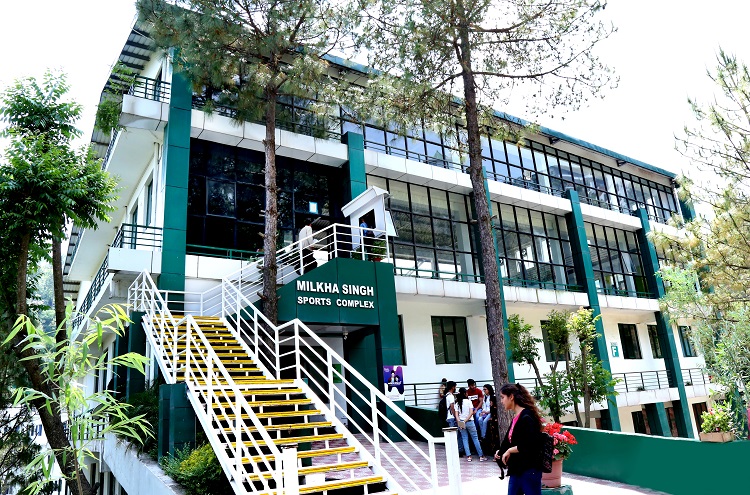 For sports enthusiasts, Shoolini University offers top-notch facilities, including the Yuvraj Singh Stadium and the Milkha Singh Sports Complex inaugurated by these two legends. These spaces not only nurture athletic prowess but also foster teamwork and discipline.
Shoolini is not merely a realm of academic pursuit; it's a treasure trove of campus wonders that hold the power to captivate, inspire, and rejuvenate. These hidden gems invite students to embark on a journey of self-discovery, where nature's beauty and human creativity converge to create unforgettable moments.