In today's fast-paced life, everyone is juggling different roles. This leaves them with limited time to prepare meals. As consumers' demand changed over the recent years with a clearer focus on fresh and nutritious products, technological innovation assumed paramount importance. This is where food technologists step in. They are the experts who ensure that food is produced, sourced, and packaged in accordance with the growing demand for sustainability and convenience. They are responsible for enhancing food production, tackling food shortages, and supplying healthy food through technological innovations. 
Some of the advances in the sector include meal-delivery services, Plant-based meat, Biodegradable Seaweed packaging, an AI-based food inspection system to reduce food waste, Protein Bars, flavorful beers, and so on.
What is Food Technology?
Food Technology is a branch of science that studies food processing, manufacturing, preservation, labelling, distribution, quality control, and so on.
Food Technology programs encompass all techniques and activities involved in storing, processing, and manufacturing food. This field is gaining wide popularity because of the increasing demand to preserve the nutrients in food items.
Various Government and Food processing bodies have provided data showing the scope and essential growth in the Food industry. Let's explore the Scope of Food Technology in India.
Scope of Food Technology in India
Food is one of the most basic consumer goods which will never go out of demand. The Food Industry is a gigantic one and one can always be sure of finding a secure job there. There is a growing demand for skilled food technologists who are trained in handling, processing and producing safe, hygienic and nutritious food. Companies and manufacturers are also looking for food technologists who can do a quality assessment and quality control which is also a crucial part of food manufacturing. The food industry offers thousands of different jobs. There is diversification of jobs under quality, R&D, sales, marketing, manufacturing, teaching or government.
The food industry is global; hence it offers a global career for food science and technology enthusiasts.
There are numerous opportunities in different domains for graduates in Food Technology like restaurants, hospitals, food processing firms, beverage manufacturing companies, food mills, catering, packaging industries, and food research laboratories.
Job Profiles for Food Tech Engineers
The food sector is a booming industry, which is why the demand for Food Science and Technology professionals has been on the rise. A food technician is a must at a food market. Let's go through the list of popular professions in this sector:
Research Scientist
Food Inspector/ Quality Controller
Lab Technician
Organic Chemist
Biochemist
Food Engineer
Food Product Development Director
Production Manager
Accountants
Food Storage Manager
Home Economist
The Shoolini Advantage of Pursuing Food Technology?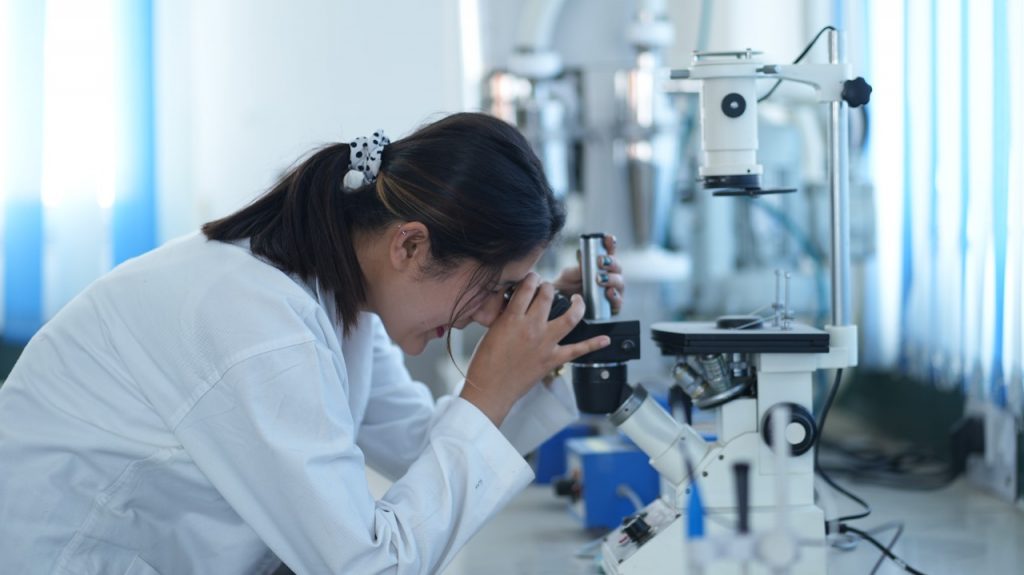 Located amid a salubrious Pine forest, Shoolini University is an ideal place to pursue higher education.
The food tech department here has an Infrastructure Grant from the Ministry of Food Processing Industries, New Delhi.
A range of undergraduate, postgraduate & doctoral programs in Food Technology are offered.
University fosters student success through academic mentorship, hands-on learning, and cutting-edge research.
More than 250 global alliances for student exchange programs and innovative research at universities such as Ankara University, Turkey and ?ank1r1 karatekin University, Turkey.
Students are encouraged to have a robust research knowledge base.
Programs are designed to offer an optimum blend of theory and practice to provide a solid foundation with specialisations.
Professors and Mentors at Shoolini University are experts from academia and industry. Academicians for engineering are highly qualified and have degrees from reputed universities in India and abroad, IIT and NIIITR, etc.
Programs offered at Shoolini
Continuous challenges and innovation in the field have led to the expansion of Food Tech programs and the need for skilled technologists. You can select any program based on your aspirations. Let's take a look at the programs offered by the School of Bio-Engineering and Food Technology, Shoolini. 
BTech Food Technology with Summit Research Program is a 4-year program that provides in-depth knowledge about food engineering and food sciences, food packaging, nutrition, storage, etc. The context of the program is more research-based which helps students to sharpen their skills and get an edge in the professional arena as food scientists or food technocrats.
BSc is an undergraduate program that entails and focuses on theoretical concepts, the principles and the laws behind the application of food science. The curriculum is entirely theoretical and research-oriented.
BSc (Hons) Food Tech combines techniques and activities of preserving, processing and manufacturing foodstuff. This is a popular course because of the opportunities available in the research industry. There is growth and great scope for BSc graduates in research positions and fields as they are well versed in theoretical aspects of food science.
Higher Education
MSc Food Technology Research is a postgraduate course which is closely aligned with the research, academia and industry needs of the booming food industry. Students are encouraged to perform research and experimentation in food processing, engineering, packaging, nutrition, preservation, and more.
MTech Food Technology is a program entirely based on applied sciences. Food engineering is vital to industry needs, processes and research today.
MBA in Food Technology is an innovative 2-year program. It has been specially designed to deliver world-class food industry and market education to groom professionals who can become leaders of tomorrow.
PhD in Food Technology is a research-based doctorate course. A program that researches to find new food processing and preserving techniques, know more about the prevailing techniques and explore ways to improve the overall quality of food.
Conclusion
Food Science and Technology have contributed tremendously to the evolution of food production and consumption worldwide. A degree in Food Tech opens a plethora of job opportunities. An interest in food science, health and nutrition, problem-solving ability, technical knowledge, excellent research skills and awareness of the Consumer Market are a few of the professional competencies required. There is scope for all students who have the calibre and dedication to excel in the food industry.
FAQs