Welcome to an exciting voyage! This journey focuses on the profound transition that every student faces upon graduation. While it may seem like a short shift, it is a complex and challenging process that requires immense hard work, dedication and perseverance. It entails overcoming numerous obstacles and navigating through various struggles to emerge victorious.
College is a magical time of endless opportunities for growth and discovery. The freedom to pursue your interests, meet new people and explore the world around you can be thrilling. However, as graduation day approaches, the excitement of college life is replaced with the sobering realisation of the challenges of the real world. Suddenly, the prospect of finding a job, paying bills, and navigating the complexities of adulthood can be overwhelming.
To succeed in the world, youth need more than a degree today. They need to be industry-ready, equipped with the skills necessary to thrive in the fast-paced competitive world. With the right mindset and transformation, transitioning from campus to the corporate world can be a smooth and rewarding experience.
Read on to learn more about the obstacles you might face on this journey, some tips to overcome these obstacles and finally, an institution which is a one-stop destination for all your problems.
Bridging the gap: Challenges graduates face in the corporate world
Coming out of college life, where everything is assessed and evaluated and you can quickly get immediate feedback based on your performance, is difficult. The corporate culture works differently. Graduates entering the corporate world face numerous challenges that can be intimidating and overwhelming. One of the biggest hurdles is the highly competitive nature of the job market. With so many graduates competing for the same position, standing out and securing a job that matches their aspirations and qualifications can be challenging.
Additionally, they struggle to transition from academic life to the corporate world as they need more practical experience and skills that employers highly value. Another significant challenge for graduates is adapting to the company's culture and work environment. Each company has its values, work ethics and practices, and it can take time for the graduates to adjust. Moreover, they may have to deal with the stress of meeting job demands and expectations, working long hours and managing their work-life balance.
Graduates may also face challenges building professional networks and establishing relationships with colleagues, clients and senior management. Networking is crucial in the corporate world, and graduates must learn how to navigate the networking landscape and build meaningful connections that can help advance their careers.
Finally, technology is transforming the corporate world at an unprecedented pace, and graduates must stay up-to-date with the latest advancements in their respective fields to remain competitive. They must continuously develop their technical skills and adapt to new technologies and software programs to stay relevant and valuable to their employers.
Once you know the tricks of the trade, these challenges will hold little importance. But the hurdles will constantly remain a part of the workforce. Therefore one will have to adjust to the environment to sustain in the corporate world. Let us learn tips and tricks to overcome the challenges that graduates face when exposed to the corporate world.
Navigating Corporate Culture: Tips for Adjusting to a New Environment
Observe and listen: When you start at a new company, it's essential to take the time to observe the culture and listen to the conversations happening around you. Pay attention to how people interact with each other and what their communication style is like.
Ask questions: Be bold and ask questions, whether it's about the company's values, the expectations for your role, or the general workplace culture. This shows that you're interested and invested in your new role.
Find a mentor: Look for someone within the company who can act as a mentor and guide you through the new culture. This could be someone in your department or someone you admire from a different team.
Get involved: Participate in company events, team-building activities, and volunteer opportunities. This will give you a chance to meet new people and get a better sense of the company culture.
Be open-minded: Keep an open mind and be willing to adapt to new ways of doing things. You may be used to a particular way of working, but every company has a unique culture.
Build relationships: Focus on building solid relationships with your colleagues. Take the time to get to know people personally and show a genuine interest in their work and life.
Respect the culture: Be respectful of the company culture, even if it's different from what you're used to. Remember that every company has its values and way of doing things, and it's important to respect that.
Embrace change: Finally, embrace change and adapt to new situations. Corporate culture is constantly evolving, and being flexible and adaptable will help you succeed in any environment.
Graduates should prioritise developing these skills alongside their academic pursuits to enhance their employability and prepare for the challenges of the modern workplace.
Now, you must be wondering where to learn these skills from. Are there any particular skill development courses that one should pursue? Undoubtedly, educational institutions are responsible for incorporating these skill sets in students. This is why one should choose a university/college after proper research. Studying at a top university can make your transition from campus to the Corporate World much easier.
Excited to know about the top university? Scroll down!
Introducing you to Shoolini University, India's No.1 Private University (THE World University Rankings, 2023)
Advantages of studying at Shoolini University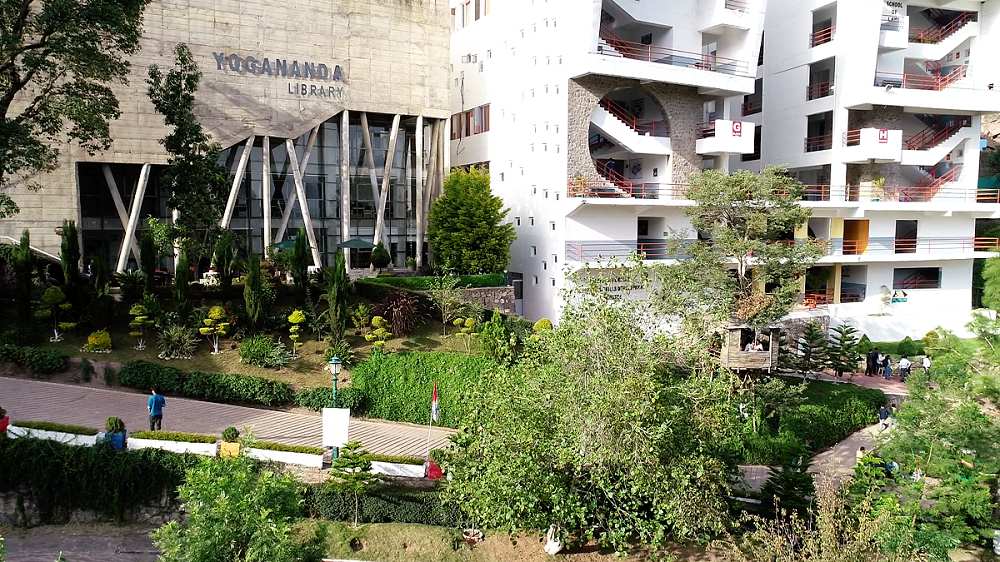 Shoolini University is a research-intensive institution with state-of-the-art infrastructure. The university has achieved remarkable success by competing with global giants and securing top rankings.
At Shoolini, the focus is on developing creative minds and preparing students for the industry. The campus features a world-class 24×7 Yogananda Knowledge Centre, sprawling sports arenas, and open spaces for discussions and year-round activities.
Shoolini University provides students with outstanding international exposure through student exchange programs with countries such as the USA, UK, Italy, Poland, Slovakia, South Africa, South Korea, Taiwan, Afghanistan, Brazil, and others. With a vast alumni network spread across the globe, Shoolini offers additional opportunities for exposure, learning, and growth. Graduates from Shoolini are highly sought after by renowned companies such as Times of India, Airtel, Pepsico, Videocon, Genpact, Unilever, ICICI, HDFC, and many more.
Furthermore, Shoolini University is known for its mandatory skill development programs and sessions that build a strong foundation for individual success. These programs are integrated into the curriculum and aim to equip students with the necessary skills and knowledge to excel in their chosen fields.
Also read: Shoolini Alumnus on Bournvita Package!
Let's talk about the programs at Shoolini that help students build rewarding and lucrative corporate careers.
Skill Development Programs
SPRINT: Shoolini has devised a one-of-a-kind student development program called SPRINT (Skill Progression through Rapid Intensive and Innovative Training). This program, inspired by Stanford's mini MBA, provides students with practical knowledge, skills, and confidence to thrive in the cut-throat corporate world.
ATP: Shoolini University offers a unique 21-day residential program exclusively for MBA students called the Advanced Training Program (ATP). The university fully funds the program to provide students with a comprehensive learning experience. The program runs from 9 am to 11 pm and focuses on developing domain-specific skills essential for success in today's corporate world. It covers various subjects, including finance and investment, business process design and operations, retail, banking, insurance and wealth management, marketing and branding, human resources and people skills, business analytics, social media marketing, and business research and consulting.
The Troops: Through the Troops Program, students are encouraged to step outside their comfort zone and engage in activities beyond the classroom. This includes indoor and outdoor sports, as well as outdoor educational activities such as trekking for a cause, planting trees, and analysing real-life case studies. This program is designed to foster learning and personal growth in students, encouraging them to excel in areas beyond academic pursuits.
V-Empower Coaching: V Empower Coaching is an ICF-approved program that makes Shoolini students future-ready and reinvents them as coaches. This enables them to become stronger leaders who value themselves and empower others.
Guest Lectures/ Invited Talks: Renowned personalities and celebrities from the industry are invited to give lectures and talks on topics associated with the corporate world. These talks provide students with the knowledge and aware them of the skills that they need to excel in the job market.
Placements & Internships: Shoolini aims at 'Mission 130', which means 100% placements to its students and 30% in top firms. The Placement Cell at Shoolini has a dedicated team working effortlessly to bring top companies for placements. Additionally, they guide students every step of the way, helping them find lucrative jobs in top companies. .
Industrial exposure: Shoolini students get hands-on experience and training in their field through internships and industrial visits. They can further apply this knowledge when they join the job market.
Partnerships with top corporates: The university has established partnerships with over 300 large Indian and global corporates to ensure students get placed in top companies. Graduates from Shoolini have secured placements in esteemed organisations such as Hindustan Unilever Limited, Airtel, SBI, ICICI Securities, Pepsico, Nestle, Tata Hitachi, Eicher, LG, Cipla, Meridian, Microtek, and Bank of America, among others. The university's placement support ensures students are well-equipped to pursue their chosen career paths and achieve their professional goals.
Strong alumni network: Shoolini University recognises the vital role that its alumni network plays in facilitating campus placements. The university's alumni network is vast and extends globally, with deep integration through technology. Shoolini leverages these connections to drive placement efforts and ensure students have the best career opportunities.
International opportunities: Shoolini offers students numerous avenues for learning and growth, including international student exchange programs and projects. The university has established over 250 MOUs with international universities worldwide, providing students with a vast network of resources and opportunities. Through these partnerships, students can gain international exposure and develop a global perspective on business, allowing them to expand their skill sets and enhance their career prospects.
Conclusion
Shoolini University offers a seamless transition from campus life to the corporate world, with its exceptional academic knowledge and skill development programs. With a student-centric approach, all programs are designed to provide a memorable learning experience. The university is committed to grooming top leaders in the job market and spares no effort in achieving this goal.
Your journey at Shoolini is sure to be a rewarding experience.