At its core, Hotel Management is about taking responsibility and providing leadership to ensure the hotel business is profitable while exceeding guests' expectations.
Becoming a successful hotel manager requires exceptional organisational and interpersonal skills as well as the ability to adapt to changing circumstances. An internationally recognised Hotel Management degree is the starting point if you aspire to become a General Manager. Equipped with this degree, you can pursue your passion in any part of the world. However, to accomplish this, you need to work your way up by gaining experience in operational departments and developing a solid understanding of finance, planning, and organisational development. You can then expand the necessary leadership skills and become a top-notch General Manager with a lucrative salary.
This industry is continually expanding. Even after the economy reeled due to COVID-19, the sector picked up quickly in 2021, recovering more than 18.2 million jobs (World Travel and Tourism Council). This industry is, thus, a reliable choice for a bright future.
What is Hotel Management all about?
Hotel Management brings together all elements related to the hospitality industry. To gain a foothold in this sector, you will need to understand the various management techniques of the hotel trade, such as sales, hotel operation, catering administration, housekeeping, and accounting.
Roles to play in this career
You can choose from a list of essential responsibilities that ensure the smooth functioning of hotel operations. Hotel managers must have strong management skills and be able to delegate tasks efficiently. This will ensure you stay on top of critical details, from housekeeping and food and beverage to operations and customer relations.
With so many professional options available, it may be tough to choose the best one. Lets peruse through the best picks.
Managerial posts in a hotel industry
Hotel Managers are in charge of tasks like budgeting and financial management, as well as planning, organising, and overseeing all hotel services to ensure the establishment runs smoothly and efficiently. They are expected to maintain a high level of customer satisfaction and develop strategies to ensure hotel services are up to industry standards. This is a key role in running any hotel, and you must demonstrate excellent leadership and organisational skills to be successful.
Food and Beverage Managers are accountable for organising, regulating, and obtaining food and refreshments for a hospitality establishment. They must comply with food safety regulations and could also create menus.
Front Office Managers direct and organise the front desk, reservations, guest services, and phone operations. They prepare monthly reports and the front office department's budget.
Floor Supervisors are responsible for reviewing inventory and reporting insufficient supplies. They create business possibilities to boost the company's sales and profitability, implement strategic processes to maintain customer happiness, and resolve customer and staff conflicts.
Restaurant & Food Service Managers manage the day-to-day activities of the eatery. Moreover, they guarantee that all customers who come to the caf?/diner are satisfied.
Banquet Managers/Administrators strive to deliver an unforgettable experience to every customer. This requires meticulous organisation and management for an impeccable feast setting.
Housekeeping Managers supervise housekeeping personnel and ensure that hotels and other facilities are neat and clean. They make sure that employees follow specified safety and cleanliness policies.
Chefs are another integral part of the industry. The role is classified into:
Executive Chefs are in charge of restaurant operations and chains. Hiring, training, supervising culinary workers, and assuring a high-quality, cost-effective production may fall under this category.
Head Chefs are highly competent professional cooks who manage the day-to-day operations of a restaurant or dining establishment. From idea to execution, they are in charge of the food that comes from a kitchen.
Sous Chefs are in charge of food preparation, planning, and management. He/she is known as the head chef's assistant who undertakes various activities, such as menu planning, training new personnel, and inventory recording.
Chef de Partie or line cooks are in charge of a specific task in the kitchen, such as chopping vegetables, cooking meals, running the grill, or baking sweets.
Where to study?
India is a country that embraces the tradition of Atithi Devo Bhava. Here, guests are treated with reverence, and the hospitality industry follows this convention. This is why the sector is booming, and professionally trained hotel and hospitality managers are always in high demand.
India has some of the best Hotel Management institutes that offer courses in different streams and specialisations. Being the No.1 Private University in India (THE World University Rankings 2023), Shoolini University stands out among the institutions offering top-notch Hotel Management courses.
The specially designed curriculum offers skill-intensive learning that creates leaders in Hotel Management. With a focus on hands-on training, you will be ready to take the hotel business by storm.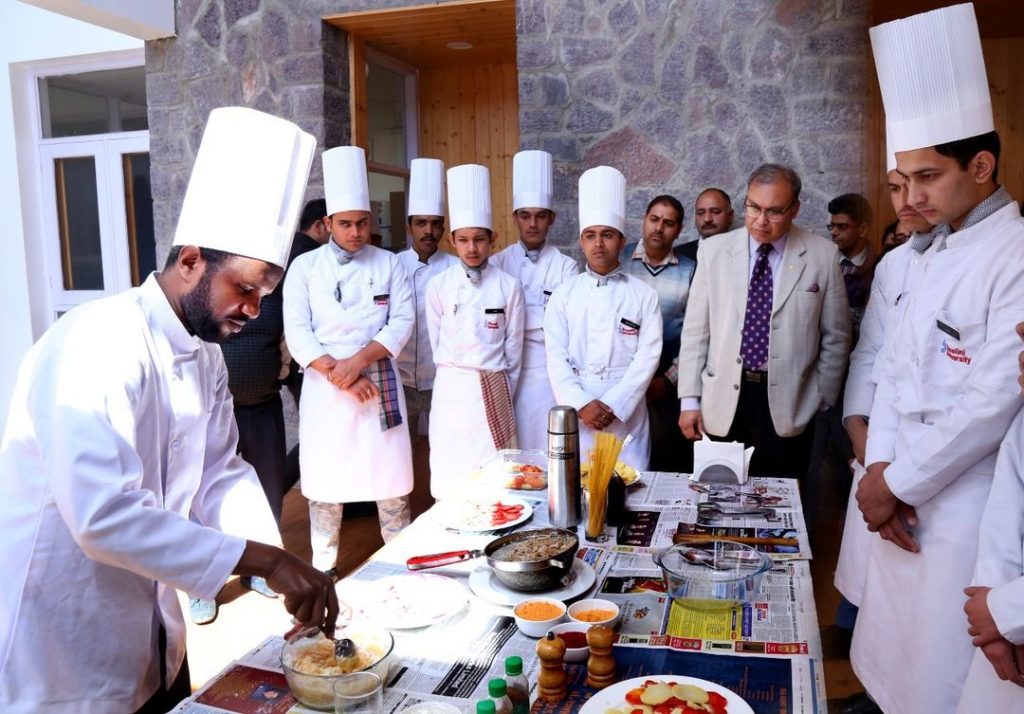 How to begin?
To be eligible for BSc Hospitality and Hotel Administration at Shoolini University, you must have completed 12th grade from a recognised Board. Admission Criteria include a multiple choice entrance test (SU-SAT).
Highlights
Regular training in core areas such as front office, housekeeping, Food & Beverage Services & kitchen operations.
Students train at the in-house Shoolini Chalet & Yogananda Ville.
Hands-on training in Shoolini's live labs prepares graduates for professional work and hones their skills.
Competitive 3/6-month internships are provided to students at five-star hotels across the country.
Shoolini University recorded 100% placements in the Hospitality Sector in 2022.
The trademark SPRINT (Skill Progression through Rapid, Intensive & Innovative Training) aims at grooming & polishing students from the perspective of employability.
Students learn core abilities related to the hospitality business, communications, and human relations, allowing them to operate in a range of service industries worldwide in a modern learning environment.
Specialisations include room division operations, food & beverage operations, food production operations, housekeeping operations, facilities management operations, and revenue management operations.
A career in Hotel Management is incredibly beneficial to those with a knack for customer service and problem-solving. From a variety of exciting job roles in big-name hotels and boutique establishments to the possibility of worldwide travel opportunities, the prospects for advancement in this exciting field are vast. With a strong career ladder, competitive salaries and plenty of room for creativity, a future in Hotel Management offers a productive and high-paced environment for anyone wanting to make an impact in the hospitality industry.
FAQs