Yoga… The Power to Heal Body, Mind & Soul!
We live in a world full of competition where people have become more career-oriented than ever. This sudden change is because of the nature of jobs and increasing lifestyle diseases. Nowadays, people are required to work long hours in front of computer screens, causing more health concerns. So, to deal with health issues and keep the human body fit and in shape, Yoga is among the most prominent and effective methods.
In recent years, Yoga has become immensely popular in India and abroad. People are now keen to learn and teach Yoga as well. The career trend for this field is shifting drastically, and several young aspiring enthusiasts are looking for streamlined Yoga courses. This change became more pronounced after the COVID pandemic as society needed more Yoga teachers, great scientists, doctors, and engineers.
Know how yoga takes centre stage post-COVID: Rise in Demand for Yoga Experts
A career as a yoga professional is fast emerging as a new talent offering glitz, glamour and upward mobility. It is all because of its benefits, such as building muscle strength and flexibility, preventing cartilage and joint breakdowns, giving peace of mind and boosting concentration.
The prominence of Yoga in todays era
Yoga is an ancient art of physical exercises that brings mental, physical and emotional harmony to the body. Its a series of gentle stretches and poses with proper breathing techniques regardless of age and fitness level.
Yogic Science's history traces back to India's 5th and 6th centuries. The practice of Yoga was started to unite the mind and body. The philosophy helps experience inner peace by controlling the mind and body. Thanks to the global communication revolution, this ancient Indian science of mind and body therapy is gaining recognition worldwide. The yogic science is key to modern-day concerns like the right education, sustainable living, mental health, and emotional wellbeing. As a result, Yoga has become a symbol of global health, and several countries have started integrating Yoga into their healthcare delivery system.
Yoga needs to be practised under the guidance of a professional and not just a mere practitioner or meditator. Hence, as people become more aware, the demand for committed Yoga teachers is increasing exponentially. As a result, the prospects of Yoga as a lucrative career have been growing. There is a requirement for Yoga teachers in schools, colleges, institutes, offices, and other walks of life. One must have a certification from a recognised institution to pursue a career in Yoga. Candidates must undergo intense training to experience Yogic Sciences in its totality before imparting it to the world.
Yoga among youth An opportunity or challenge?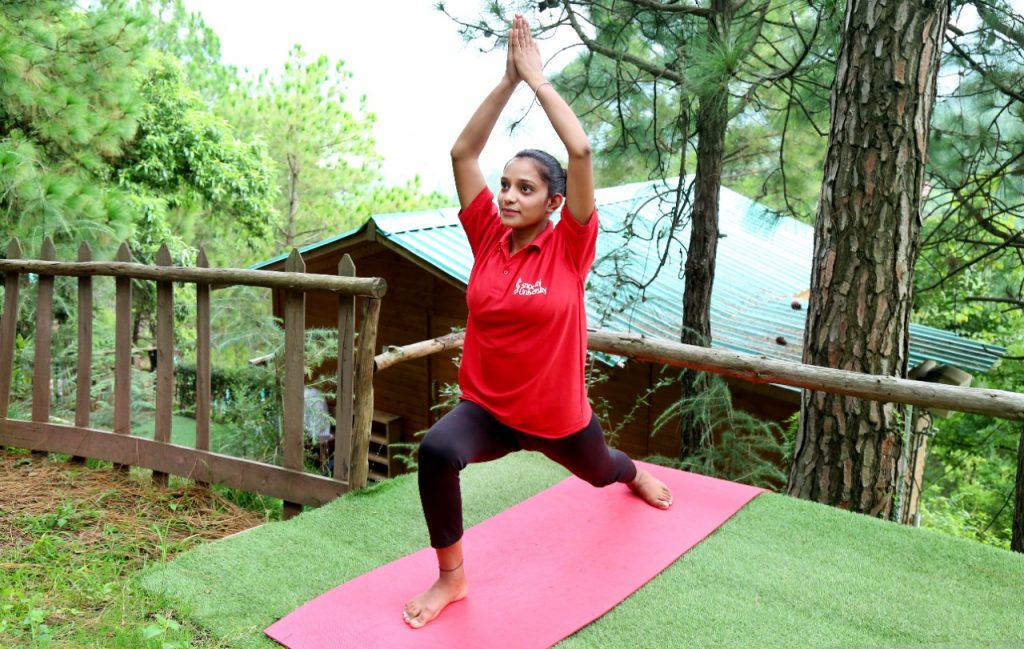 Sixty per cent of the Indian population is young, which is a boon. The important thing is how the youth can contribute to nurturing the country or the future generation. If our countrys youth suffer due to health concerns, how will the country progress?
Here comes the solution Yoga. Ironically, India has the solution for all the ailments, yet only a few apply it. Yogic practices have the power to correct imbalances in the body. These include several kriyas, shatkarmas (cleansing), meditation, asanas, pranayama, etc. Following the simple Yogic kriyas helps improve a person's overall health and reduces his chances of getting into an incurable situation.
The simple yet powerful Yoga practices can protect people's health and, in turn, the entire country. With the increase in awareness and experience, the demand for Yoga too has increased enormously. Yoga is a science of its own; therefore, people look for qualified Yoga trainers for guidance. It can only happen when more Yoga professionals or trainers are produced. This is precisely why there is more awareness of yoga courses nowadays.
What career scope does Yoga offer?
Yoga offers immense scope for a successful career in India and abroad. Besides great engineers, lawyers, doctors, scientists, and journalists, the world also demands the best Yoga gurus and professionals who can revolutionise the world with their vision and efforts. Any person with an interest in Yoga can either pick up the field of research or training or can work as a yoga therapist or teacher. Any aspiring student with an interest in Yoga can get a successful career in this domain. Students worldwide make a beeline for India to learn the basics and get intricate knowledge of Yoga. Building a career in Yoga is quite rewarding if done correctly and from the right university. Then, one can easily find employment in gyms, schools, institutes, resorts, health centres, and other large organisations. Moreover, TV channels also recruit health Yoga coaches, and many renowned personalities employ personal Yoga instructors for themselves.
Promising reasons to build a career in Yoga
A different career path than the usual jobs: Yes, people dont usually opt for this field. But, if a person chooses to shape their future in the domain of Yoga, they learn how to nurture the body, mind and soul.
A chance to earn higher: Yoga experts enjoy great salary packages for their services. This field allows them to make more than their peers in the initial stages as the niche of Yoga is very demanding, and great Yoga experts or teachers are difficult to find.
Become self-aware: Yoga is powerful as it helps people become self-aware and keeps them away from negative emotions such as hatred, greed, ego, and anger. It helps a person get a clearer picture of their life goals and accomplish them.
Opportunity to travel the world: Considering Yoga as a career option allows travelling across the world as great Yoga gurus and teachers are always welcomed with open arms and hearts everywhere. Countries like the US, UK, France, Italy, Germany, and Australia always look out for professional Yoga teachers with immense experience.
Overcome physical challenges: Yoga helps overcome any physical challenge. With continuous practice and sheer determination, one can evolve and find a better version of themselves with the help of Yogic kriyas.
What must one accomplish to make Yoga a career?
Yoga: an ancient art of harmonising a person's psycho-mental-spiritual and physical health, has become a preferred career choice if practised religiously. So, to follow Yoga as a career, aspirants must do the following:
Before making Yoga a career option, candidates must master the skills of practising it in a professional yoga school. Mastering Yoga skills is not an easy task. It calls for patience, perseverance, devotion, and passion. Presently, there are several schools and universities in the country that are offering basic Yoga practices to trainees.
Many short-term and long-term professional Yoga courses are available for aspiring candidates. Getting a master's or PhD degree in Yoga provides more advantages to the candidate for better jobs in this sector. So, a person must earn a professional degree certificate from a reputable institution.
A Yoga professional or instructor must be fluent in communication skills and determined in all their duties.
Also, if one wants to aspire to be a Yoga professional, they must have the inherent skills of motivating others to follow a better lifestyle routine.
The aspirant should maintain excellent physical and mental health, as Yoga is impeccable fitness and balanced mental health.
Carefully choose what you want to become!
Anyone entering the field of Yoga gets plenty of career options. A Yoga instructor is among the most demanded position in various sectors, including corporates, institutes, MNCs, health spas, salons, gymnasiums, and organisations. Big businesses, corporate houses, celebrities, fashion industry professionals, students, and the common masses hire Yoga professionals for health benefits.
TV and Radio channels run various programs on mental and physical health for the audience. Yoga therapists also have a high demand for controlling and treating health concerns. Specific yogic kriyas are taught to the clients by the yoga professional at several health centres, clubs, hotels, and tourist resorts. Thus, an enthusiastic Yoga professional can choose jobs in the following disciplines:
Management and Administration
Hospitals and Health Department
Yoga Therapist/Instructor
Yoga Consultant or Specialist
Academics
Clinical Psychology
How to indulge your passion for Yoga @ShooliniUniversity
So, by now, one must have understood how Yoga helps a person get fit. Yet, one of the most important benefits of following Yoga daily isnt physical its the calm that pervades the mind, infusing us with energy all day long… and eventually, our entire lives. Practising Yoga for years can help anyone see the mental and spiritual benefits.
India is known for its well-known Yoga centres that attract many enthusiasts globally. People come to India especially to study the science of Yoga. So, if you want to give wings to your passion for becoming a Yoga professional, joining Shoolini University can be the first step toward entering the world of Yoga. Aspirants applying for Yoga programs at Shoolini get the opportunity to be placed in the best sectors across the globe. You can learn via practical experience under the mentorship of top Yoga professors in India at Shoolini University.
Why Shoolinis Yoga job-oriented programs are unique?
As Indias 3rd private university, as per QS World Rankings 2023, Shoolini University is the first to introduce a holistic BSc course in Yogic Sciences in Himachal Pradesh. One can kick start their career in Yoga by taking admission to the reliable job-oriented programs in Yoga at Shoolini. In the cool environs of the Himalayan foothills, students get mentored by highly trained Yoga professors who shape their future. Let's learn why joining Shoolini University can be the best decision and what makes Yogic Science Studies here different from other institutes:
Shoolini University opened a Research Centre in Yoga on the campus in 2016. The centre combines ancient Indian philosophy and spirituality with modern academic programs and sessions. This helps students understand the awakening of the inner soul & the meaning of human existence.
Shoolinis School of Ancient Indian Wisdom & Yogic Studies has the top global NET qualified faculty, including Yoga PhD professors. Its the only university in India with a total of 6 PhD professors in the field of Yoga.
The Yoga programs at Shoolini are specially designed, keeping in mind that every school, college, university, resort, hotel, hospital and organisation are looking to employ Yoga instructors nationally and internationally.
Students of either course (BSc/ BA Yoga, MSc Yoga, or PhD Yoga) have a morning Yoga session daily along with the daytime theory classes.
Shoolini University is the first university in India to offer 100% placements to Yoga students.
Student exchange programs are conducted with foreign universities to give candidates more exposure in the corporate world. This enhances professional growth.
The university also promotes special days and events like Yoga Day, Naturopathy Day, and Yoga Sessions. This gives students exposure to showcase their talent through participation.
Yoga professors at Shoolini University also help the master's students interested in the NET preparations with separate classes.
Shoolini University welcomes all enthusiastic students to explore the Ancient Indian Wisdom & Yogic Studies on the campus for theoretical knowledge and hands-on training. Considered the birthplace of Yoga, the pleasant weather of the mighty Himalayas is the ideal destination to pursue Yogic Practices and Scientific Research.
Join Shoolini University today for advanced Yoga studies and build a STRONGER HEALTHY FUTURE FOR THE SOCIETY!