Food technology is one of the most rewarding career options for those who enjoy food and have a knack for science. Technology touches every aspect of our life, and food is no exception!
Food technology plays an essential role in the lifecycle of the food we eat, from growing crops to processing ingredients to cooking great meals. Nature occasionally requires assistance in developing and processing tasty and nutritious food on a large scale to feed billions of people. This is where food technology comes into play.
Food production and manufacturing is the world's largest and most diverse industry, which is critical to everyone. It has an excellent scope for growth and can benefit from economies of space and scale.
Why pursue BSc (Hons) in Food Technology?
Students learn about the food production processes, the technology utilised in the industry, and ways to effectively convert feedstock into marketable items. The specially designed curriculum also focuses on understanding how food quality varies with different conditions and components.
BSc (Hons) in Food Tech provides an advanced understanding of food composition and its nutritional, microbiological, and physicochemical qualities. These processes and concepts teach students the value of plant sanitation, quality, laws, rules and regulations, composition, nutritional value, and packaging in the food industry.
Research in Food Technology is booming, and aspirants can find lucrative career options as food technologists, quality assurance analysts, and packaging managers in top organisations. Additionally, food scientists are always in great demand, so the pay scale following a BSc in Food Technology is higher than the national average.
Benefits of a degree in BSc (Hons) food technology
Growing demand for food technology professionals.
Great learning opportunity.
Largest industry.
Job security.
Lucrative career opportunities.
Hefty pay scale.
BSc (Hons) Food Technology in India
Food Technology graduates have career options in diverse fields like restaurants, hospitals, food processing corporations, beverage manufacturing enterprises, food factories, catering, packaged food enterprises, and food research laboratories.
Fields of study and research in food technology:
Analytical chemistry
Biotechnology
Engineering
Nutrition
Quality control
Food safety management
Career prospects of BSc (Hons) Food Technology
The scope of food technology is growing, and industries are always looking to hire trained professionals.
Popular career opportunities
Laboratory Assistants improve food product content and its processing, manufacture, storage, and shipment. They generally work for food firms but may also be recruited by food production suppliers, the government, or food equipment manufacturers. The primary responsibility of a food technologist may be to create new types of meals or flavours.
Food Analysts conduct standardised tests to identify the chemical, physical, or microbiological properties of human-consumed goods. They also assess and research nutritional characteristics of food for human consumption for a wholesome and healthy diet.
Food Technologists research the physical, chemical, and biological qualities of food and help improve it in any way possible, from nutritional value to shelf life.
Food Safety Officers may inspect any location where food is manufactured, stored for sale, or exhibited for sale and where any adulterant is manufactured or kept. They may take samples for further inspection and quality check.
Research and Development Officers conduct new product development according to the proposed idea and experiment, test & measure new production technology.
The food industry is a global alliance, so BSc (Hons) Food Technology students can also choose an international career.
Depending on their unique skillset and interest, BSc Food Technology graduates can also work in research, quality control, lab testing, factory management & consultancy.
Top recruitment companies
Britannia
Hindustan Unilever
McCain Foods
ParleAgro
Cargill
Nestle
Pepsico
ADM Company
Tyson Foods
Skillset required
Technical skills
Practical skills
Organisational skills
Problem-solving skills
Research skills
Observation skills
Scientific approach
Time management
Awareness of the consumer market
Analytical mind
Ability to work with a variety of details
Pursue BSc (Hons) Food Tech at India's No.1 Private University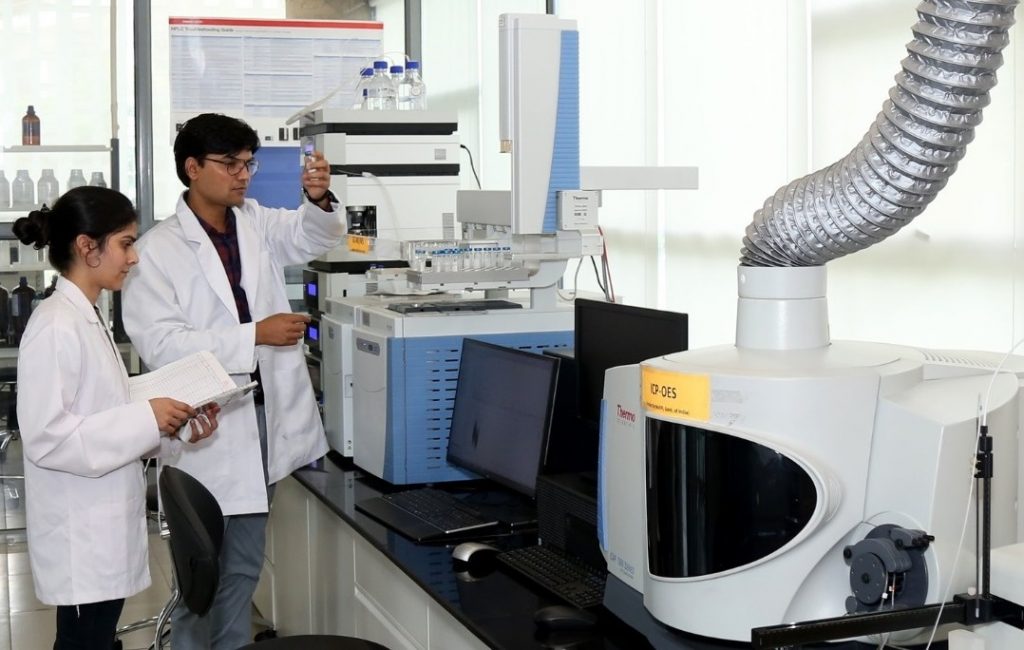 Shoolini University, nestled in a lush pine forest, is an ideal environment to pursue?higher?studies. According to Times Higher Education Rankings 2023, Shoolini university is the No.1 Private University in India and No.39 in Citations per paper (World). As per QS Asia Rankings (2023), Shoolini is No.1 Research University in India.?
At Shoolini University, you can also pursue a 4-year BSc degree that becomes a research-based degree and allows you to enrol into a PhD program without a masters degree. This is as per the latest NEP guidelines of the Indian government.
Find out more about our 4-year BSc (Hons) Food Tech degree program here:
The Ministry of Food Processing Industries in New Delhi has awarded the food technology department at Shoolini University an Infrastructure Grant.
Shoolini has well-equipped labs with state-of-the-art infrastructure and high-end equipment.
The department has a Ministry of Food Processing Industry-sponsored commercial food testing laboratory. This offers high-end equipment exposure to students for quality testing of products.
There are specialised labs for vegetable technology, meat technology, bakery and confectionery technology, biosensor technology, and food fermentation technology on the campus.
Shoolini University collaborates with industry giants for paid internships in the final year and industrial projects.
The department has a food processing laboratory with FSSAI approval to train students in entrepreneurship development.
The department also engages students in core areas of food technology and imparts training to rural society.
Students are encouraged to file patents and publish papers.
Academic mentoring, hands-on learning, and cutting-edge research help students succeed at Shoolini University.
Shoolini has more than 250 global alliances for student exchange programs and innovative research at foreign universities.
Shoolini University professors and mentors are industrial and academic experts.
BSc (Hons) Food Tech has been specially designed to provide a strong foundation by creating an ideal balance of theory and practice.
Eligibility/Admission criteria
Aspirants must have a 10 + 2 (PCM/ PCB) with a minimum of 60% marks. They should have cleared CUET/NEET/JEE/ SAT or Shoolini University's multiple choice entrance test (SU-SAT).
Food technology has aided human civilisation and survival throughout mankinds history. For as long as humans have been cooking, growing, and preserving food, they have relied on food technology to help create more delicious, nutritious, and plentiful harvests. Another thrust area is the ability to store that food for extended periods without losing nutrition. Food technology will remain the most significant industry globally as we continue to find new methods to use technology to feed the world's population. So, if you are passionate about food science and want to pursue a career in the food industry, Shoolini welcomes you to follow your dreams.
We are happy to help you with more information about BSc (Hons) Food Technology at Shoolini University.?You can fill up the form here!