Establishing law career in India can be one of the smartest decisions you can make. Yes, not everyone can be a lawyer because it requires a specific skill set. And those who succeed often find themselves in one of the most respected sectors of employment. Here's why:
According to a Times of India report, around 5 crore cases are pending in various High Courts across India. This alarming number highlights the nation's urgent need for skilled lawyers.
Beyond this obvious demand, a career in legal services offers the flexibility to move at your own pace. Unlike other 9-to-5 jobs, a career in law offers the opportunity to be your own boss and manage clients based on your individual approach and timetable.
Numerous reasons make law a rewarding career choice. Read: Top 7 Reasons to Choose Law as a Career
However, pursuing law does not always mean that you will only end up becoming a lawyer. There are other job opportunities you can consider as a law student. Here are a few of them.
Law Career Options in India
Criminal Defense Attorney: Specialises in representing individuals accused of crimes, ensuring fair trials, and protecting clients' rights. They investigate cases, build defence strategies, and negotiate with prosecutors.
Corporate Lawyer: Works with businesses on legal matters, including contracts, mergers, acquisitions, and compliance. Offers advice to ensure adherence to laws and regulations, safeguarding the company's interests.
Family Law Practitioner: Focuses on issues like divorce, child custody, and domestic disputes. Provides legal guidance and representation to clients to achieve fair settlements and resolutions within family dynamics.
Immigration Lawyer: Assists individuals and businesses with navigating immigration laws and procedures. Helps clients obtain visas, green cards, and citizenship, while also representing them in immigration court cases.
Real Estate Attorney: Handles legal aspects of property transactions, from buying and selling to leasing and development. Ensures contracts are valid, conducts title searches, and resolves disputes related to real estate transactions.
Healthcare Lawyer: Focuses on legal matters within the healthcare industry. Deals with issues like medical malpractice, patient rights, healthcare regulations, and compliance with privacy laws such as HIPAA.
Labour and Employment Attorney: Works on employment-related legal issues, including wrongful termination, workplace discrimination, wage disputes, and labour union negotiations. Provides guidance to both employees and employers.
International Human Rights Advocate: Advocates for human rights on a global scale. Works with organisations to promote and protect rights, raise awareness about injustices, and provide legal support to those facing human rights violations.
We believe we've answered your question: "Is law a good career?" The answer is yes, but the right exposure is essential. This is where Shoolini University, recognised as one of the top law schools in North India, comes into play.
The Faculty of Legal Sciences at Shoolini University helps students discover their hidden talents and strengths, guiding them toward their chosen specialisation. With that in mind, let's explore what the School of Law at Shoolini University offers students.
Law Courses at Shoolini
The courses listed below appeal to diverse needs and varying academic levels of students.
Students learn a comprehensive range of legal subjects, including foundational principles such as Constitutional Law and the Law of Contracts. They delve into specialised areas like Family Law, Criminal Law, and Intellectual Property Rights. The curriculum covers essential aspects of legal practice, from drafting legal documents to understanding ethical considerations and alternative dispute resolution. Additionally, students explore subjects related to human rights, international law, and contemporary legal issues.
This program equips students with a solid legal foundation. They study core subjects like Constitutional, Contract, Family, and Criminal Law. Additionally, they delve into specialised areas like Intellectual Property, Environmental Law, and Administrative Law. The curriculum emphasises ethical considerations, dispute resolution, and practical skills such as drafting and moot court participation.
This program focuses on in-depth legal studies. Students engage in courses like Legal Research and Methodology, Judicial Process, and Law & Social Transformation. 
They specialise in Constitutional, Criminal, or Business Law, delving into Fundamental Rights, Criminal Justice, and Intellectual Property. Courses emphasise social implications and offer practical components like teaching practice, dissertations, and viva voce.
The Doctoral law programs at Shoolini are:
PhD ADR
PhD Cyber Law
PhD Human Rights
PhD IPR
PhD Legal Sciences
These courses focus on specific areas of law. Since crimes can occur in various aspects of life, the study of law is similarly segmented to address these challenges.
For students with a particular interest in cybercrime, a PhD in Cyber Law is available.
Studying law the Shoolini way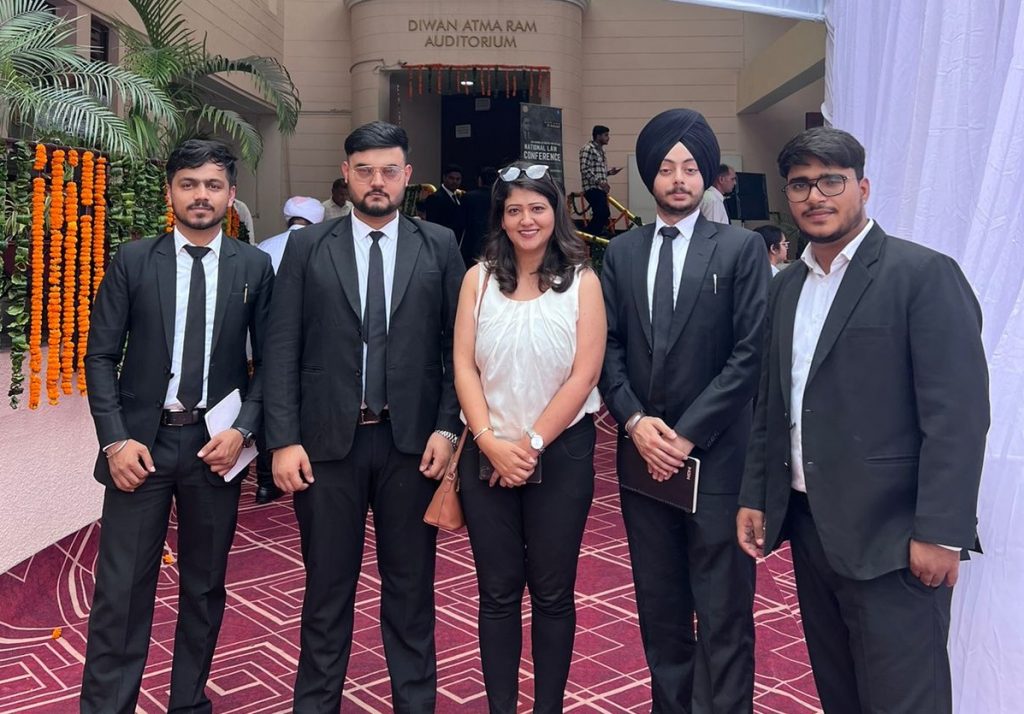 At Shoolini University, the best law university in India, legal education isn't just about theories and textbooks; it's about preparing you for real-world challenges.
Core features of our law program
Courses Approved by Authorities: As a university of law, all our courses are endorsed by the Bar Council of India, a statutory body established by the Indian Parliament to regulate and represent the Indian Bar.
Hands-on Experience: Students actively participate in Legal Aid Clinics, Model United Nations (MUNs), and legal conferences across the country to gain practical exposure.
Competitive Exam Preparation: Get ready to ace competitive exams like CLAT, State Judicial Services, PCS, and JAG through specialised training modules.
Learn from the Best: Engage with top legal luminaries, including High Court judges, to get invaluable insights into the legal world.
From mentorship sessions to interactions with judges, every moment at Shoolini is crafted to make you feel like a practising lawyer. Recognized as the top research university in India, we prioritize research-based studies. Each concept taught is fortified with practical explanations, and our internship programs serve as early stepping stones to build a robust career foundation.
In essence, Shoolini University turns the study of law into a 24/7 immersive learning experience.
Final statement
So, what's holding you back? It's natural to feel a bit anxious; after all, legal careers come with significant responsibilities. But rest assured, Shoolini University, recognised as the best university of law in North India, equips students to meet every challenge head-on. All we ask is that you remain open to learning and seize the opportunities that come your way.
For more information, visit the School of Law page on our website.