ROSEMARY T
The moment I stepped in this university I knew that I was meant to be here and with no regrets I can say that I am a proud Shoolinian says Abinash Choudhry from Nepal who is a student in Shoolini University. He is currently pursuing B.Tech BioTech from the University.
Abinash says that his first impression in India is positive. He finds the people in India, especially the people from Himachal Pradesh very kind and friendly. He said that he hasn't visited many of the places in Himachal or India other than Kasauli and he would love to explore more.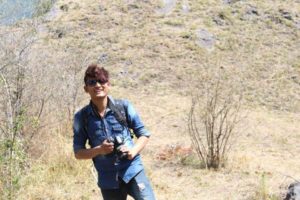 About his experience in Shoolini University, he adds – The environment out here is so cool. The classrooms are so nice and clean and the teachers are very cooperative and friendly. Not just the teachers but the students are also very helpful. I have made lots of friends and some of them are really funny. They keep the class entertained, make us laugh and I love them so much.
When it comes to studies, currently I don't have a favourite subject but I have chosen 'Sex Education' as my open elective subject and I kind of find this subject interesting. Many people take the word 'sex education' in a wrong way. In the class we are taught to give equal rights to the women and give them respect. We are born in a generation where the word 'sex' is treated as inferior and this subject teaches us to treat women equally. Therefore we are taught not to be ashamed to be born in this era.
I am interested in singing, dancing, writing Nepali poems and playing karate. My ambition is to become a great model and actor of Nepal or be it India. I am not too keen in studying B.Tech. Biotech but it is because of my parents that I am here today to fulfil their dreams and in a hope to live my own dreams too. For modelling I was inspired by a top famous Nepali model and actor Paul Sah.
In the university my daily schedule is quite tight and busy. After taking my classes I usually practise dance and also practise karate. I am looking forward to do well and come out as a bright student and make my teachers and parents proud of me.
I am so glad to be a part of Shoolini University. The campus is so beautiful and everything is so green. The university is very clean and it feels lively. My future plan is to work for some big industry. Apart from working I also want to give a try in modelling. I would love to visit here even after my graduation. And I am definitely going to suggest my friends and relatives to visit India and especially Himachal Pradesh at least once in a lifetime.