We shape our buildings, thereafter, they shape us.
– Winston Churchill
Civil Engineering is considered the second-oldest engineering discipline after military engineering. It involves the design, construction, execution of structural work, and maintenance of the physical and naturally built environment. These include public works such as roads, buildings, bridges, canals, dams, water supply systems, sewage systems, pipelines, airports, and railways. Recent technological advancements and the inclusion of AI and Geoinformatics in Civil Engineering make it a more attractive field. AI and Geoinformatics are widely used in civil engineering applications such as construction management, building materials, building information modelling (BIM), optimisation in hydraulics, geotechnical and transportation engineering, and developing automated systems.
AI and Machine Learning have produced several high-paying and satisfying jobs and revolutionised a Civil Engineer's thinking spectrum. AI models in civil engineering are aimed at creating accurate, cheaper and less disruptive construction projects. Civil Engineers can make better decisions and deliver their services more effectively with AI.
The knowledge of Geoinformatics combined with a strong core technical background offers lucrative employment in Civil Engineering sectors. The technology of Geographic Information Systems (GIS) is attracting interest from a broad range of civil engineering disciplines and helping modern engineers provide sustainable solutions, including lower costs, improved quality and supporting multidisciplinary analysis for complex projects.
Eligibility criteria
To be eligible for a BTech Civil Engineering (AI & Geoinformatics), students must complete their 10+2 or equivalent from a recognised board in India with a minimum of 60% in PCM. Additionally, some universities may also require applicants to clear an entrance examination.
Career after BTech Civil Engineering (AI & Geoinformatics)
After completing a BTech in Civil Engineering (AI & Geoinformatics) program, graduates can pursue various career paths. Some of the popular career options for Civil Engineers are:
Government jobs: Every year, various government agencies like UPSC, SSC, RRB, PWD, state government departments etc. present themselves, conducting multiple exams like ESE, JE, AE, and SE to allow engineers a chance to work in government sectors. Many Public Sector Undertakings (NHPC, NTPC, GAIL, ONGC, EIL, CCI, SJVN, etc.) recruit Civil engineers based on GATE or their entrance examinations.
Technical Jobs: Right after graduating BTech in Civil Engineering, maximum students are placed into big companies through campus placements or apply for jobs at various prestigious civil engineering companies. A degree in civil engineering fetches the students the power, prestige and opportunity to work at top-tier firms with excellent compensation, job stability, opportunity for advancement and a challenging and adaptive work environment.
Higher education: After completing a BTech Degree in Civil Engineering, students can pursue higher education by opting for an MTech degree in a specialised branch of Civil Engineering. A national-level competitive examination, GATE, which is organised by IISc and IITs, is conducted every year for students who are interested in pursuing postgraduate studies.
Research and development: Civil engineers can pursue a doctorate (PhD) in their chosen specialisation and take up research opportunities to devise new findings that help solve specific infrastructure problems. The scope of research in this engineering domain is vast because of the availability of immense specialisations and the urgent need to turn plausible solutions into definite plans to facilitate the building and construction of upcoming and diverse projects.
Teaching jobs: Teaching is a lucrative and rewarding career option for those interested in academics and research. After completing their higher education (MTech & PhD), civil engineers can apply for teaching and research positions in government and private institutes and universities and begin their careers as Assistant Professors.
Management: Civil engineers work on various infrastructural projects that hone their project management skills through constant practice and experience. Experienced engineers are appointed as managerial heads at large companies to oversee ongoing projects, revise strategy, supervise the workforce, track progress, and assist in technical accuracy. These abilities ensure an open channel for lifelong job prospects, especially in management.
Consulting: Civil engineers can opt for consulting roles, where they can provide expert advice and solutions to various industries. They can work on product development, process improvement and cost optimisation projects.
Entrepreneurship: Civil engineers can become entrepreneurs and start their own ventures. They can use their skills and knowledge to develop new products and technologies to bring revolutionary changes in various industries.
Job Roles After BTech Civil Engineering (AI & Geoinformatics)
Civil Engineering is a vast field that covers a wide range of applications and enables the construction of more intelligent and disruptive infrastructure fundamental to an effective economy, thus expanding the scope of civil engineers. Whether you want to work as a field professional, office goer, designer, supervisor, private consultant, educationist, researcher or even a manager, civil engineering offers you many employment opportunities to carve a personalised career path.
After completing a BTech in Civil Engineering program, graduates can pursue various career roles. Here are some of the popular options for Civil Engineers:
Public Health Engineer: Designing water supply systems, including filtration tanks, sedimentation tanks, pumping systems, pipelines and overheads.
Architectural Engineer: Designing, building prototypes, ensuring the implementation of designs and altering them whenever required.
Structural Engineer: Designing functional and visually appealing structures using computer software.
Geotechnical Engineer: Overseeing the adequacy of construction materials required for a strong foundation, determining construction methods and developing excavation techniques.
Project Site Inspector / Construction Engineer: Scheduling construction activity at every step, coordinating with designers to facilitate an effective and flawless outcome.
Transportation Engineer: Designing transit models, and improving structures through reconstruction, renovation and maintenance.
Project Managers: Assumes full responsibility for compliance with safety codes, supervising sequential progress, and ensuring the alignment of all aspects of the construction.
Chief Technical Officers: Overseeing any/all technical upgradation at all levels and ensuring all operations are in sync with the latest technology.
Engineering Consultant: Assisting companies in solving all technical issues/ doubts and guiding them toward the best option after considering needful inputs.
Analyst: Compiling and analysing data to take the company forward.
Also read: BTech Mechanical (Robotics & AI): Scope, Opportunities & Career in India
Courses after BTech in Civil Engineering (AI & Geoinformatics)
After completing a BTech in Civil Engineering (AI & Geoinformatics), aspirants can opt for an MTech in Civil Engineering. A postgraduate degree provides students with the advanced knowledge and skills required for research and development positions in the industry.
A PhD in Civil Engineering is a research-intensive program. A student develops research and analytical skills. Emphasis is laid on software applications or computer-oriented tools for early and faster solutions. A PhD is essential for anyone who wishes to pursue teaching and research as their career.
Where to study the best BTech Civil Engineering (AI & Geoinformatics) course in India?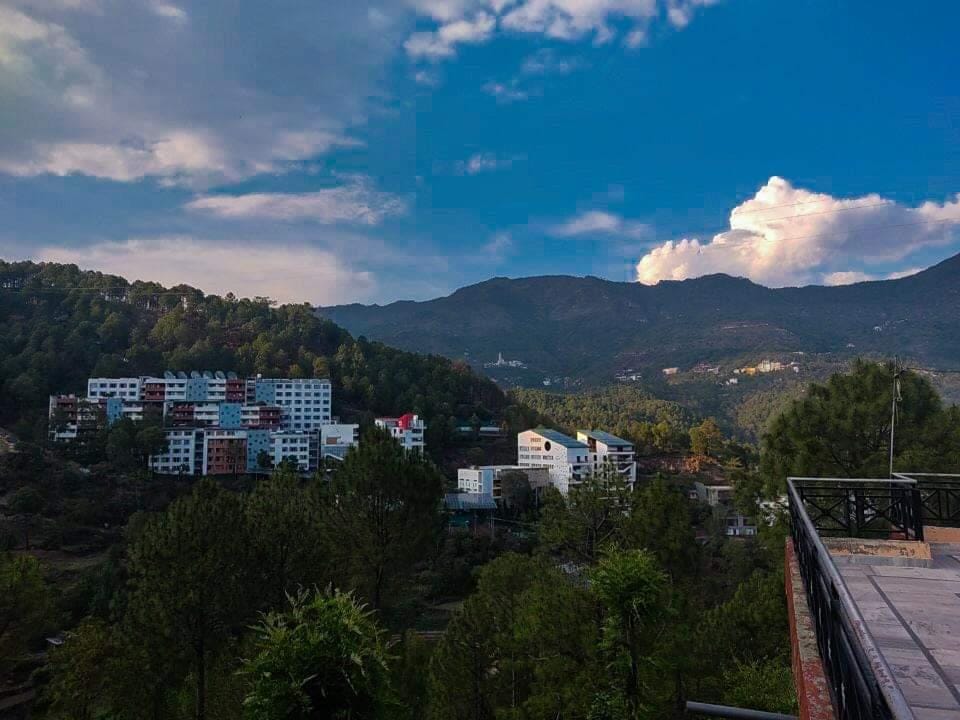 When you think of Civil Engineering in particular, Shoolini University is the best of all available options. Shoolini is Indias No.1 Private University renowned for its exceptional student body, comprising some of the most talented and intelligent students. The Faculty of Engineering & Technology at Shoolini is proud to attract high-calibre students and strives to train them to become highly competent, qualified, and capable future engineers. Our curriculum is designed to equip them with the technical knowledge and practical skills to solve global problems.
Students opting for BTech Civil Engineering (AI and Geoinformatics) at Shoolini University are exposed to the latest techniques and information tools in Artificial Intelligence and Geoinformatics used in every sector of Civil Engineering. This includes smart construction, efficient water supply management, smart transportation systems, project planning, sustainable development of the environment, etc. Further, we strongly encourage our students to participate in innovation and start-up programs to develop their entrepreneurial and engineering skills.
Shoolini delivers a holistic educational experience conducted by highly trained and experienced faculty members from IITs, NITs, foreign universities, and other reputed organisations and institutes. The institution also offers a wide range of extracurricular opportunities and tools to improve the academic experience of its students. The curriculum is based on project-based learning in each semester. This is why Shoolini is the third highest patent filer in India (Office of the Controller General of Patents, Designs, Trade Marks and Geographical Indicators) and has published high-impact research papers. They gain exposure through direct interaction with industrial experts through industrial visits.
Shoolini University National / International Rankings in Engineering
BTech in Civil Engineering (AI & Geoinformatics) from Shoolini University is an excellent choice for anyone interested in a rewarding career in this field. Graduates are well-prepared to enter a variety of industries and benefit from the institutions strong industry connections and alumni network. This is a one-stop solution for all your Civil engineering-related needs.
Join Shoolini University for a BTech in Civil Engineering (AI and Geo-informatics).