"A scientist can discover a new star but he cannot make one. He would have to ask an engineer to do it for him. – Gordon Glegg
Mechanical Engineering is one of the oldest and broadest engineering disciplines. It is the branch of engineering that involves the design, analysis, and manufacture of mechanical systems. Mechanical engineers play a vital role in developing many industries, including automotive, aerospace, power generation, and manufacturing. Recent technological advancements and inclusions of smart and digital manufacturing, robotics, automation, and Artificial Intelligence and Additive manufacturing (3D printing) technology make it more attractive. If you are interested in pursuing a career in mechanical engineering, BTech Mechanical (Robotics & AI) is an excellent course to consider.
Eligibility criteria
To be eligible for a BTech in Mechanical Engineering (Robotics & AI), students must have completed their 10+2 or equivalent from a recognised board in India. They should have scored a minimum of 60% marks in their 10+2 with mathematics compulsory & any of the two following subjects physics / chemistry / computer science / electronics / information technology / biology / informatics practices / biotechnology / technical vocational subject / agriculture / engineering graphics / business studies / entrepreneurship. Additionally, some universities may also require applicants to clear an entrance examination.
Career Choices after BTech Mechanical Engineering (Robotics & AI)
After completing a BTech Mechanical Engineering (Robotics & AI) program, graduates can pursue a variety of career paths. Some of the popular career options for mechanical engineers are:
Research and Development: Mechanical engineers with a passion for innovation can opt for research and development (R&D) roles in various aerospace, automotive, and manufacturing industries. They can work on cutting-edge technologies and develop new products that can bring revolutionary changes to the industry.
Manufacturing: Mechanical engineers can also pursue a career in the manufacturing industry. They can work on designing, developing, and implementing manufacturing processes and technologies to enhance the efficiency and quality of the production process. They can also work on improving the safety and sustainability of the manufacturing process.
Automotive Industry: The automotive industry is a major employer of mechanical engineers. They can work on designing, testing, and developing new automobiles, including cars, trucks, buses, and motorcycles. They can also work on developing new technologies such as electric and hybrid engines, advanced safety systems, and autonomous driving systems.
Robotics & AI: Today, the robotics and AI sector encompass intelligent machines and systems that can perform tasks previously thought to be the exclusive domain of humans. Robotics involves the design, construction, and operation of robots, while AI is concerned with creating machines that can simulate human intelligence and learning. AI can also be used to automate decision-making processes, improving efficiency and reducing the risk of errors.
Energy Sector: The energy sector is another major employer of mechanical engineers. They can work on developing new technologies to produce and distribute energy, including renewable energy sources such as wind, solar, and hydroelectric power. They can also work on developing new technologies to improve energy efficiency and reduce carbon emissions.
Consulting: Mechanical engineers can also opt for consulting roles to provide expert advice and solutions to various industries. They can work on product development, process improvement, and cost optimisation projects.
Entrepreneurship: Mechanical engineers can also pursue a career in entrepreneurship and start their ventures. They can use their skills and knowledge to develop new products and technologies to bring revolutionary changes in various industries.
Job Roles After BTech Mechanical (Robotics & AI)
Mechanical Engineering is a vast field covering a wide range of applications, from designing small components to developing large-scale systems. The scope of this program is immense, as it covers a broad range of topics, such as thermodynamics, mechanics, materials science, robotics, and manufacturing processes.
Mechanical engineering graduates can work in various industries, including manufacturing, automotive, aerospace, energy, and robotics. They can also work in research and development, design, testing, and production. After completing a BTech Mechanical Engineering program, graduates can pursue various career opportunities. Here are some of the popular career options for mechanical engineers:
Design Engineers design and develop new products and systems. They work on the design of mechanical components, assemblies, and systems using computer-aided design (CAD) software. Some key responsibilities of a design engineer include conceptualising and creating initial designs, developing detailed specifications and plans, conducting simulations and testing prototypes, collaborating with other professionals such as technicians, project managers, and marketing specialists, and ensuring that products meet safety, quality, and regulatory standards.
Robotics & Automation Engineers design, develop, and implement automated systems and robots for various applications. They work to improve efficiency, productivity, and safety in industries. The responsibilities may include designing and programming robotic systems, integrating automation technologies into existing systems, testing and troubleshooting equipment, and collaborating with other engineers and professionals to ensure successful implementation of automation solutions.
Manufacturing Engineers are responsible for designing and optimising manufacturing processes, reducing production costs, and improving product quality. They work on designing new machines, equipment, and production lines, as well as maintaining and optimising existing systems.
AI (Artificial Intelligence) Engineers are professionals who design, develop, and maintain AI systems and technologies. They oversee the development of intelligent machines, such as natural language processing (NLP), speech recognition, computer vision, and machine learning systems. AI engineers must know machine learning, computer languages, data structures, and statistical models. They collaborate closely with data scientists and software engineers to produce intelligent systems capable of data-driven learning and accurate prediction.
Maintenance Engineers ensure that machinery and equipment operate to their capacity without glitches. They work in numerous areas, including the manufacturing, aerospace, and energy sectors. Maintenance Engineers work in mechanical, electrical, or electronic systems and apply their knowledge to prevent equipment failure and assure safe, effective operations.
Quality Control Engineers ensure that products meet quality standards. They work on developing and implementing quality control systems, testing and evaluating products and analysing data to improve product quality.
Project Engineers manage engineering projects from start to finish. They are responsible for project planning, scheduling, budgeting, and ensuring the project is completed on time and within budget.
Research and Development Engineers develop new technologies and improve existing systems. They work on developing new products, testing and evaluating new technologies, and analysing data to improve product performance.
Courses after BTech in Mechanical Engineering (Robotics & AI)
After completing a BTech in Mechanical Engineering (Robotics & AI), one can opt for an MTech degree and PhD in Mechanical Engineering, specialising in areas such as Robotics, Thermal Engineering, Manufacturing, Materials Science, Design, etc. A postgraduate degree provides students with the advanced knowledge and skills required for research and development positions in the industry.
In addition to postgraduate degrees, mechanical engineering graduates can pursue certifications in CAD/CAM, AI, Six Sigma, and Project Management to enhance their skills and knowledge.
Where to study the best BTech Mechanical Engineering (Robotics & Artificial Intelligence) course in India?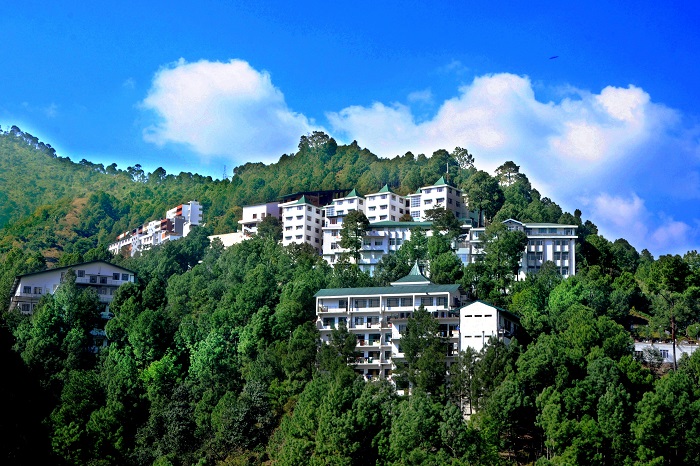 A BTech in Mechanical Engineering from an esteemed institution is essential for a successful career. Therefore, Shoolini University is the best choice. Not only is it renowned for its top rankings, but it is also known for its exceptional student body, comprising talented and intelligent students. The School of Mechanical, Civil, and Electrical Engineering at Shoolini is proud to attract such high-calibre students. Through quality teaching and practical training, it is committed to providing the economy with a highly competent, talented and capable workforce.
Shoolini University offers BTech in Mechanical Engineering with a specialisation in Robotics and Artificial Intelligence. To create industry-ready engineers as per Industry 4.0, Shoolini University has introduced a new course BTech in Mechanical Engineering with a specialisation in Robotics & AI. During the program, mechanical engineering students will be exposed to the latest techniques and happenings in AI and robotics used in every sector, whether manufacturing or automotive.
Students will also learn practically from Industry Experts (under our Industry-Academia partnership program-VLCI) like Anand Automotive, Microtek, Milestone, Ind Sphinx, MT Autocraft, Cosmo-Ferrite etc. Our students are trained at our MoU Partner PEC-SIEMENS Centre of Excellence in Chandigarh, where Punjab Engineering College has invested around Rs 170+ Crore to set up 14 state-of-the-art labs with SIEMENS.
Shoolini trains students to be future engineers. Our curriculum is designed to equip them with the technical knowledge and practical skills to solve global problems. Further, we strongly encourage our students to participate in innovation and start-up programs to develop their entrepreneurial and engineering skills. The institution also offers a wide range of extracurricular opportunities and tools to improve students' academic experiences. The curriculum is based on Project-based learning in each semester leading to patent-filing and research papers and industrial exposure through direct interaction with industrial experts through Industrial visits.
Shoolini University National / International Rankings in Engineering
BTech in Mechanical Engineering (Artificial Intelligence & Robotics) from Shoolini University is an excellent choice for anyone interested in a rewarding career in engineering. With its quality teaching, practical training, and emphasis on innovation and entrepreneurship, Shoolini is committed to providing its students with the best education possible. Graduates are well-prepared to enter a variety of industries, and benefit from the institution's strong industry connections and alumni network. Shoolini University is a one-stop solution for all your mechanical engineering-related needs.
Science can amuse and fascinate us all, but it is engineering that changes the world. – Isaac Asimov