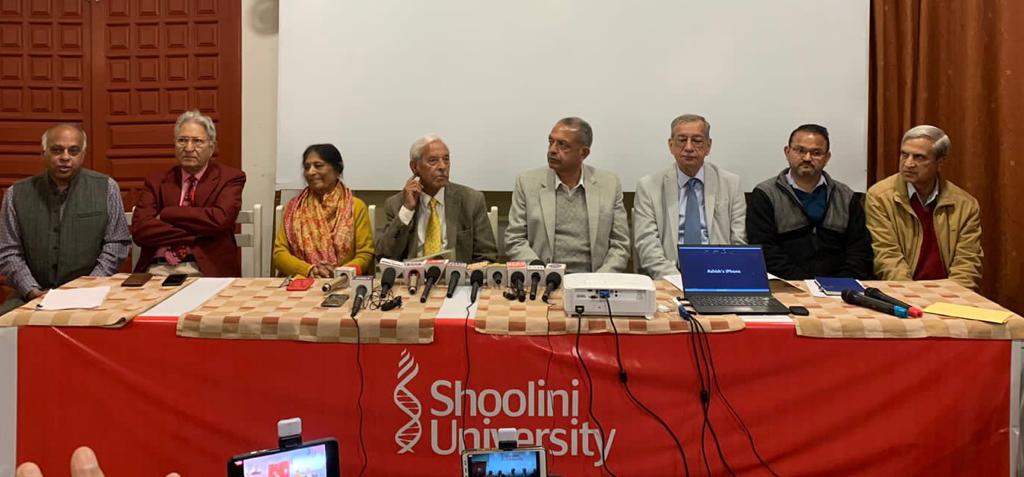 Prospects bright for engineering students with hi-tech and hybrid programmes: Prof Khosla
Solan, March 28
The Engineering Programmes at Shoolini University have been ranked 12th and Mechanical Engineering ranked Number 3 in the country by the prestigious SCImago Institutional Ranking (SIR) World Report. This Spain-based organisation, dedicated to information analysis, has placed Shoolini University at the 22nd Rank, while it got the Seventh Rank in Research.
Addressing a press conference in Solan, Chancellor Prof PK Khosla said credit for the top rankings went to the cutting-edge engineering programmes that were designed keeping in mind futuristic career requirements. This also included creating courses around Artificial Intelligence.
He said, "Realising the requirements of industry-ready engineers, the university has introduced BTech in Mechanical Engineering with specialisation in Artificial Intelligence and Robotics." Under this, Mechanical Engineering students will be exposed to the latest techniques and futuristic trends in AI and Robotics, which find use in every sector, whether manufacturing or automotive, he added.
Addressing mediapersons during a press conference, Faculty of Engineering Dean Prof Virender Rihani said students will get hands-on training under Shoolini University's Industry-Academia partnership programme with Anand Automotive, Microtek, Milestone, Ind Sphinx, MT Autocraft, and Cosmo-Ferrite.
"Under our various collaborations, our students are also trained at the PEC-SIEMENS Centre of Excellence in Chandigarh. He added that Punjab Engineering College had invested around Rs 170 crore to set up 14 state-of-the-art labs with SIEMENS.
Prof Rihani said, "Our curriculum is based on project-based learning in every semester. This is why our students file so many patents and research papers. They gain industrial exposure through direct interaction with experts during industrial visits." Talking about BTech, Civil Engineering (with specialisation in Artificial Intelligence and Geo-Informatics), he said the BTech Civil Engineering programme has been modified. Now, elements of Artificial Intelligence, Machine Learning, GIS, Remote Sensing, AutoCAD, and many related software applications were essential components of the programme. These changes, he stated, would make sure that Civil Engineers could meet the current and future constructional requirements.
Former Panjab University Vice Chancellor Prof RC Sobti, also Adjunct Faculty at Shoolini University, said the Yogananda School of AI, Computers and Data Science at Shoolini offered BTech Computer Science with specialisations in Artificial Intelligence, Data Science, Cloud Computing, and Cyber Security in collaboration with IBM and AWS. Artificial Intelligence & Machine Learning (AI & ML) has become one of the most sought-after programmes in the modern world owing to their promising and remunerative scope. Since this degree has applications across various industries, the opportunities have expanded. Data Science equips students with statistical, mathematical, and machine learning reasoning, knowledge discovery, and visualisation skills.
Prof PK Khosla remarked that Shoolini University's emphasis on preparing students for the practical world, along with its focus on pioneering research and innovation, has established the institution as a premier institution in India. When questioned about the decline in Engineering admissions, Prof Khosla stated, "Artificial Intelligence is the future, so we have updated our course criteria to enable students to become the best."
Responding to a question, Prof Khosla said, "SCImago rankings have been awarded to Shoolini University on four parameters: teaching and learning, research, social impact, and perception".
Bioengineering and Food Technology Head and Dean, PG Studies, Prof Dinesh Chatanta said Shoolini University's Faculty of Applied Sciences and Biotechnology had succeeded in procuring grants such as Research and Development Projects from Government National funding agencies for developing infrastructure. He said the university had more than 250 international tie-ups for exchange programmes and joint academic and research work for the benefit of students.
Prof Rihani said through this programme, students will gain cross-disciplinary skills such as statistics, computer science, machine learning, and logic. They can become data scientists and explore lucrative careers with challenging roles in healthcare, business, eCommerce, social networking companies, climatology, biotechnology, genetics, and other significant futuristic industries.
Shoolini students are placed in top tech companies such as Tata Hitachi, GNA, Havells, Groz Beckert, Microtek, Khanna Paper Mills, Adani Powers, L&T, Ceigall, Kalpataru, Cognizant, AADDOO.AI, Anand Automotive, Satyam Auto, SML-Isuzu, Gabriel, Eicher Volvo, Hughes Systique, Mercer, HCL, Orange Business Service, FPL Technology, Cognizant, Capgemini, and many more.