LAKSHAY PARASHAR
Whatever you are doing, just give it your best shot so that there are no regrets in the future, said Lakshmi Gondal, an alumnus of Shoolini University who is now working with Vivo as a VBA Service Manager.
She said that grooming at Shoolini University helped her a lot in pursuing her professional career. She explained that SPRINT sessions gave her the knowledge on how to attend an interview and taught her what to say and how much to say.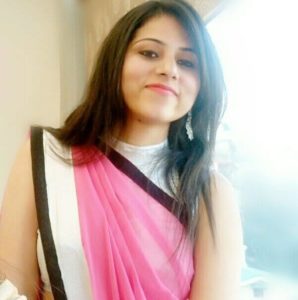 She said, I had done an internship in IDBI bank. I was confident about my learning and tried different companies during my placements. I got placed in Vivo as a management trainee which included the k n o w l e d g e of things like the branding of the product, how to train others, etc. She added that they were trained on how to manage various departments from branding to HR. In the end, she got the job to train other promoters all over Himachal Pradesh about the new products and got a position as VBA service manager at Vivo, HP.
She said that she now trains the new joinees and guides them to do their jobs perfectly. She hails from District Kangra and completed her schooling at Kendriya Vidyalaya Pathankot. Her hobbies include watching movies and travelling. She added that her father is a retired Captain from the Indian Army and her mother is a housewife.
She had completed her BBA from Pathankot and joined Shoolini in 2013 to pursue her MBA. She said, My favourite teacher in Shoolini was Mrs Poonam Nanda as she was the one who used to control SPRINTs and one of the most memorable moments for me was the cultural programme held after SPRINT.? Lakshmi further added that she learned a lot of things from SPRINT like how to talk in any formal place like an office or in a meeting or interview and manage things professionally in such an environment.