IT careers are projected to grow significantly from 2022 to 2032, outpacing the average growth rate for all occupations, according to the Bureau of Labor Statistics. Therefore, choosing a career in IT can be the pathway to a rewarding and prosperous future. But what does it take to forge a successful career in IT? Let's explore what it takes.
Have you always been the tech guru of your family? The one who troubleshoots smartphone snags and computer crashes? Think back to your younger days; were you the kid who was fascinated by the inner workings of your desktop computer, gazing in awe at the futuristic components and pondering their purposes?
That early curiosity can pave the way to your dream career. The good news is that the world of IT (Information Technology) is vast and full of exciting possibilities. Let's navigate through the different types of IT careers to help you find your ideal niche.
What are the 7 Types of IT Careers and How to Choose One
Cybersecurity: Focuses on protecting computer systems, networks, and data from security breaches and cyberattacks.
Map Your Skills: If you're passionate about security, enjoy problem-solving, and have a keen eye for potential vulnerabilities, a career in cybersecurity could be a strong fit. Consider pursuing specialised programs or courses in cybersecurity.
Software Development: Involves writing, testing, and maintaining code for software applications or systems.
Map Your Skills: If you're creative, have a knack for coding, and enjoy building functional applications, a career in software development could be an excellent choice. 
Data Science: Focuses on extracting insights and knowledge from data, using statistical and analytical techniques.
Map Your Skills: If you're intrigued by data and deriving meaningful insights fascinates you, a career in data science could be your calling.
Artificial Intelligence: Involves developing algorithms and models for tasks like image recognition, natural language processing, etc.
Map Your Skills: If you're fascinated by the potential of Al and want to create intelligent systems, pursuing a career in Artificial Intelligence could be a rewarding path. Consider specialised courses or programs in AI.
Cloud Computing: Involves managing and deploying applications and services on cloud platforms like AWS, Google Cloud, or Azure.
Map Your Skills: If you're interested in scalable and flexible computing solutions and enjoy working with cloud technologies, a career in Cloud Computing could be an excellent fit.
DevOps: Focuses on combining development and operations to improve collaboration and efficiency in software development and deployment.
Map Your Skills: If you're interested in streamlining the development process and ensuring smooth deployment of software, a career in DevOps could be a good match.
Game Design & AR/VR: Involves designing and creating video games or immersive experiences in Augmented Reality (AR) and Virtual Reality (VR).
Map Your Skills: If you're passionate about gaming or creating immersive experiences, a career in Game Design or AR/VR development might be the right choice. Look for specialised courses or programs in this field.
Consider your interests, strengths, and long-term goals when choosing an IT career. Also, seek out esteemed institutions or universities offering quality IT courses and degree programs.
Where to Study
If you are looking for the best university for IT courses, then your search ends at the No.1 Private University in India. Shoolini University is ranked the No.1 Private University by QS World University Rankings 2024 and THE World University Rankings 2024. 
Additionally, Shoolini University is No.1 in Engineering in THE World University Rankings 2024. The university boasts a renowned faculty comprising experts from prestigious national and international institutions. 
The faculty of Engineering and Technology department is highly qualified and exceptionally experienced, with members hailing from renowned institutions such as the Indian Institutes of Technology (IITs), the National Institutes of Technology (NITs), and the University of Oxford. Now, let's take a look at the IT courses available at Shoolini University.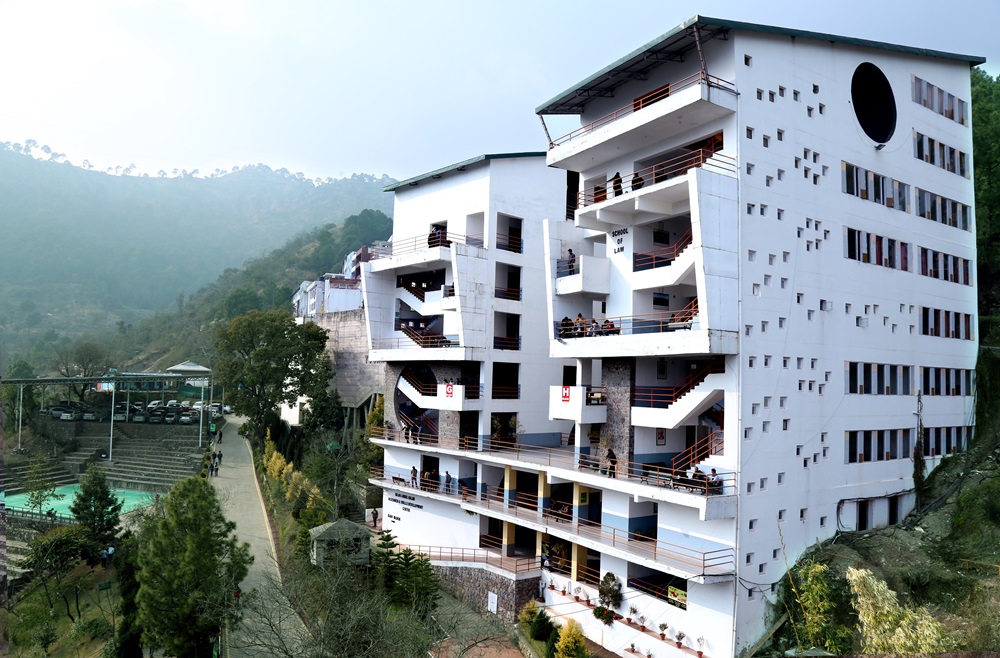 Yogananda School of AI, Computers and Data Science
The Yogananda School of AI, Computers and Data Science at Shoolini University is at the forefront of the digital revolution and a launchpad for IT careers. Renowned for its educational excellence, the school simplifies complex subjects such as Artificial Intelligence, Computer Science, and Data Science for its students.
The curriculum covers essential topics such as AI, Data Analytics, Data visualisation, Machine Learning, Deep Learning, Semantic Web, Social Network Analytics, Blockchain Technologies, and Data Security and Privacy, all presented in an easily understandable manner.
What sets this program apart is its valuable collaborations with tech giants like IBM, Microsoft, and AWS Academy. Students gain access to the latest technology platforms and earn certifications in an impressive array of 180 professional modules covering all critical areas of the field. But it's not just about certifications; it's about hands-on experience. Students work closely with small teams of peers and mentors to develop groundbreaking applications. They learn from the best in the industry and academia while working on real projects.
For those worried about AI interviews, the Yogananda School of AI, Computers and Data Science offers AI Interview Coaching Prep with access to Siqandar, the world's best interview prep coach. So, if anyone is ready to make a change in the realm of IT careers, Shoolini University is the ideal destination.  
Best IT courses at Shoolini University
Apart from this, at Shoolini University, students benefit from practical knowledge. Recently, iHUB Shoolini organised a two-day Hackathon on the application of AI in Healthcare 4.0, Industry 4.0, and Smart Cities. This event received support from iHUB DivyaSampark, a Technology Innovation Hub, jointly initiated by the DST, Government of India, and IIT Roorkee.
Also Read: iHUB Shoolini Organises Two-Day Hackathon on AI
Other events include Code Yoga Bootcamp and Research Methodology Workshop for Engineering. Such exposure makes Shoolini a unique and popular choice for students.
Conclusion
Shoolini University stands out as a hub of possibilities in the IT landscape. It's not just about IT careers or IT degree courses; it's about a transformative journey. Here, you don't just learn; you innovate. The Yogananda School of AI, Computers and Data Science is a testament to this, presenting a curriculum that balances simplicity with depth to demystify subjects like AI and Data Science.
But what truly sets Shoolini apart is its vibrant community and commitment to practical knowledge. Shoolini University also offers 100% placements to the students of Engineering, and that too in top companies. So, if you're ready to step into a world where IT isn't just a career but a passion, Shoolini University welcomes you to join the journey of innovation and discovery.