The transition from school to university is a whirlwind that can significantly impact students' mental health and well-being. Juggling academic pressures, new social dynamics, and adjusting to an unfamiliar environment can take its toll. While many students struggle with these issues, they often hesitate to speak up because they fear being misunderstood or labelled as different. However, keeping these emotions bottled up can worsen the situation. Recognising the magnitude of this issue, Shoolini University is committed to supporting the all-round growth and development of its students.
Importance of addressing mental health
Reports from the World Health Organisation reveal that 1 in every 8 individuals worldwide face emotional struggles. The need to address this issue is clear, emphasising the urgency of creating a supportive student environment.
Taking steps: Making things better
Starting university is like going on a grand adventure. Just as you'd need a map for a physical journey, discussing your emotions acts as a guide for your mental well-being. Shoolini understands the need to talk about how to feel better, how to handle things, and how and where to seek help.
Shoolini University: Hub of holistic wellness
Nestled in the serene foothills of the Himalayas, Shoolini University is a haven for students grappling with issues related to mental health and well-being. The university goes beyond textbooks and lectures by prioritising mental health and the well-being of its students. It provides a nurturing environment where students can comfortably address their mental health concerns and freely express their emotions. Shoolini has created a supportive space where students who might struggle to voice their thoughts and feelings elsewhere feel safe.
As Shoolini welcomes students from across the globe, it undertakes the responsibility of ensuring the mental health and overall wellness of every student. Acknowledging that a student's journey takes significant turns during the shift from school to university environment, the institution facilitates a seamless and comfortable transition right from the outset.
Shoolini Key Initiatives to Support Mental Health & Well-Being of Students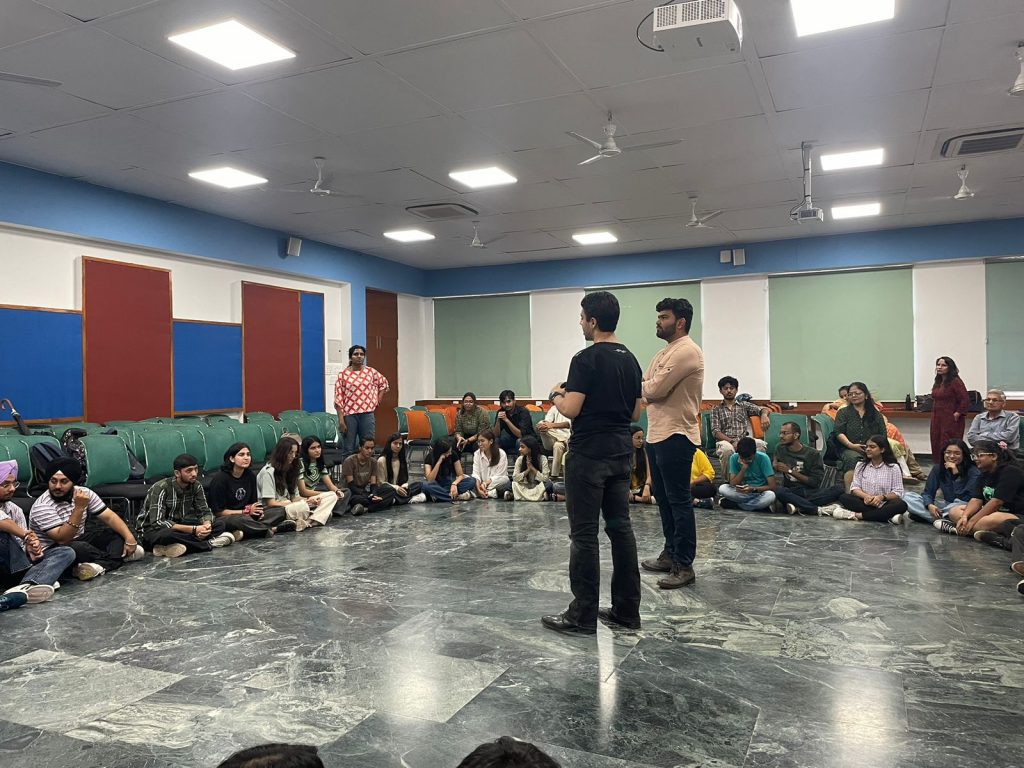 Induction Program Awareness Sessions: When you first join Shoolini University, the induction program includes discussions about mental health and well-being. Right from the first day, the university takes care of the mental and emotional needs of the students.
Happy Kids at Shoolini: Shoolini University is a place where kids feel happy and comfortable. The environment here makes students feel good and positive.
It's Okay Not to Be Okay:  Shoolini understands that sometimes you might not feel okay, and that's alright. You learn that it's normal to have ups and downs in life.
Counsellors for Help: If you ever need someone to talk to, Shoolini has counsellors. These are people you can share your thoughts and feelings with, and they will help and support you.
Helpline Numbers Everywhere: You'll see big signs, notices, and boards around Shoolini with phone numbers you can call anytime. The UGC provides these contacts to assist you.
Awareness Sessions: Apart from the induction program, Shoolini also holds sessions throughout the academic year. They want to make sure that everyone understands mental health well.
Special Events for Mental Health: On certain days, like World Mental Health Day and Suicide Prevention Day, Shoolini University organises events and activities to spread awareness about mental well-being.
SPRINT Sessions on Sensitive Topics: Quick sessions where students are free to talk about delicate and complex issues. This includes discussions about mental health and similar topics.
Psychology Club – Club Arcadia: Shoolini has a unique club called 'Club Arcadia' that focuses on psychology and works to promote good mental health.
More than Studies: Shoolini cares about more than just your studies. They want to keep you happy by organising various cultural events and activities. This helps you enjoy your time at the university and not just worry about academics.
"Our goal is a joyful campus. We make it happen by engaging students in diverse social activities, keeping them happily free from stress and its troubles. Seeing our students wholeheartedly participate is uplifting and adds to their emotional well-being," says Dean of Student Welfare Poonam Nanda.
She plays a role akin to that of a caring mother figure, serving as a driving force behind these initiatives. Students find her approachable and easy to talk to whenever they need assistance. She is the go-to person for guidance and support, making her the primary source of help for students.
DSW Poonam Nanda's primary objective is to transform the university into more than just a place for academic pursuits; it's about discovering someone who truly understands and supports you. Her straightforward yet impactful approach has left a lasting and positive impression on all the students.
She consistently arranges enjoyable student events, injecting a sense of happiness and vibrancy into the campus atmosphere. These events infuse the campus with excitement and enthusiasm, giving everyone a reprieve from their routine lives. Poonam Nanda also takes it upon herself to address any challenges students might face— personal or professional.
Nonetheless, the campus features dedicated counsellors who serve as essential support systems for students. Their primary goal is to create an atmosphere where students feel comfortable and a sense of belonging. Each day, a group of students confide in these counsellors, sharing their challenges and worries. Acting as reliable guides, these professionals direct students toward the most appropriate solutions for their individual issues.
What sets these counselors apart is their commitment to supporting not just students, but their parents as well. By conducting sessions for parents, they enhance the family's capacity to effectively assist their children. This dual approach makes resolving student issues even more efficient. The scope of problems these counsellors handle is broad, encompassing academic stress, relationship conflicts, and hostel-related concerns. Their reach even extends to faculty members who may seek their guidance. This collaborative effort contributes to a positive campus atmosphere where challenges are consistently and empathetically addressed, leading to more comprehensive solutions.
"At Shoolini University, our primary goal is to ensure every student feels comfortable and at home. Each day, a number of students confide in us, sharing their challenges and thoughts. We strive to provide assistance and establish a safe environment for everyone," states Anita Chauhan, Assistant Professor of Psychology at Shoolini University.
Students also have avenues to anonymously voice concerns or point out situations that need attention. The "Student Support" feature on the My Shoolini App serves as a confidential channel for students to raise issues, with the relevant team providing the needed assistance until resolution.
Shoolini University is dedicated to delivering comprehensive support focusing on students' mental health and overall well-being. Programs like SPRINT offer opportunities for personality development, significantly easing job-related stress for students.
Conclusion
Shoolini University is a top choice for good reason; it goes beyond the norm to support its students. Setting an example for other educational institutions, it pays attention to students' emotional and overall well-being. In a world where mental health challenges are increasingly prevalent, Shoolini University provides the support students need to thrive despite these hurdles. If you're in search of a university that genuinely backs its students, Shoolini stands out as an excellent option.