Any fool can write code that a computer can understand. Good programmers write code that humans can understand. Martin Fowler
In the past two to three decades, computer programming has shot into the limelight as an innovative and research-oriented domain that overflows with employment opportunities. This dynamic and expanding field brings proficient software engineers, programmers, and developers into its ambit, who are in high demand worldwide.
The demand for a talented programmer is more intense in countries like India and China. Many Indian urban towns and cities are becoming software engineering hubs. These locations are the focal points of the most extensive global computer operations.
If we look at the situation in India, computer science and related fields account for more than 80% of placements across all Indian engineering institutes.
Also read: Why Is Engineering a High-Paying Profession?
So, the best time to pursue a profession in computer science is probably right now.
Keep reading to know how you can become an outshining programmer.
Pursue a Degree in Computer Science
First, a prospective employer will want to see that you have a solid educational background. You can get by with a two-year associate degree, even though most employers prefer four-year degrees. Naturally, it should be a degree in software engineering or something else related to the IT industry. You can pursue BTech CSE from Shoolini University, Indias No. 1 Private University (Times Higher Education World University Rankings 2023). This premier institution of learning, renowned for its research-focussed and innovative approach, offers varied specialisations.
Artificial Intelligence
Cyber Security
Cloud Computing
Data Science & Machine Learning:
Acquire relevant skills Independently
Employers looking to fill a position want applicants with proven skills and qualifications that they can acquire while pursuing a computer science degree from Shoolini University. The degree and certifications also provide an employer with verifiable, quantifiable evidence that you have the necessary knowledge, skills, and abilities to perform the job efficiently.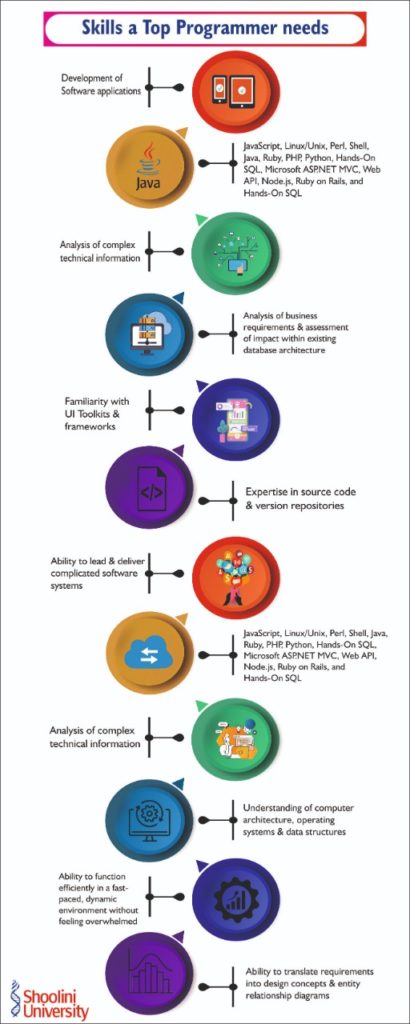 Develop your coding skills
Practice is the key. Teach yourself the program by picking up a few languages like Python, Ruby, JavaScript, C#, or C++. While pursuing BTech CSE from Shoolini University, you will become proficient in coding language.
Internships play a major role
An internship provides college students with critical practical information and experience. Additionally, internships aid in the development of contacts that will be beneficial in the workplace.
Career paths for a Programmer
Starting from the ground up is sometimes the best option. According to the resources, junior software engineers collaborate with more experienced ones to test, create, and upgrade software programmes and apps.
After graduation, aspiring students can choose any of the jobs listed below.
Computer Science Engineer: This problem-solving guru specialises in hardware, software, or networks. The network architect works with a programmer to best serve customers and internal departments and brainstorm solutions. This is an alternate route for those interested in business but with a knack for technology.
Computer Systems Engineer: A computer systems Engineer has the knowledge to fix even the most intractable problems with computers and their peripherals and their connections to the internet. When a client or internal department has a network problem, they go to this person to figure out the problem. They then collaborate with developers to find a solution. For the business-savvy, this is yet another programming-related career path to consider.
Software Quality Assurance Engineer: The software quality assurance engineer looks over product requirements and technical design documents to give timely and accurate feedback. They create tests that are thorough, organised, and accurate. The person sets goals, establishes priorities, makes plans, and establishes a timeline for implementing quality assessment procedures. A QA engineer or software quality assurance engineer monitors the entire development process. To ensure that the product is up to par with company standards, they oversee the development process and inspect each component before moving on to the next.
Network System Administrators: With the help of backup data and preventative measures, a network system administrator keeps business networks running smoothly. Primary responsibilities include virus prevention, code quality assurance, and computer system and network security. An administrator of a computer network is responsible for the software's organisation, installation, and management. Most network administrators find employment in the fields of education and information technology. Additionally, a network system administrator can find work in various industries.
Also read: How an Engineering Degree Brightens Students Future?
Why choose Shoolini for programming courses?
The best place to study and learn the skills to excel as a CSE programmer is Shoolini University's Yogananda School of AI, Computers and Data Science. With more than 3,000 placements, 250 global collaborations, and 1200 patents, Shoolini University ranked No.1 among private universities in India in the prestigious Times Higher Education (THE) World University Rankings, 2023.
Shoolini works with IBM, provides industry-recognised certifications, has a diamond grade from QS I-Gauge, and a curriculum supported by Microsoft and AWS Academy. Additionally, students get the chance to receive academic mentoring for real-world projects and learn from top professionals and academicians in the field.
The university also has a dedicated placement department that has successfully placed every student in the top companies over the years.
Our top CSE courses
Earning a degree in engineering from a highly-ranked institution is the most important factor, followed by genuine interest and passion in the chosen field. Shoolini University offers cutting-edge facilities and industry-relevant programs. The university works together with knowledgeable industry partners and has valuable business collaborations. Additionally, there is a focus on practical training and industry exposure. The university also provides excellent student support, placement assistance and career counselling.
We can aptly say that students pursuing computer science and engineering at Shoolini University are ready for any challenges, be it technical, academic or the rising demands and pressure of the industry. They are prepared to administer, implement, and design software and hardware information under the mentorship of globally acclaimed professors.