When we talk about diversity in careers, the diverse Journalism and Mass Communication stand out as one of the most inclusive fields. Individuals from diverse backgrounds and interests contribute to making this a rich, passion-oriented industry that offers something to everyone. 
From photography to writing, Journalism turns personal hobbies into valuable skills that are reflected in the roles of media professionals. Perhaps that's why the media continues to influence public opinion in India strongly.
According to Statista report, the media and entertainment industry of India was worth 2.1 trillion dollars in 2022. Currently, there are over 900 private news channels with 1000+ registered newspapers. These figures alone indicate the wealth of opportunities available in this career path. 
However, is diversity the sole reason people are choosing this field? Partially. While the domain is undeniably diverse, growth opportunities also play a significant role in its popularity. The abundant opportunities in this field are often a direct result of its diverse nature. Careers in the diverse Journalism and Mass Communication focus on skill-based roles, enabling professionals to make the most of their talents and contribute meaningfully to their workplaces. 
Moving forward, we'll take a closer look at how journalism embraces diversity and the kinds of passions it helps nurture. So, let's get started by diving into the various job roles in Journalism and exploring how turning your passions into a career can be incredibly rewarding.
How Passion Brings Diversity in Journalism & Mass Communication 
The benefits of studying Journalism and Mass Communication brings opportunities where an individual can explore new edges of skills according to their interest. Take real-life examples of celebrity news anchors like Anjana Om Kashyap and Chitra Tripathi, among the highest earners in the industry. What do you think? What makes them famous? Let's find out.
These news anchors for the renowned channel Aaj Tak have become household names. Their fame isn't attributed to their presentation skills alone. They've redefined anchoring as much more than just reading the news off a teleprompter. Their unique narrative style and probing insights into various issues have captivated their audience. These news anchors can sift through complex issues, offer thought-provoking commentary, and navigate contentious debates. When questioned about the secret to their enduring success during interviews and events, both anchors agreed that their genuine passion for work propelled them forward.
But, apart from anchoring, there is more to mass communication. Here are some other job options for building a career in Journalism and Mass Communication:
Photo Journalism 
The saying, 'A picture is worth a thousand words', couldn't be more apt when describing this career path. Ideal for those with a knack for photography, photo journalism offers a compelling way to blend one's interests and talents.
Photo journalists are the visual storytellers of the diverse journalism world, imbuing articles with impactful images that elevate the text. This role entails travelling to diverse locations to capture newsworthy events through the lens. Financially, it's rewarding as well, with monthly earnings ranging from Rs 3 to 5 lakh.
Radio Jockey 
The radio industry often favours candidates with a BA or MA in Journalism and Mass Communication, primarily because these programs teach vital representation skills and spur on-the-spot creativity. Far from being just reporters, Radio Jockeys are also writers and entertainers. This multifaceted role demands logical reasoning and creative flair, exactly what a degree in the diverse Journalism and Mass Communication cultivates. In 2023, the highest-earning Radio Jockeys in India can expect monthly salaries between Rs 1.2 and 2 lakh.
News Editors 
While the role of a news editor may not be categorised as 'lesser-known' in Journalism, the scope of opportunities it offers often goes under the radar. Every news article or broadcast segment undergoes rigorous editing, and it's the editor who upholds the brand's value both in terms of reputation and compensation. In India, news editors can command salaries of up to Rs 17.3 lakh annually.
The world of Journalism and Mass Communication offers a rich tapestry of career options, striking a harmonious balance between passion and profession. Students pursuing BA or MA degrees in this field can look forward to a wide array of fulfilling, diverse career opportunities.
Unlocking the diverse Journalism with Shoolini
Shoolini University's School of Media and Communication has one of the most vibrant Journalism and Mass Communication curricula. From group discussions to internships in leading media houses, studying Journalism at Shoolini is a wholesome experience.  
The curriculum here focuses equally on the theoretical and the practical aspects. The university offers the following Journalism courses:
Each course mentioned above has unique benefits and avenues for exposure. With that in mind, let's delve deeper into what each offers.
BA in Journalism and Mass Communication Curriculum 
The undergraduate program in Journalism and Mass Communication at Shoolini is the first step towards entering into diversity. What you can learn in this course:
Current Affairs & General Knowledge-I
Introduction to Reporting
Fundamentals of Journalism
Industrial Visit-I
Social Project-I
Introduction to Communication
Practical aspects of Electronic media
Academic Writing
Foundations of Data Science 
News and Script Drafting
Radio Journalism & Production
Anchoring
Photography
TV Journalism & Production
Corporate Communication
As you can see, Shoolini introduces each area of Journalism to students from the undergraduate level itself. This helps them decide which job title suits them the most.
To know more about this course visit: BA Journalism & Mass Communication: Scope & Career Opportunities in India
Levelling up with MA in Journalism and Mass Communication 
The postgraduate program at Shoolini is designed to take those interested one step ahead with deep industry knowledge and introduction to other advanced Journalsim and Mass Communication job opportunities. Here's a look at the curriculum:
Reporting for Print Media
Approaches to Corporate Communication
Electronic Media
Advertising & Public Relations
Media Ethics and Laws
Radio and TV Production Techniques
Editing and Editorial Writing
New Media: Advanced Approaches
Media Management
Media Research 
As evident from the Master's program curriculum, various approaches are covered, including the introduction of a new job role — editing.
Immersive Media Learning Experiences at Shoolini University 
At Shoolini University, we don't just confine learning to textbooks or traditional classrooms. We offer students a hands-on experience in media and communications through an array of in-house platforms. Here's how our students get a taste of real-world journalism, broadcasting, and production—right on campus.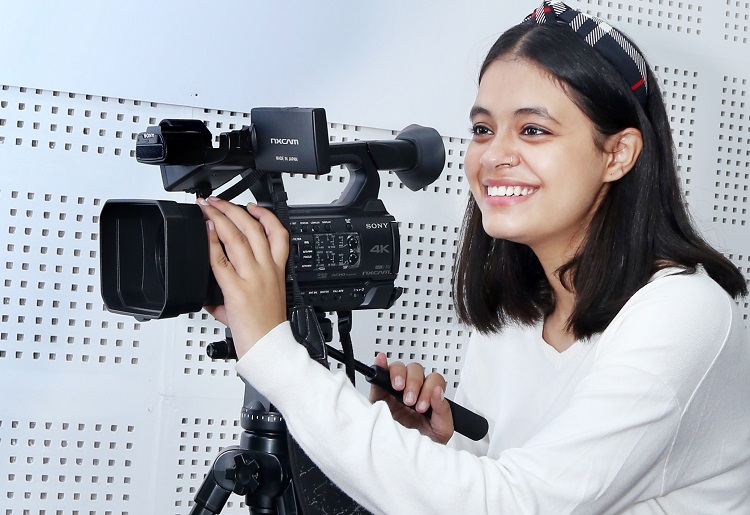 Shoolini Newsletter: Where Students Turn Reporters 
One of the feathers in our cap is the fortnightly Shoolini Newsletter, entirely managed and produced by our student community. From gathering campus news to laying out pages and even hitting the print button at the Indian Express press, our students get an all-rounded experience in print journalism. The newsletter serves as a practical lab, allowing aspiring journalists to flex their editorial muscles.
Shoolini Samvad and Shoolini TV: A Dual-Language Broadcast Experience 
If you're keen to explore television media, we have Shoolini Samvad in Hindi and Shoolini TV in English. Here, students who choose Journalism courses after 12th, don't just read news; they create it. From working as TV anchors and reporters to diving into video editing, graphic designing, and animation, students engage in end-to-end bulletin production. Utilising state-of-the-art studio facilities on campus, they create content that's both relevant and compelling. Want a glimpse? Check out Shoolini Samvad and Shoolini TV on YouTube. 
Radio Shoolini: Your Campus Frequency 
For those with a penchant for radio, we have 'Radio Shoolini,' our exclusive campus radio station. Here, students can test their mettle as radio anchors, entertainers, and interviewers. They get a chance to interact with faculty members and guests who visit our campus, curating conversations that resonate. Though Radio Shoolini primarily serves our campus community, we've also ventured into the podcasting world. Tune into some of our best episodes on Spotify. 
So whether it's print, television, or radio that sparks your interest, Shoolini University offers an immersive media experience that equips you with the practical skills you'll need for the outside world. Come, be a part of our dynamic learning ecosystem.
100% Placement promise of Shoolini 
Placement opportunities with top companies are what make Shoolini the best university for Journalism and Mass Communication. The university is ranked the No.1 Private University in India (THE World University Rankings 2023 & QS World University Rankings 2024)
Internships begin from the undergraduate program itself. Students get to work with media houses like The Indian Express, Times of India, The Tribune, Red FM, and more. 
In addition to these hands-on experiences, Shoolini University, the best university for Journalism in India, regularly hosts media professionals on campus. These industry experts provide invaluable insights, adding another layer of real-world education for our students. But what truly sets this course apart are our dedicated mentors. Actively engaged in interviews and group discussions, they bring an extra dimension to the learning environment, making it even more engaging and exciting for students.
Here are some diverse Journalism and career opportunities to which Shoolini University provides exposure: 
Electronic Media (TV and Radio)
Advertising Industry
Digital Media
Public Relations
Print Media
Research
By offering a diverse range of media platforms and experiences, Shoolini equips students to excel in various career paths within the media and communications landscape.
Ending Note 
In conclusion, Shoolini University's School of Media and Communication serves as a cornerstone for aspiring journalists and media professionals. Offering a robust curriculum from BA to PhD levels, we prioritise both theoretical knowledge and practical exposure. Our unique blend of academic rigor, industry internships, and expert mentorship creates a holistic learning environment.
The end result? Graduates who are not just job-ready but industry leaders, backed by the reputation of one of India's top-ranked private universities. With Shoolini, you're not just choosing a course; you're embracing a diverse, fulfilling, and impactful career in media and communication.