As an increasing number of students look for entrepreneurship and career opportunities in agriculture and crop science, the demand for agriculture as a career is on a rise. BSc (Hons) Agriculture/is the best program to build a successful career in Agriculture. It is a specialised degree program that equips students with the basics and innovative advances done in the field of agriculture in India.
Students who have 10+2 in the science stream can pursue BSc (Hons) Agriculture. A large part of the curriculum focuses on ancient and modern agricultural techniques. Additionally, innovative techniques in agriculture, surveying of land, soil science, management of water resources, poultry and animal management, biotechnology basics, Agronomy, Agricultural Economics, Agricultural Meteorology, and Agricultural Engineering are also covered in BSc (Hons) Agriculture./
This is a promising field that allows candidates to pursue careers as Plantation Managers, Agriculture Development Officers, Agriculturists, and Agriculture Marketing Executive etc./
Why pursue BSc (Hons) in Agriculture?
With the global population expected to touch a figure of nine billion by 2050, augmentation of crop productivity through technology, research, and innovative farming techniques will set in and those with degrees like BSc (Hons) Agriculture will definitely score a point.
Additionally, BSc (Hons) Agriculture is an over-arching subject that opens opportunities across sectors. It covers many areas of study such as food production, horticulture, animal rearing, rural development, rural economy and environmental health.
Now, lets read some of the major benefits of pursuing the BSc (Hons) Agriculture Program.
Benefits of BSc (Hons) Agriculture
As BSc (Hons) agriculture covers a broad range of subjects. Students can pursue different career options in this field, once they successfully complete this degree.
It opens up opportunities in the government as well as private sectors. NABARD, IFFCO, Central Warehouse Corporation and FCI are some government institutions that offer promising career choices to students from BSc (Hons) Agriculture.
Research opportunities also open up when a student completes BSc (Hons) Agriculture. They can appear for JRF and can opt for higher education in form of MSc Agriculture and MBA Agribusiness. These career options also open up numerous promising positions in the field of agriculture.
Students also develop some key skill sets such as agri-preneurship, research instinct, management of farm practices etc.
It is notable that the fee for BSc Agriculture tends to be lower than other programs. Therefore, it is definitely worth it to pursue this degree from a leading university./We are happy to help you with more information about BSc Agriculture at Shoolini University./You can fill up the form here.
Eligibility Criteria
Students who wish to pursue BSc (Hons) in Agriculture should have completed Class XII in Science stream with 60% marks. Most leading universities enrol students who have cleared NEET/JEE/SAT. Interaction with faculty and interview also form a part of the selection process at Shoolini University.
Scope of BSc (Hons) Agriculture
BSc Agriculture scope extends across various sectors and dimensions and students who successfully complete this four-year degree have a bright future awaiting them. Students can opt for completing their Master's in Agriculture or MBA in Agribusiness if they have an interest in exploring the business aspects of this field.
Shoolini Students Always Achieve Their

Life Goals

. Find Out How!
One-Student-One-Patent Policy
Industry-driven curriculum
100% Placement in CSE, MBA, Hospitality
Need-cum-Merit based Scholarships
There are numerous openings in agriculture-related companies and such students can explore positions in operations, field, and management in Agri- processing based companies.
Those who wish to gain employment in the Government sector can seek positions in NABARD, FCI (Food Corporation of India), and the National Agriculture Board which has dedicated openings for Agriculture professionals across all levels including bachelors, master's, and doctorate.
This is a gainful subject to study different aspects of agriculture including agriculture economics, agriculture engineering, agriculture entomology, agriculture microbiology, agriculture statistics, and agronomy. With such a diversity of subjects covered in the three-year degree program, the scope of BSc Agriculture definitely widens and the students can gain employment in many allied sectors./At Shoolini University, you can also pursue a 4-year BSc degree that becomes a research-based degree and allows you to enrol in a PhD without a masters program. This is as per the latest NEP guidelines of the Indian government.?
Find out more about our 4-year BSc (Hons) Agriculture degree program here.
Top career opportunities after BSc (Hons) Agriculture
BSc Agriculture Hons Degree opens up numerous vistas of opportunities for agriculture graduates. They can seek career positions in government and private companies. Some key positions that BSc Agriculture professionals can seek are:
Agriculture Research Scientist
Extension Officer
Agriculture Officer
Plantation Manager
Quality Assurance
Production Manager
Business Development Manager
Agri-preneurship
Subject Matter Specialist
Field Officer
Farm Manager
Agriculture Loan Officer
Operation Manager (Fertilizer Plants)
Food Processing Manager
Seed technologists
BSc (Hons) Agriculture students can also opt for self-employment after completing this degree. They can consider operating consultancies where innovations in farming are discussed and implemented in the field./
Many students who have completed this degree from Shoolini University have ventured into profitable options like floriculture and are earning a handsome income.
Courses after BSc (Hons) Agriculture
Students who wish to complete higher education in the field of agriculture after doing their BSc (Hons) Agriculture have a number of options. When you complete your BSc (Hons) Agriculture from a leading institution like Shoolini University, you can opt for many courses post this degree. For these courses at Shoolini University, the students with BSc Agriculture/Horticulture/Forestry and 6/10 OGPA or 60% are eligible.
In this course, students learn about different theoretical and empirical economic analysis in context of the renewable natural resource sector.
The aim of this course is to facilitate the transfer of technology from the lab to the field. The students are groomed to apply new technological innovations in the field practically. They develop knowledge on aspects like bridging technology gaps, measurement of socio-economic indicators etc. and its application in the field.
This course at Shoolini University offers knowledge and builds skills in the field of sustainable agriculture through which agriculture productivity can be enhanced. Weed Science, Nutrient Management, Water and Crop Management &Soil Management are covered in MSc Agronomy.
This postgraduate degree provides insightful learning into applied ecology in the context of plant protection and insect infestation. It prepares students for a professional future in Agricultural Entomology.
This is an emerging field in Agriculture where the emphasis is on technological innovations in the improvement of varieties and genetic stock. Students of this course at Shoolini learn about innovative breeding technologies.
The key focus of research in this course is on soil fertility, pedology, soil physics, soil microbiology, soil chemistry and soil pollution. Students of this degree program at Shoolini gain exposure to components like physical attributes of soil and its biological and chemical composition among other aspects.
This field of MSc Agriculture at Shoolini University deals with the study of fungi, bacteria, viruses and nematodes. Students get exposure to components like plant health, plant disease management etc.
Those who have a keen interest in research aspects of agriculture can also pursue PhD Agriculture at Shoolini University. Research facilities on advanced components like Agronomic Engineering are also available for such research scholars. They get dedicated guides who have professional exposure from institutions like Oxford, NIH and NCI.
If you have an interest in exploring integrated management of forest ecosystem, Shoolini University also offers a 3 year PhD Forestry course. Groundbreaking research and faculty with international exposure are some of the unique aspects of this degree that make it special from Shoolini University.
Why choose Shoolini University?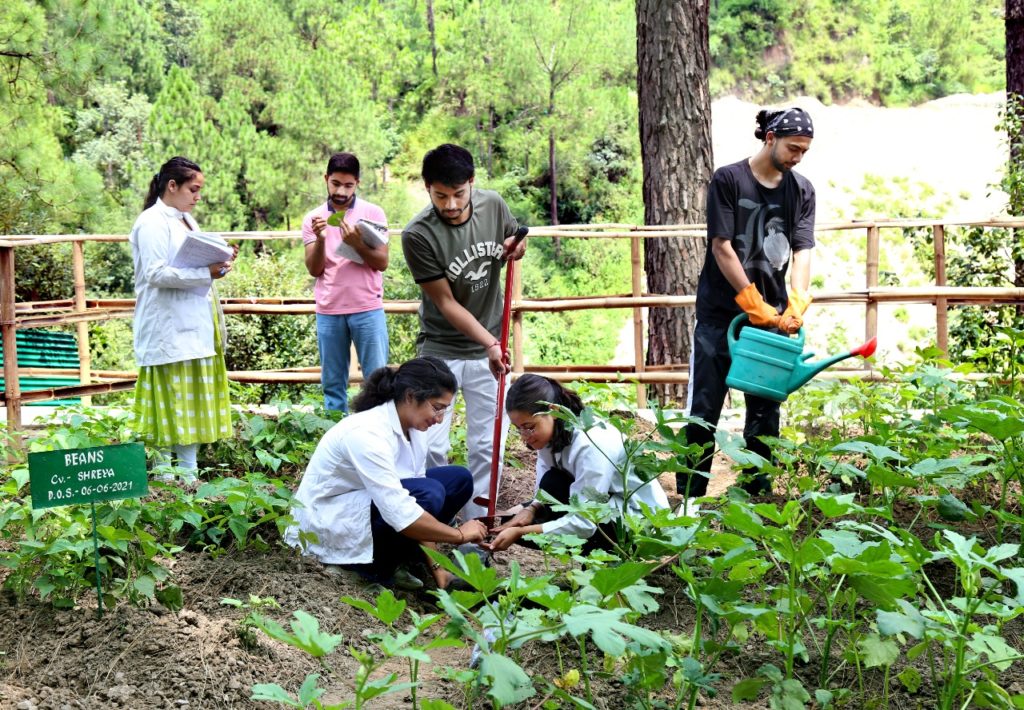 BSc (Hons) Agriculture at Shoolini University is definitely one of the best options to choose for any student who aspires to make a career in the field of agriculture.
The faculty of the Department of Agriculture consists of academicians who have worked in leading agriculture universities in India and abroad. The Dean at the School of Agriculture Dr YS Negi is an alumnus of the University of California and has over 38 years of research experience.
The university also has international collaborations with over 250+ institutions in over 28 countries. Students are encouraged to be a part of international student exchange and over 200+students have visited foreign universities in the past.
Students from the MS Swaminathan School of Agriculture at Shoolini have been placed with leading companies like Nestle, Pepsico, Alchemist, Biogentek etc. to name a few. The university has a 100% placement record and each year increasing number of agriculture firms and companies pick the students from campus placement.
Shoolini has been ranked at number 200 globally by THE Impact Rankings 2022 and has a NIRF rank of 89 among universities. SCIMAGO Rankings for 2022 have placed it at 17th position in research and 35th overall in India. The QS World University rankings 2022 (Asia) place Shoolini in the 1st position in India for Citation and 6th in Asia. It has also been awarded the 13th best private university by ELETS in 2019.
Conclusion
The scope of agriculture industry in India is increasing and with emphasis shifting to organic farming and allied research, the future belongs to those with a professional degree in the field of agriculture. The rapid evolution of technology in agriculture has added a lot of charm to this traditional field.
BSc (Hons) Agriculture is therefore a viable career option to pursue as it lays a strong foundational ground for any student who wants to make a future in this field, be it in the private sector, government establishments, or field of entrepreneurship.