According to the World Health Organisation (WHO), in 2019, around 970 million people (about 1 among every 8 people) lived with a mental disorder. The most common ones were anxiety and depressive disorders. In 2020, because of the COVID-19 pandemic, the number of people with these disorders increased significantly. Anxiety disorders increased by 26% and major depressive disorders by 28% in just a year.
Though there are effective ways to prevent and treat mental disorders, many people don't have access to proper care. They face challenges in getting the help they need. So why not overcome these challenges? The above data proves that the world needs well-educated and qualified psychologists.
As a psychologist, you'll have the power to lend a helping hand, provide a listening ear and wise counsel. It's a journey filled with wonder and fulfilment. Every step you take on this path as a psychologist allows you to make a positive impact on the lives of others. The satisfaction you'll feel when you witness people transforming their lives, overcoming obstacles, and discovering their true potential is beyond measure.
But there is more to this if you want to become a psychologist in India. So keep reading if you want to know the ins and outs of Psychology as a career option. Let's begin!
Introduction to Psychology
Psychology is the scientific study of the mind and behaviour. It explores how people think, feel, and act in different situations. Psychologists seek to understand individual and group behaviour, mental processes, and the factors influencing them.
Role of a Psychologist
The role of psychologists is to apply their knowledge and skills to help people improve their well-being and navigate challenges. They work in various settings, such as schools, hospitals, clinics, businesses, and research institutions. Psychologists use different techniques to assess and diagnose mental health disorders, conduct therapy sessions, and design interventions to promote positive change.
Why pursue Psychology?
Opting for a course in Psychology can be beneficial for several reasons.
Firstly, it offers valuable insights into human behaviour, helping students understand themselves and others better. This knowledge can enhance personal relationships, communication skills, and problem-solving abilities.
Secondly, studying psychology equips students with critical thinking and research skills. They learn to analyse data, evaluate evidence, and draw conclusions. These skills are valuable in a wide range of professions, including business, education, social work, and healthcare.
Thirdly, psychology provides a strong foundation for those interested in pursuing careers in mental health. Students can specialise in clinical psychology, counselling psychology, or neuropsychology to help individuals overcome psychological challenges and improve their quality of life.
Furthermore, Psychology fosters empathy and compassion as students gain a deep understanding of the diverse experiences and perspectives of others. This creates a more inclusive understanding of the society.
Educational journey to becoming a Psychologist
Complete Class 12: Complete your high school education with a minimum of 55% marks in any stream.
Enrol into a Bachelor's course: Enrol into a Bachelor's degree program in Psychology at a recognised university to gain foundational knowledge and understanding of the subject. This is your first step to becoming a psychologist.
Pursue a Master's degree: After completing your Bachelor's degree, pursue a master's degree in Psychology to deepen your knowledge and specialise in a specific area of interest within the field.
PhD: You can also obtain a doctoral degree in Psychology, which involves advanced research and the completion of a doctoral dissertation. This qualification allows you to specialise and work as a Psychologist in various settings, including research, academia, or private practice.
Career options with a Degree in Psychology
Here are some career options you can pursue with a degree in Psychology:
Psychologists study human behaviour and the mind. They assess, diagnose, and treat individuals with mental and emotional disorders. Psychologists use therapeutic techniques to help clients understand and manage their thoughts, emotions, and behaviours.
Psychotherapists work with individuals, couples, or groups to help them overcome mental health challenges and improve their well-being. They utilise different therapeutic approaches to address anxiety, depression, relationship problems, trauma, and other issues.
Social workers support and assist individuals and communities facing social and emotional challenges. They help people access resources and services, advocate for their rights, and provide counselling or therapy in areas like child welfare, healthcare, or substance abuse.
Counselors work with individuals of all ages to address personal, social, or career-related concerns. They provide guidance, support, and counselling to help clients explore their feelings, make decisions, and develop coping strategies.
Educational Psychologists focus on understanding and improving learning and educational processes. They work with students, teachers, and schools to identify and address learning difficulties, design interventions, and promote positive educational environments.
Teacher: With a degree in psychology, you can also pursue a career in teaching. You can become a teacher in primary, secondary, or higher education settings, using your understanding of human behaviour to support students' learning and emotional well-being.
Research Roles: Psychologists can work in research settings, conducting studies to explore various aspects of human behaviour. They contribute to scientific knowledge by designing experiments, collecting and analysing data, and publishing their findings.
Media Roles: Some Psychologists work in the media, using their expertise to provide insights and analysis on human behaviour, mental health, and relationships. They may contribute to writing articles, appearing on television or radio programs, or hosting podcasts.
According to the Bureau of Labor Statistics (BLS), the field of Psychology is expected to experience a growth of 8% in demand from 2020 to 2030. Therefore, graduates with a degree in Psychology can look forward to lucrative careers. Keeping this in mind, choosing a top educational institution that can provide you with substantial growth in your career as a psychology graduate is crucial.
Study Psychology at Shoolini University!
Shoolini University is the No.1 Private University in India (THE World University Rankings 2023), making it a top institution for pursuing different Psychology programs. Located in the foothills of the beautiful Himalayas, Shoolini University is the ideal destination for students who wish to study Psychology. It provides a pleasant environment that gives you peace and builds concentration.
Shoolini University offers numerous courses to students who wish to make a mark in Psychology and forge a career in this dynamic field. They are: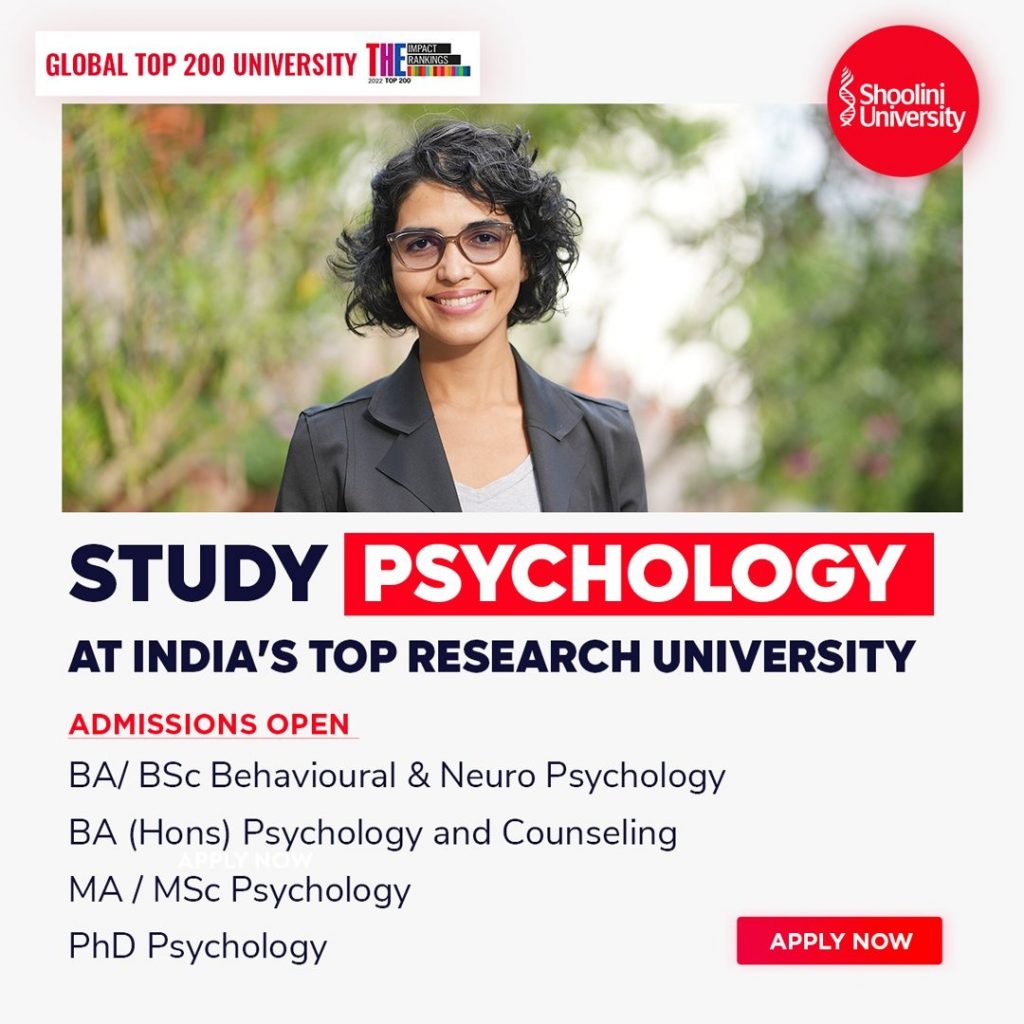 Highlights of pursuing a course in Psychology from Shoolini University
There are numerous opportunities for academic collaborations with universities in various countries, including the USA, UK, Italy, China, South Korea, Turkey, Taiwan, and more. These collaborations involve research projects at both the undergraduate and postgraduate levels.
Undergraduate students are trained to become scientists, equipping them with the necessary skills and knowledge to contribute to research projects.
With access to over 104+ labs, students have an ideal environment to conduct research, fostering an atmosphere of continuous exploration and innovation.
Students learn from internationally famed professors from prestigious institutions such as Oxford University, the National Institutes of Health (NIH), and the Indian Institute of Science (IISc).
Furthermore, Shoolini University offers students of Psychology various opportunities for industry exposure. These include tie-ups with healthcare organisations, internships, fieldwork programs, guest lectures and industry expert talks. This ensures that students receive practical training and are equipped with the latest industry knowledge to prepare them for successful careers. Students also visit various hospitals and healthcare centres in the region to counsel children, parents, etc. Here, they can apply their theoretical knowledge and gain hands-on experience.
Shoolini has an impressive track record of more than 1300 patents so far. Therefore, students interested in research get ample opportunities to solidify their knowledge and skills. The university also follows the One-Student-One-Patent policy, where every student is mentored to file a patent.
Shoolini University also has a dedicated Placement Cell that ensures lucrative placements for students of Psychology. Shoolini aims at 'Mission 130', which means 100% placements with 30% in top organisations.
Conclusion
Psychology is a multifaceted field providing opportunities in diverse industries such as healthcare, industry, education, social services, criminal justice, and legal services. If you are considering a professional career in Psychology, Shoolini University is an excellent choice. By enrolling at Shoolini University, your career in Psychology will reach new heights. Not only will you engage in hands-on research and learn from exceptional faculty, but also study at India's top-ranked institution. Join Shoolini Now!