Life Skills education is a comprehensive term and is used to describe a situation or scenario where an individual acquires basic skills through learning and knowledge. According to World Health Organization (WHO), life skills are A group of psychosocial competencies and interpersonal skills that help people make informed decisions, solve problems, think critically and creatively, communicate effectively, build healthy relationships, empathise with others, and cope with and manage their lives in a healthy and productive manner. Life skills may be directed toward personal actions or actions toward others, as well as toward actions to change the surrounding environment to make it conducive to health.
What is Life Skills Education?
The education landscape has transformed enormously, bringing into its ambit life skills, which have now become an intrinsic part of education. Through Life Skills Education, a person can keep abreast of the fast-paced world and overcome any kind of challenge, meeting lifes demands and solving problems head on. Students live a positive and wholesome life by learning to interpret, organise and conduct activities related to their well-being in a systematic and coordinated way.
Also read: Skills to Become a Successful Entrepreneur
Life skills for students
There are some foundational life skills for students that stand them not only through their student life but also during their career. These life skills can be categorised as:
Self-Management
When students learn to manage themselves, they become team players, at work and in life. This is possible through self-management, which is a vital component of life skill development. With the development of these skills, students are able to resist impulsive behaviour and do what they truly believe in.
Being present
Being on time, attending classes and maintaining a presence during social meetings form a part of life skills activities. In todays time, young adults are connected but are also socially isolated. Maintaining physical, mental and social presence is vital and life skill development focuses in this direction as well.
Maintaining integrity
Doing the right thing, knowing the right thing and selecting the best action even when no one is around is another life skill for students that they need to follow religiously.
Relational Ability
The mood of a person gets boosted when they are in a strong relationship. It is therefore important for young students to know how to make friends and maintain healthy relationships. Being a part of one-to-one relationships, meetings, public speaking, and small groups are some key indicators that fulfill this vital obligation.
Keeping and maintaining social commitments
To maintain healthy relations with others, it is important to be available whenever the situation demands. Maintaining social commitment is also part of life skills education that todays youngsters need to possess. Youngsters get the opportunity to interact and be a part of shared interest groups.
Communication
No meaningful relationship can develop without effective communication. These days, most relations are in the virtual mode and our efforts should be directed in a way that students are able to communicate face to face. For this, discussions, seminars and conversations can be an effective medium.
Toughness
Every student has to go through tough times and some adversity at some point. It is during such times that they need to be tough and resilient and face the emerging scenario with strength. These qualities form a vital part of life skill development.
Hopefulness
A student should always maintain hope and mentors should work in this direction. When hope is stimulated positivity comes in a natural course and makes a person vibrant and lively.
Solution-oriented approach
A solution-oriented approach should always be advocated. When a person is inclined towards looking for a solution, any problem, be it small or big, goes away in course of time. A positive mindset always works wonders.
Life skills coaching at Shoolini
Ranked Indias No.1 Private University in THE Rankings 2023, Shoolini University has come up with VEmpower Coaching which is an engagement program spread across the entire student community, faculty and staff.
This one-of-its-kind program has been approved by the International Coaching Federation and prepares Shoolini students to be future leaders. This program has been designed keeping the ICF Core Competencies in mind. The leadership skills of students are groomed in this VEmpower Coaching program so that they can work on their approach towards people, goals and tasks that they encounter in their present and upcoming life. Through this Future Leaders Program, leadership qualities are instilled in students from an early stage to understand different dimensions of leadership and become true leaders of tomorrow.
Shoolini University is the only one in India that offers ICF approved Credit program. Care has been taken to ensure that all the core competencies of ICF are in adherence to the learning outcomes of NEP which include leadership readiness, creativity, communication skills, critical thinking, and problem-solving skills. A team of globally recognised coaches guide the students during the course.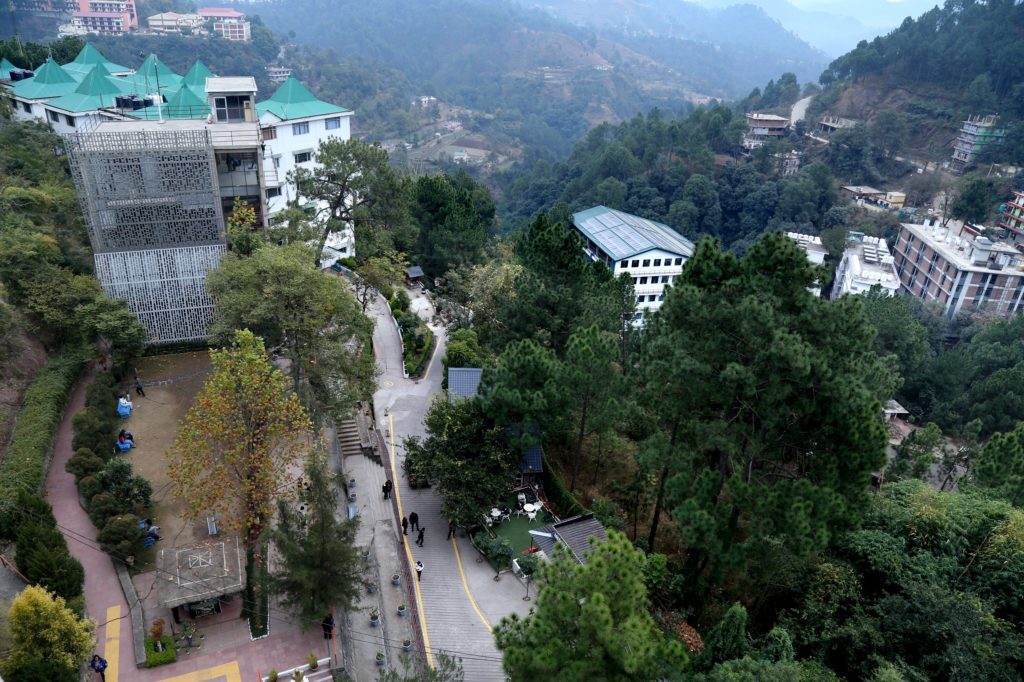 Importance of Life Skills
The environment around us is constantly changing. To meet these new challenges, it is important to be adept at life skills. This will hold young adults in good stead and help them solve everything that life throws at them.
These basic skills help students find new ways to solve problems and recognise the impact of their actions. This enables them to take responsibility. Moreover, life skills education that students get through opportunities like VEmpower Coaching builds their confidence in spoken skills as well as group collaboration and cooperation.
The importance of life skills also lies in the fact that it makes students analyse options, make decisions and understand the implications of these decisions in choices that they make in the classroom and beyond. A greater sense of self-awareness and appreciation for others become evident when life skills activities are carried out sincerely.
Any individual is able to reflect, identify and achieve personal and professional goals in a better manner as they are able to identify their weakness and work on the skill set which is the need of the hour once they realise the true potential of life skill education.
Evident output of life skill education
Under the guidance of trained and experienced coaches at Shoolini life skill coaching, students learn to be a success in everything that they do, starting now. The activities have been designed such that evident output reflects in the day-to-day life of those who choose to undertake this program.
A quality life skills education program leads to increased self-confidence which helps in the development of inner strength. As students progress during any such quality program, their cognitive skills also develop and this reflects in the form of a better ability to focus and clarity of concepts.
Problem analysis and strategic thinking abilities also develop and students are able to visualise a better perspective for their career goals. Effective time management, improved communication skills and a coordinated work-life balance are some other key skills that get honed and polished.
Therefore, it can be concluded that life skill education focuses on the development of key skills like critical thinking, problem-solving and interpersonal skills. Life Skill-based education is nationally and internationally recognised as a methodology to address a range of issues related to youth development and it is high time that Life Skill Education is on our priority list.