Associate Professor Lalit Sharma from the Faculty of Pharmaceutical Sciences made a significant impact at the Alzheimer's Association International Conference 2023 (AAIC) held in Amsterdam with his Alzheimer's research. His work on novel compounds that target amyloid beta aggregation was a central focus at the conference, showing potential for slowing down the progression of this neurodegenerative disease.
The conference attracted over 10,000 participants, including researchers, clinicians, and experts worldwide. Among the many presentations, Associate Professor Sharma's stood out, as he was honoured with a conference fellowship from the Alzheimer's Association.
The Associate Professor's findings on amyloid beta aggregation sparked interest and discussion among his peers. His research was recognised for its innovative approach and potential to impact Alzheimer's disease progression.
His presence at AAIC 2023 brought attention to his work and allowed him to collaborate with other experts in the field. His participation marks a positive step in the ongoing efforts to understand and combat Alzheimer's disease.
Key Highlights of the Conference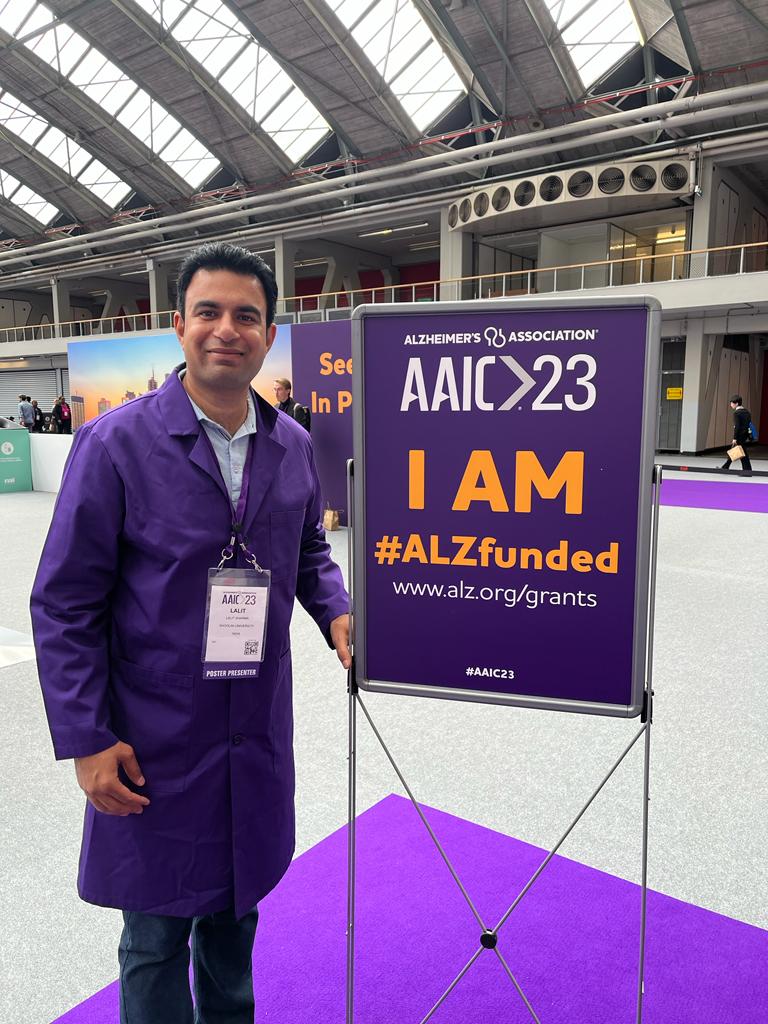 Conversations with renowned researchers from prestigious institutions such as King's College London, Federal University of Rio de Janeiro Brazil, Yonsei University South Korea, and Johns Hopkins University, USA, further enriched his understanding of Alzheimer's research across various cultural and regional contexts.  
His insightful interview with the Korean Alzheimer's Association spotlighted the distinct impact of Alzheimer's disease in India and facilitated a cross-cultural exchange of knowledge and experiences. This dialogue illuminated the complex challenges and promising advancements specific to the region, highlighting the global relevance of his endeavours. 
Learning and Impact 
Reflecting on his experience, Associate Professor Lalit emphasised, "The Alzheimer's Association International Conference 2023 was a life-altering experience that expanded my horizons, connected me with exceptional minds, and fuelled my determination to make a meaningful impact in Alzheimer's research. I eagerly anticipate the ripple effects of the knowledge gained and the connections made as we collectively strive to combat this challenging disease," he said. 
Associate Professor Lalit thanked Shoolini University for fostering an environment that nurtures academic growth and encourages participation in global scientific forums. This experience expanded his academic repertoire and ignited a personal sense of purpose to contribute to the collective effort in combating Alzheimer's disease.