In the ever-changing educational landscape, the focus is no longer merely on knowledge acquisition but on holistic development and purpose-driven education. Shoolini University is at the forefront of this paradigm shift, offering more than just textbook knowledge and exams.
Centered around a philosophy of nurturing purpose-driven individuals, Shoolini University diverges from the traditional one-size-fits-all approach. Instead, it champions the uniqueness of each student, ensuring that they are not only academically accomplished but also well-rounded in essential life skills.
By integrating holistic development into its curriculum, Shoolini University empowers students to thrive in today's dynamic world. Here, purpose-driven education isn't just a catchphrase; it's the cornerstone of an educational experience designed to equip students with both academic excellence and vital life skills.
Let's find out how Shoolini University fosters purpose-driven education. 
Student Empowerment Through Passion Discovery and Mentorship Programs 
At the core of Shoolini University's ethos is the idea that every student has unique talents and unexplored passions. To bring these to the surface, the university offers 'Passion Discovery Programs' or Interdisciplinary Programs. These programs serve as platforms where students can dive into a range of disciplines to find their true calling. In an era where multifaceted thinking is not a luxury but a necessity, Shoolini's interdisciplinary approach enriches students' understanding and provides holistic perspectives on complex global issues.
Marked by inclusivity and openness, these programs are anything but rigid. They allow engineering students to meander through the corridors of music, encourage science buffs to explore the world of liberal arts and provide a stage for arts majors to delve into the wonders of biology. This flexible approach does more than diversify academic learning; it cultivates versatile individuals poised to make meaningful contributions in many fields.
Rounding out this enriching educational experience is Shoolini University's emphasis on mentorship. Through the Mentorship Program, students are empowered to navigate their academic and personal lives through personalised guidance from seasoned professionals and educators. This mentorship element isn't a standalone feature but an integral part of the university's interdisciplinary model, creating a synergistic ecosystem that prepares students for the multi-dimensional challenges they will face in the future.
Crucial Role of Experiential Learning and Skill Enhancement 
Experiential learning is a cornerstone of modern education, bridging the gap between theoretical knowledge and real-world application. Shoolini University takes experiential learning to the next level with its unique offering: Masterclasses by Industry Experts. This forward-thinking approach not only enriches students' understanding of their subjects but also exposes them to invaluable insights from seasoned professionals, preparing them for the challenges of the professional world. 
Skill enhancement is another cornerstone of Shoolini University's educational philosophy. The institution offers a range of skill development courses that go beyond academic subjects. From communication and problem-solving to leadership and management skills, students are equipped with a versatile skill set that prepares them for the complexities of the modern job market.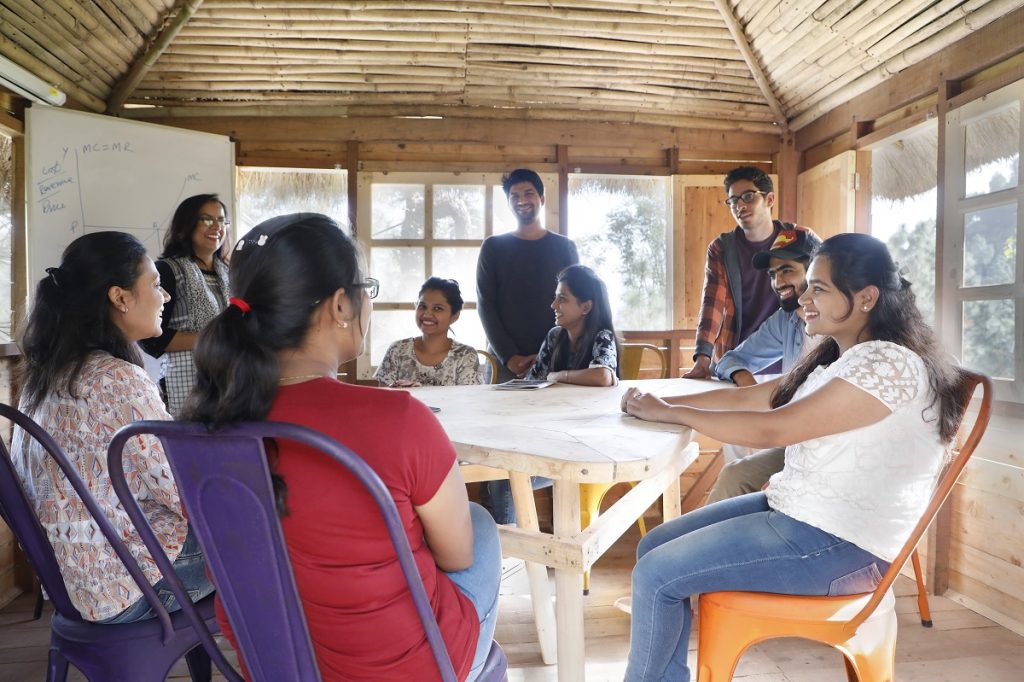 Here are some pioneering skill development programs: 
Skill Progression through Rapid Intensive and Innovative Training (SPRINT): This accelerated development program is held twice a year. It equips students with practical skills, knowledge, and unwavering confidence to excel in the competitive corporate world. Through contemporary and collaborative learning methodologies, SPRINT enhances the overall learning experience, laying a robust foundation for students as they begin their careers. 
Exceed: Drawing inspiration from corporate culture, this program focuses on life coping skills, perseverance, yoga, and meditation, enriching students' personal and professional lives. 
Advance Training Program (ATP): Tailored exclusively for MBA students, this 21-day residential program, fully funded by the university, offers a comprehensive learning experience. This 9am-11pm program explores domain-specific skills vital for success in the contemporary corporate environment. Topics include finance, business processes, retail, marketing, human resources, analytics, and more.
Career Counselling: Career counselling is provided to students to help them make informed choices based on their passions, strengths, and aspirations. This guidance ensures that students are well-prepared for their chosen career paths. The university has a dedicated counselling team that facilitates this process, offering essential information about various career opportunities and global competitiveness.  
To know more, read: Placement Ratio or Skill Development: What is the Focus of Shoolini's Management School?
Enduring importance of life skills in purpose-driven education
Shoolini University strongly emphasises life skills education, recognising that academic prowess alone is insufficient for success in today's world. Life skills, such as critical thinking, communication, time management, and adaptability, are woven into the curriculum. These skills empower students to excel not only in their careers but also in their personal lives. 
Shoolini University's transformative life skill coaching program is called the VEmpower Coaching program. This groundbreaking endeavour permeates the entire academic community, encompassing students, faculty, and staff. Distinguished by its distinctive approach, VEmpower Coaching is approved by the International Coaching Federation. 
This unique program closely follows the ICF Core Competencies, helping to shape Shoolini's students into future leaders. The curriculum focuses strongly on building leadership skills, allowing students to understand and master the skills needed to deal with people, goals, and challenges — now and in the future.
Empowering students to drive sustainable change 
Shoolini University's dedication to sustainable development goals (SDGs) is not merely a statement; it is deeply ingrained in its educational ethos. The university's collaboration with local and global organisations on sustainability initiatives exemplifies its proactive approach. By partnering with social entrepreneurs, employers, and industry leaders, Shoolini University translates theory into practice, generating pragmatic solutions for sustainable development. 
An example of the university's forward-looking stance is the choice-based credit system, which integrates open electives that revolve around one or more SDGs. This pioneering approach ensures that students are not only well-versed in their chosen fields but also equipped with a holistic understanding of global challenges. Through these electives, students are encouraged to explore interdisciplinary connections between subjects and critically analyse the multifaceted aspects of sustainable development. 
A research-driven approach to sustainable solutions 
Shoolini University's commitment to sustainable development is deeply rooted in its research endeavours. The university's research policy emphasises sustainable development of the Himalayan Region, reflecting the institution's concern for local and global environmental challenges. By aligning research projects with this policy, students are encouraged to tackle real-world problems that directly contribute to improving their surroundings.
Integrating sustainable development themes within various programs, including undergraduate, postgraduate, and doctoral courses, is a testament to the university's holistic approach. The combination of academic rigour and practical applicability equips students with the knowledge and skills to drive positive change.
Wrapping up
Recognised as one of the best universities, Shoolini University has redefined academic excellence by embracing the changing landscape of education. With a focus on purpose-driven education and holistic development, the university offers a range of initiatives—from passion discovery and mentorship programs to experiential learning and interdisciplinary approaches—that prepare students for the complexities of a fast-paced world. Looking to the future, the role of purpose-driven education will only grow in significance, and universities like Shoolini will be instrumental in shaping the leaders, innovators, and compassionate individuals of tomorrow.