Nikita Shahi
Author and well-known educationist, Prof Manju Jaidka, who has recently joined the Department of English in Shoolini University, was interviewed by the Shoolini Newsletter reporter. Here are excerpts from the interview:
Whats your educational background and where all have you taught?
I have been to schools in Ambala and Secunderabad, completed my graduation from Government College for Girls at Chandigarh, and obtained Masters and PhD degrees from department of English, Panjab University, Chandigarh. I have been a Postdoc Fulbright fellow at Harvard and Yale, a Rockefeller fellow at Bellagio in Italy and the University of Iowa in the US, and on visiting assignments in several other countries like Canada, UK, Austria, Germany, China, Taiwan, Nepal, Bangladesh, etc.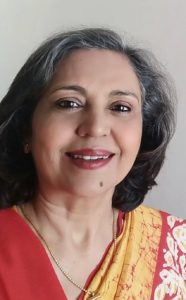 What is your designation and what are your responsibilities in the university?
I have recently joined as Professor of English and at the moment I'm simply teaching, but as I get settled I hope to be more and more involved in the university activities.
Tell us about your experience and what all major organisations are you associated with?
I taught in Panjab University for 44 years, first in an affiliated college and then in the Department of English at PU, but I havent really been stagnating there. As I mentioned, I have had opportunities to travel a lot. I believe in having roots and wings – you are rooted in one particular place but you go to other places and come back. I have travelled regularly across the country and abroad. I subscribe to the ideology of "One World, One Dream" and visualize a fraternity of like-minded intellectuals in a borderless world of ideas. This is what my career has been focused on.
I need to mention here that I since 1998 I have been running an academic association (called MELOW, www.melow.in ) with global linkages and we hold international conferences every year. At any given time our membership crosses 700. We have an international network and remain connected.
There's another international organization that I'm part of and I have served as their Executive Director. This is the International American Studies Association (https://www.facebook.com/InternationalAmericanStudiesAssociation/ https://www.institutofranklin.net/en/events/ix-international-american-studies-association-world-congress-iasa/), the membership of which spans 40 countries. It meets every two years in different continents.
What are your hobbies and interest areas?
I enjoy what I'm doing. Plus I love reading, writing. I'm a creative writer, too, and one of my novels, Scandal Point, has just gone into its third reprint and I brought out my second collection of poems last month. So I look for time and space to write undisturbed.
In the summer season I go swimming regularly. When I need to de-stress I do some old-fashioned doing tailoring; or I go for a walk, listening to music, do a spot of meditation, spend time with friends or with my grand-children, and generally relax.
Why do you think English is so important for career building?
English is very important if you want to get a head start in the world and if you dont want to be the proverbial frog in the well. In India, where each region has a different language, English provides a vital link. It is still the lingua franca whether we like it or not.When we go abroad we need a language with which we can communicate to the people outside. So, if you want to go places you have to learn English.
How can one improve learning and communication in English?
Practice makes one perfect. You just have to read a lot; you have to practice the language, and you have to practice writing. There are no short cuts but at the same time it is not difficult to attain mastery over the language once you resolve to do so.
Why did you choose to work in Shoolini?
Shoolini has a good reputation among private universities. It is considered to be the best in the region. I like the work culture here and the fact that everyone is very enthusiastic and very much hands-on into work. It is like one big, well-knit family. It has everything to satisfy professional appetite. Geographically, the campus is nestled in the midst of nature and not far from Chandigarh, where I belong.
What is your advice for Shoolinians?
I would advise the young students here to make the best of their time in this little haven. Work hard, learn whatever is possible, and then go out into the world to make a name for yourself and to bring laurels to your alma mater. In your journey through life, the skills you garner here will come to your aid, so value your time in Shoolini and use it optimally.
And, yes, remember to hone your communication skills, in particular in the English language. English is essential if you wish to go places. So, work hard, do well, and the world will be at your feet. The universe will conspire to help you fulfill your dreams.