Sparsh Patial
Sakshi Rather, a student of Masters in Food Technology who is on an exchange Programme in Italy, says it is a great learning experience in Italy and her entire perspective towards life and career has changed since she set foot in Italy.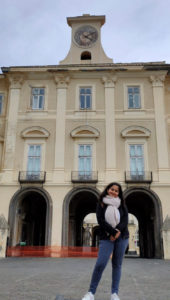 Hailing from Ambala in Haryana, Sakshi said that she has got more clear about what she wants to do in life. And that is to be a Food Scientist so that she can develop new and nutritious food techniques.
She is studying at the University of Naples Federico and she is pursuing a food design course that falls under Food Innovation and Product Design (FIPDES).
She said there was a huge difference between the culture and language of Italy and India. She said there are so many different languages there, like in India, and the eating habits of the people of Italy are quite different as they eat more protein food and every food is made in olive oil.
People over there are more healthy due to their eating habits and physical activity, she added. Sakshi is a vegetarian but said food was never an issue in Italy as all kinds of vegetarian foods are available in that country.
She is an Erasmus student and her Erasmus coordinator is Mrs Paola Lanzzoti and her mentor is Mrs Paola Vitaglione. Her class has students from different countries like Molly (Scotland), Mahtab (Pakistan), Tushaar (India), George (Mexico), Maria (Equador), Hugo (Brazil), Mara (Italy), Jumana (Palestine), Mohammad (Palestine) and Julie (France).
Stating that she has fallen in love with Italy, she said she would recommend all visitors to see places like Pompei, Casperta, Amalfi coast and Sicily. Referring to the system of education in Italy, she said in Italy the focus is on practical knowledge rather than theoretical syllabus.