The study of the biology of microscopic organisms like viruses, bacteria, algae, protozoa, etc., falls under the ambit of Microbiology. This subject has emerged as a bright career prospect, encompassing numerous fields like medical, dental, food science and allied sectors.
India started taking rapid strides in Microbiology in 1962 when Sundara Rao established the Division of Microbiology at IARI in New Delhi. Next, Madhok introduced the practice of using bacterial culture for berseem. This proved to be a revolutionary step in the field.
A career in Microbiology got a further boost in India when the AIDS epidemic gained ground. As a result, the country saw significant research progress under different Microbiology programs during this period. Another major growth in this field came when national programs for tuberculosis emphasised the verification of results of tests conducted to detect drug-resistant TB.
Benefits of Pursuing a Degree in Microbiology
The field of microbiology is flourishing, but it is challenging at the same time. Microbiology programs provide worthy prospects for students who complete different degree programs in this field. The expertise of microbiology scientists is applicable in the fields of biophysics, chemistry and medicine. Students who study microbiology also develop scientific, analytical and problem-solving skills, which are in high demand by employers.
Those with a degree in Microbiology can work in a range of private and government establishments. There is a high demand for trained microbiologists in countries like US, UK, France, Germany and Australia. A range of opportunities also opens up in fields like healthcare, forensic science, environmental organisations, pharmaceuticals and the food & beverage industry, both in India and globally.
Microbiology at Shoolini University
Shoolini University is a leading University in North India in the field of science and technology. This university is located in Kasauli Hills of Solan District in Himachal Pradesh. The university has recently been ranked among the top 200 Universities of the world by the Times Higher Education Impact Rankings 2022. Its two researchers also rank among the top 1% of scientists. This makes it a viable place to pursue a career in an emerging field like Microbiology.
Students who wish to pursue BSc (Hons) Industrial Microbiology at Shoolini University should have a minimum of 55% marks. Admission to this four-year course at Shoolini University is based on the scores of CUCET/NEET/JEE. Students can also appear for Shoolini Universitys multiple-choice entrance examination and subsequent faculty interaction.
The focus of BSc (Hons) Industrial Microbiology is on different kinds of fermentation processes, kinds of equipment used and microbiological processes involved in this exercise. Students in this course gain an insight into the microbiology of different fermented products, microbial quality control and applicable quality schemes prevalent in the food and beverage industry. Isolation, maintenance and handling of industrially relevant microbial cultures in laboratory conditions are also taught during the BSc (Hons) Industrial Microbiology course at Shoolini University.
A student exchange program is also available with different global universities in countries like the USA, China, Italy, Taiwan and South Korea.
For pursuing a BSc (Hons) in Microbiology (Research), students should have a minimum of 60% in 10+2 (PCB/PCM). Admission to this four-year course at Shoolini University is also based on the scores of CUCET/NEET/JEE. Students can also appear for Shoolini Universitys multiple-choice entrance examination and subsequent faculty interaction.
Those who have a passion for research in the field of microbiology will find this course helpful. BSc (Hons) Microbiology (Research) at Shoolini University focuses on microorganisms and their application in research.
Students during this course are encouraged to file patents and publish research papers. This is a research-based exchange program in which students get an opportunity to study in international universities and receive JRF.
The industry-oriented curriculum of BSc (Hons) Microbiology (Research) prepares them to pursue a fulfilling career in microbiology.
BSc Hons MSc Microbiology (5 years Integrated) course is for students with a minimum of 55% marks in 10+2 (PCM/PCB). Admission is based on scores of CUCET/NEET/JEE or Shoolini Universitys MCQ and faculty interaction.
This course is highly beneficial for those wishing to make a Microbiology career in India as it is an integrated program. Moreover, those with an inclination for research in the field of Microbiology can begin early through this course. This program at Shoolini University has been framed as per the New Education Policy guidelines and is a research-intensive postgraduate program.
Students interested in research, industry, or academics will find this integrated program worthwhile to study. They have access to the EBSCO online library, which provides a 24X7 learning experience.
MSc Microbiology (Research)
Students with BSc Microbiology/Biotechnology/Biochemistry/Life Sciences as one of the subjects can consider MSc Microbiology. They should have a minimum of 60% marks at the graduate level. Students are admitted based on Shoolini Universitys multiple-choice entrance examination.
During this degree program, students learn about biological diversity, evolution, pathogenic microbes, DNA and RNA sequencing, etc. International collaboration for students from universities in China, Korea, Italy and USA is also available for MSc Microbiology (Research) students.
Students with an MPhil Microbiology or master's in a related discipline with a minimum of 55% marks are eligible for admission to this program. They get a chance to study advanced aspects related to microorganisms. Students of PhD Microbiology at Shoolini University are motivated to identify research gaps, develop objectives, and develop methodologies that lead to viable solutions to different research areas in microbiology. A PhD Microbiology from Shoolini University is a worthy degree for anyone who wants to pursue a career in teaching and research in this field.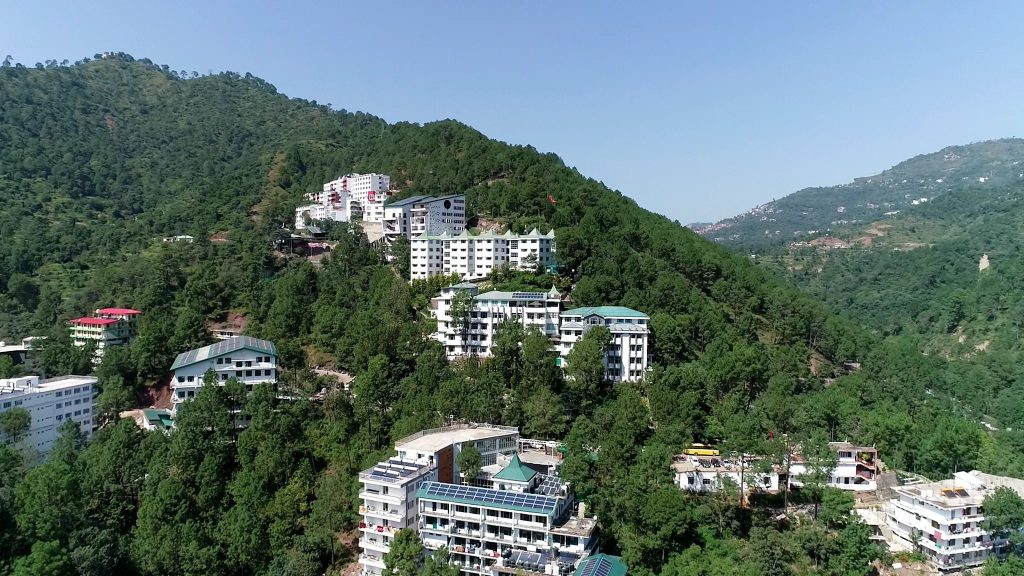 Faculty for Microbiology
Shoolini University has qualified and experienced faculty from premier institutions like Oxford, IISC, IIMs and the National Institution of Health, USA. In addition, the department has qualified professors who teach graduates and postgraduates at the department. The faculty has been working on research areas like exploring microbial biodiversity in the Himalayas, plant-microbe interaction, microclimatic farming in Himachal Pradesh, etc.
Shoolini University is a leading institution in the region, and as per the SCIMAGO Rankings of 2022; it has scored 17th position in research. It has also been ranked 1st in India for Citation by QS World University rankings, making it a great place to pursue any research degree, including different programs in Microbiology.
Institution with a global exposure
Shoolini University has valuable tie-ups with leading universities worldwide. Such international collaborations open student exchange and research opportunities for students pursuing degree programs in Microbiology from the university. Some institutions Shoolini University has collaborated with include Cranfield University UK, Ankara University Turkey, Cankin Karatekin University Turkey, Gachon University, South Korea and the University of Naples in Italy.
Skillset for building your Microbiology career
Students who wish to pursue a career in microbiology should have an analytical and research-based bent of mind. Such students will accomplish great heights in life, both personally and professionally.
Some key skills for a career in Microbiology include:
Analytical Skills
Research Skills
Communication and Leadership Skills
Interpersonal and IT skills
Team-Building Skills
Microbiology careers in India
Microbiology careers in India are pretty lucrative, especially when pursuing a degree from a leading university like Shoolini. This university has a dedicated Placement Cell that ensures the placement of its students in different leading companies which visit the campus every year for student placement.
Students are a part of an intensive skill development program inspired by Stanfords mini MBA. Thanks to such dedicated efforts, students from different microbiology programs at Shoolini University have been placed in leading companies like Nestle, Patanjali, Alchemist, Abbott, Verka and NecLife, to name a few.
Microbiology is a unique career choice that opens up multiple career options for those who pursue a degree at bachelor's, master's or Doctorate levels.
Career opportunities:
Microbiologist
Immunologists
Mycologists
Professors/Lecturers
Clinical Research Scientists
Food Technologist
Medical Technologist
Pharmacologists
Biomedical Scientists
Research Assistant
Scientific Assistant
Forensic Expert
These career opportunities exist in both private and public sector institutions. Students get equal opportunities in teaching, research and sales when they complete any degree in Microbiology.
Employment sectors for Microbiology students:
Pharmaceutical Industry
Research Institutions
College and Universities
Hospitals
Food and Beverage Sector
Environmental Research organisations
Chemical Sector
Microbiology is an interdisciplinary program, and students pursuing this degree have a wide range of opportunities. Opportunities also open up in the research sector for successful candidates. This unique career-oriented program allows students to specialise in key research areas such as virology, microbial physiology, microbial genetics, microbial diversity, pharmaceutical microbiology, etc.
The recent pandemic opened a gateway to innovation for Microbiologists and virologists across India. With new challenges and opportunities emerging in the health sector, it is perhaps the right time to pursue a Microbiology career in India.