PRIYASI PARMAR
Three final semester students of Masters in Business Management of Shoolini University have been selected by leading MNC Hindustan Unilever Limited during the ongoing campus placements drive.
All of them have been offered a placement with a package of Rs 7 to Rs 8 lakh per annum each.
An elated Preeti, who is one of the three to bag the job gave credit to the University and in particular to Dr Kuldeep Rojhe heading the MBA programme for her success.
Asked what helped her in getting the placement, she said my determination helped me to crack this interview because it was a one-time opportunity and I have been preparing for it since last year placements.
Her advice to MBA students: I will only suggest that be focused and work on improving your skills as per your dream job. Companies hire those people who fit in their framework. So, work on yourself accordingly.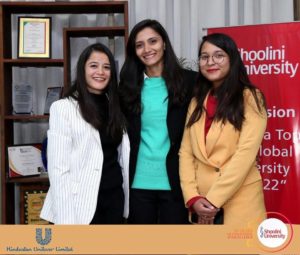 Her classmate and future colleague Sonali said she stayed optimistic during the interview and had a positive attitude.
She said she would like to firstly give credit to my parents. My mother has always motivated me to become independent and self-sufficient in life. Secondly, I want to thank my teachers and our sprint team for shaping my whole personality. Last but not the least I want to give credit to my friend Rohit Soni for his constant efforts. He has always motivated me to work towards achieving my goals.
Asked about her advice for MBA students for great placements, she said she would like to tell them that they should always believe in themselves and should not lose hope. These will be times when situations will be tough but stay strong because sooner or later everything will fall into place and will make sense to you.
The third student Prachi said it was her dedication, consistency, hard work and clear vision to be a part of HUL that made her crack the placement.
She said she would like to give credit to Shoolini University, teachers, family and friends who motivated me at every point of time.
Asked for tips to MBA students looking for placements, she said focus and consistency in working hard is definitely the key to success.