KHYAATI SHARMA
Intellectual Property Rights (IPR) have attained major significance in the modern day world and the 2nd Annual IPR workshop to be held in the campus on March 15 would focus on filing patents and exercising these rights.
The workshop is aimed at creating awareness of IPR and how it can help the students and the faculty for patents searching and drafting. The Chief Guest and Guest of Honour for the workshop are Dr. A Mukhopadhyay, Department of Science and Technology, New Delhi and Mr. D C Rana, Member Secretary, HIMCOSTE respectively.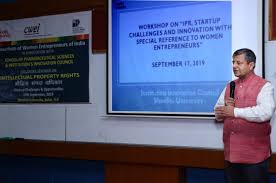 Dr R.S.Paroda, Dr R.C.Mahajan, Dr Mukhopadhyay Ex-Advisor DST and Dr Dinesh Singh, former VC Delhi University have been invited to chair different sessions during the Workshop. Dr Suman Bala Beri has also been invited as a resource person.
Mr. Shashi Dharan, in-charge, HP Patent Information Center, HIMCOSTE will be talking on the topic of overview of IPR with special reference to Geographical Indications. Also, a workshop on Prior Search and Patent Drafting by Mr. Somitra Kumar, Advocate and Patent Attorney, Delhi will be held in the afternoon.
Shoolini University had made its mission clear from the very beginning to be among the top 200 global universities. In the last nine years, it has made rapid strides in establishing appreciable good infrastructure, adequate quality faculty, reasonable teaching curriculum and delivery system, SPRINT for aptitude change and employability of graduates.
In citation research, its findings have outclassed even the ten best Indian Universities as per the NIRF ranking. Nevertheless, there are many gaps at the criteria of different ranking system of global universities. Therefore, it has been decided to organise a workshop vis-?-vis to discuss the methodology of different ranking systems, status of Shoolini University in comparison to different criteria regarding teaching, research, citation, income generation, international outlook, industry-academic outlook, career development of students, etc.