SHAINA CHAUHAN
Pretty Baglat, a student in Master Degree in Computer Science, shares her experience abroad as an exchange student. Pretty, who belongs to Shimla, said she always dreamt to study abroad.
During my graduation itself I started looking for opportunities abroad under the student exchange programme or short term internships. I got this opportunity now and luckily I was selected to study under student exchange programme at University of Naples, Federico II, Italy.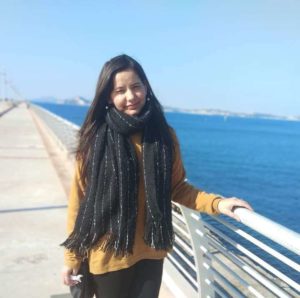 It is the first time that she travelled outside the country and recalls how after landing in Naples, she had mixed emotions of being excited and nervous at the same time. She said it was a total cultural shock and very overwhelming as her dream had come true.
I was awe struck with the first experience in Naples she said and recounted how she felt handicapped due to complete lack of knowledge about the Italian language. Her next shock, or rather surprise, was the typical Italian food i.e Pizza and Pasta and many other dishes about which she had never heard earlier. Streets have open but covered sitting places outside cafe bars, pizzerias and restaurants which is not so common in India.
Asked how that country was different from India, she said the entire atmosphere was different. Almost all European countries, but especially Italy, have preserved their ancient ruins, architectures, museums and other historical places as they were she says but regretted that in India neither the government nor the people make sincere efforts to preserve our ancient historical architectures. Then, first Sunday of every month is free to visit any historical museum or other places, which I have never seen in India.
She described Italy as extremely beautiful, with stunning scenic beauty and a rich tradition of art and culture. Talking about the Education system, Pretty said that, it was very flexible in terms of exams schedule and few hours of lectures in a week which gives enormous amount of time for self-study. Nice, kind and very helpful people around me have made my stay wonderful, she added.
Her faculty in-charge is Professor Ettore Napoli. On being asked about the teaching style she said most professors teach via power-point presentations and each subject has some hours in a week whereas for the rest of the week students can either go for part time job or/and self- study based on their projects and courses. Among the places she has so far visited are Royal Palace of Naples Lungomare/Mergilina, Centro storico, Bagnioli, Castel del Nuovo, Vomero and National archeological museum of Naples.
Among her new friends there are Claudia, Pratibha and others. She said that apart from academics, such cultural exchange programmes make you more independent and self-reliant. These make you learn so many new things, face new challenges in terms of new language barrier and communication.