As human interaction with technology enhances, it becomes difficult to measure the data that gets generated on a daily basis. This data is, however, of immense use from a research and measurement perspective. It is precisely where Data Science comes into play. It helps in collecting, processing and presenting data in a visual format.
The emerging technologies in this field help us shape a better future. Artificial intelligence is one of the core emerging technologies in this area. As reported in studies done by Adobe, 47% of digitally aware organisations have a defined AI strategy. The figure is increasing day by day as research in this area progresses.
Augmented and Virtual reality also plays a vital role when it comes to establishing connections between technology and humans. Studies done by eMarketer show that 42.9 million and 68.7 million people use Virtual Reality and Augmented Reality, respectively.
Automated machine learning and quantum computing are some other emerging trends in the field of Data Science that makes this field interesting and challenging at the same time.
Application of Data Sciences in Different Industries
Data Science finds use in different sectors. A report published by Deloitte Access Economics points out that 76% of businesses plan to invest more in data analytics over the next two years to boost their profits.
Retail Sector
In a study done by IBM, it was found that 62% of retail sector respondents claimed that insights that they got from data science applications and analytics have given them a competitive advantage. Retailers are using data science parameters to create personal and relevant shopping experiences for their customers.
Construction
Construction companies are also embracing data science in a big way. Different aspects like tracking work completion to managing expenses are being catered to with help of Data Science. This has led to better decision-making in the field of construction leading to timely completion of big projects.
Medical Sector
The medical industry has been using data and analytics to improve health parameters in a big way. The use of wearable trackers is a live example. The data compiled from the same is used by physicians to suggest a healthy lifestyle plan to the person.
Communication and Media
This is another sector that makes extensive use of advances made in the field of Data Science. Apps like Spotify use Big Data Analytics to collect and analyse the data of users. On the basis of preferences that its users show, individualised music recommendations are shown to them.
Transportation
Data Science and Analytics are also being used in the transportation sector in a big way now. Apps dealing with the formulation of statistical data to map journeys and provide personalised transportation details have also set in and are changing the way transportation operates in many countries.
Education
Data Science also finds use in the field of Education. The University of Tasmania in Australia has taken up the initiative of incorporating Data Science learning and has developed a management system that tracks students when they log into the system. The overall progress of students is measured as well as teachers' effectiveness. Their teaching performance is mapped with student aspiration, performance and competencies.
Other sectors manufacturing and Natural Resources, Energy and Utilities and Outsource Industry are also witnessing the use and incorporation of different data science elements, adding a new dimension to what Data Science has on offer.
Data Science Career Choices
The evolution in the field of data science has been rapid. From being an analytical and statistic field, it has evolved to a level where big decisions and actions are taken based on the data findings. Of all the skills that data science offers, Artificial Intelligence and Machine Learning are in high demand.
Thus, the field also offers promising career positions to those who successfully complete Bachelor of Data Science or BTech CSE Data Science.
Some of the career positions such students can seek are:
Data Architect and Administrator
Data Engineer
Data Analyst
Data Scientist
Machine Learning Engineer
Statistician and Mathematician
Business Analyst
Marketing Analyst
Clinical Data Managers
For complete knowledge of building a career in Data Science, check out this blog: How to Build a Career in Data Science
How Bachelor's in Data Science Helps Students to Grow Professionally?
Data Science is a field that gives students various lucrative advantages. The career options after completing a bachelor's in data science attract individuals who want to make sense of the world by gathering and interpreting sets of information. Being the high-paying field that has revolutionised almost every aspect of life, it is an ever-evolving field that takes years to gain proficiency. Individuals with a knack for solving problems excel in data science programs.
Bachelor of Data Science is a promising career option and most students get hired by companies like IBM, Amazon, and TCS for the position of data scientist, data analyst, data architect and database manager. Some undergraduate courses that students can opt for a successful career in data science are – BTech CSE and BBA in data science. Depending upon the future career goals a student can take a careful decision of opting for a bachelor's degree between BTech CSE and BBA data science.
Shaping the Career in Data Science at Shoolini University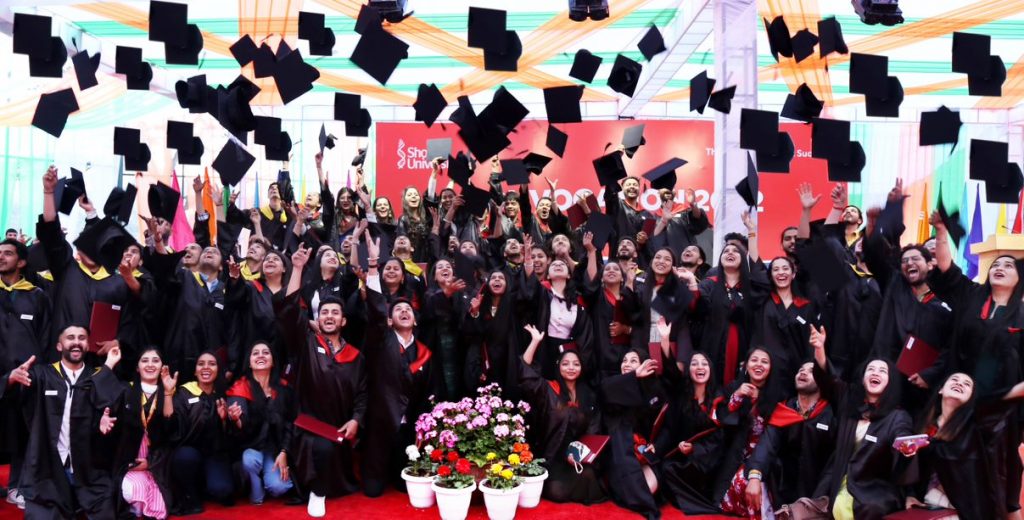 Among the leading options to pursue a Bachelor of Data Science and other higher degree programs in this niche, the name of Shoolini University located in Kasauli Hills is highly renowned. The Engineering programs at this university have been awarded 'Diamond Rating' by ranking agency QS I- Gauge.
Moreover, its collaboration with IBM has given access to the best technology platforms in the sector. The engineering curriculum of Shoolini is also supported by Industry giants like Microsoft and AWS Academy as they provide course material, access to technology platforms and certifications.
A beginning in this emerging field can be made at Shoolini University by enrolling in BTech CSE Data Science or BBA Data Science.
At Shoolini University, BBA in Data Science is a 4-year program that helps candidates with complete analytical skills and business management skills development. It's a perfect start for a career in data science with an enhanced management curriculum at Shoolini. Students pursuing this course at Shoolini University can work as data scientists, analysts, chief technology officers, machine learning engineers, project managers, application architects or statisticians. So, get enrolled for this degree at Shoolini University and get prepared to face all challenges and rise in the global arena.
Students with 10+2 & 60% marks and Mathematics as a compulsory subject can enrol for BTech CSE Data Science at Shoolini University. They will have to clear NEET/JEE/SAT or any other National Level Entrance Test. They can also appear for Shoolini University's multiple-choice entrance examination.
This is a 4-year course where students learn through an in-depth and industry-ready curriculum in Cloud Computing. A benefit of enrolling for the Bachelor in Data Science at Shoolini is that students also get an opportunity to get recognised Amazon Web Services academy certification. Students in this course also get options to enrol for specialisation in Analytics and Database Management.
There are many other Bachelor-level degree programs at Shoolini in this field including BTech CSE, BTech CSE Artificial Intelligence, BTech CSE Cyber Security, BCA Gaming and Graphics, and BSc Game Design and Animation.
After successfully completing Bachelor of Data Science, students can enrol in Master-level courses in this field.
This is a two-year postgraduate degree for those who have completed Bachelor of Technology with 55% marks and want to pursue a career in the field of Data Analytics. Students of MSc Data Science at Shoolini learn innovative analytical practices and their application in different data science fields.
MTech CSE, MCA and MSc Mathematics are some other postgraduate programs that are available at Shoolini University and can be pursued after the BTech CSE Data Science degree.
Computer Science Engineering does not stop at the Master's level and those who have an interest in pursuing research in the field of Data Science can take up PhD Data Science at Shoolini University.
This is one of its kinds of programs that have been framed as per regulations of the National Education Policy (NEP). Students who pursue PhD Data Science get an opportunity to work with industry leaders in the analysis, capturing, sharing and visualisation of a large amount of data.
The university has collaborated with Ikigai Lab and IIT Kanpur and offers quality research options in the field of data science. Guest lectures by global experts in the field of data science are also held regularly at the university.
Research options in areas like Machine Learning, Artificial Intelligence, Natural Learning Processing and Speech Processing are also available for PhD Data Science students.
PhD in other allied fields like AI, Big Data, Cloud Computing Tech, Cyber Security and Data Analytics is also available at Shoolini University.
Students also get 100% placement owing to the dedicated efforts of the Placement Cell and faculty who comes from prestigious institutes like IIT Mumbai, NIT Hamirpur and PEC Chandigarh.
Data Science is a vital part of many industries and deals with large volumes of data with the use of modern tools. Meaningful information collected through data science is used for making business decisions. The incorporation of data science techniques in business is helping companies to forecast their future growth, find out potential problems and work out strategies that ensure success.
Studies done by Glassdoor and Forbes show that the demand for data scientists is likely to rise by 28 per cent by 2026. This makes it a career worth pursuing as it is a field that gives you the opportunity to specialise in any particular aspect of Data Science and carve out a golden future for yourself in the exciting world of data.