Shoolini Newsletter Team
Researchers from Solan-based Shoolini University and the United Kingdom (UK)-based Cranfield University shall collaborate on research and knowledge related activities for green synthesis of nano particles.
This was one of the major outcomes of the two day International Workshop on Advanced Materials for Engineering and Solar Energy Applications held last month. School of Physics and Materials Science and School of Mechanical and Civil Engineering, in association with Cranfield University, Bedfordshire (UK) conducted the workshop.
It was also resolved that dual degree programmes with Shoolini University and Cranfield University will be worked out.
In order to step up research it was decided to seek more funds from the agencies such as The Royal Society, London and The British Council along with Indian funding agencies such as Department of Science and Technology, Department of Biotechnology and other relevant funding agencies.
The convener of the workshop Dr Rajesh Kumar Sharma said that the main objective of this workshop was to reveal the outcome of the project funded by Royal Academy of Engineering, London for helping Shoolini University to embed the developed technology in the curriculum of Engineering, Pharmacy and Sciences and to disseminate the knowledge to the neighboring Universities and Engineering Institutes. He told that delegates from 15 educational Institutions and Industries participated in the international event.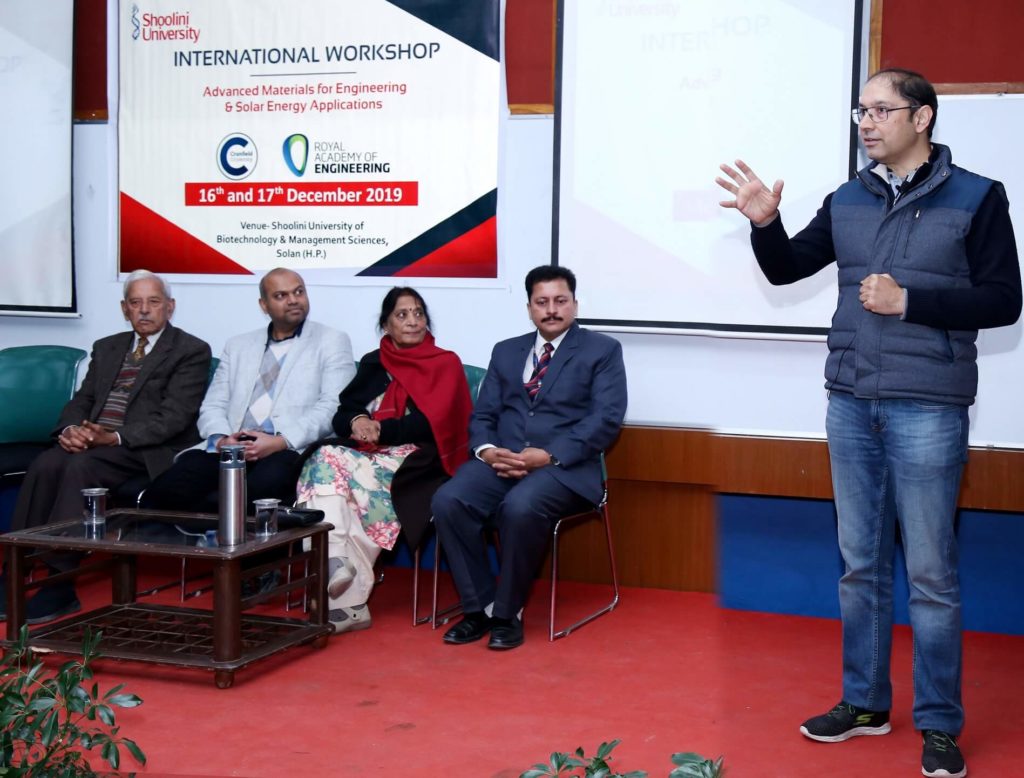 The Vice Chancellor of Shoolini University Prof PK Khosla said that these types of collaborative projects allow the researchers to best use the mutual resources and propagate the research activities at mutual convenience. Shoolini University researchers have already submitted couple of projects with Cranfield University and they are focusing on further projects like UK-India Educational and Research Initiative (UKIERI) and Horizon 2020.
In this workshop, the people from other universities, institutions and industries were engaged so that they can implement the novel academic curriculum practice in their organisations, he added.
The workshop also aimed to understand type and level of expected skill requirements in engineering and pharma students.
To understand futuristic scenario, experts proposed to carry out Focus Group Study with experts from industry, academia and research and to redesign the curriculum for the Indian students in view of present scenario in manufacturing Industry, Dr Sharma said.
It also aimed to expand the use of traditional composite materials for multifunctional applications and to encourage Indian students for registration in M Sc by Research.