Known as the Mushroom City of India, Solan in Himachal Pradesh is synonymous with scenic beauty and a serene landscape. Add to that, there are sprawling green spaces and majestic history. If you are seeking a new place to see in Himachal, you are in the right place.
WELCOME TO SOLAN! Be ready to be surprised by some of the unique attractions of the place.
People who know Himachal Pradesh well will tell you that amongst the best places in the state, Solan is a must-see. So next time you plan a trip to the mountains, Solan merits a spot in your schedule.
Located on the lower edges of the Himalayas, the pretty hill station, hidden in the lap of nature, is dotted with an extensive range of tourist attractions and places of interest. From historical monuments, colonial buildings, and religious sites to amusement parks, nature reserves, and recreational activities, Solan is the ideal background for your next occasion. Take an amazing voyage to Solan and find its excellent scenes and excellent tourist spots.
Here are Some Tourists' Attractions and Places in and Around Solan
I assume you are here because you want to know more about what Solan offers. Credulously, your research is not going to waste. Solan offers places that are really hair-raising. Therefore, planning a trip to this awe-inspiring place is worthwhile. Youll be captivated by the places still under wrap here.

1. Shoolini Mata Temple
2. Shoolini University, Solan
3. Kasauli
4. Nalagarh fort
5. Mohan Shakti Heritage Park
6. Churdhar
7. Menri Monastery
8. Jatoli Shiv Temple, Solan
9. Shopping in Solan
10. Arki
1. Shoolini Mata Temple
The Shoolini Temple lies in the heart of Solan city and is dedicated to Goddess Shoolini. It is one of the oldest and holiest temples in this region. It is built in a vantage point on the Shoolini University campus. One of the revered and bountiful places of the state, the people of Solan lay immense faith in the Mata. People visit this temple to rejuvenate and replenish their souls. It also hosts an annual 3-day fair in the month of June, each year, celebrated with much grandeur and vibrance. The fair marks the sojourn of the ruling deity of the area at her elder sister Goddess Durgas temple located at Ganj Bazaar.
2. Shoolini University, Solan
An outing to Solan will take you to the Best University in Himachal Pradesh, Shoolini University. The University has a vibrant and glorious campus with world-class infrastructure. It is surrounded by pine and deodar forests and has beautiful gardens that depict the geographic wealth of Himachal Pradesh. The undulating hills, lush green foliage at Shoolini gives extreme pleasure to be present at the place. The amazing view around the university is extremely beautiful and awe-inspiring. The five-storied Yogananda Library is an architectural delight and has won several international awards. In fact, Shoolini was awarded one of India's cleanest campuses under the Swachh Bharat Survey conducted by the Government of India. Shoolini is the Top Private University in India with an H-Index of > 75. It is ranked among the 101-150 for universities according to the government of India MHRD NIRF (National Institutional Ranking Framework). They are UGC Approved, and ISO certified.?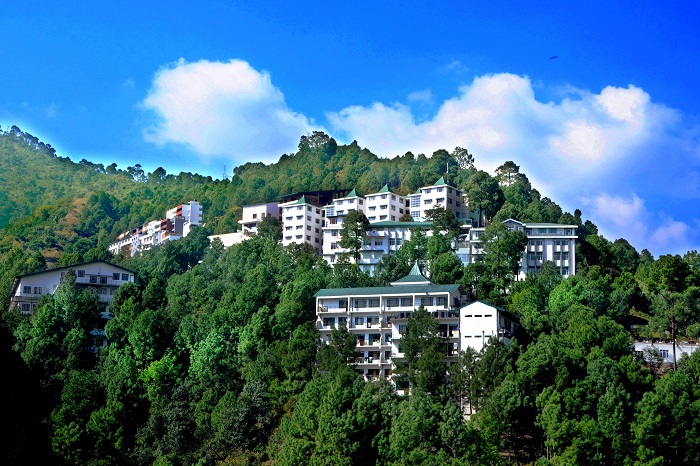 3. Kasauli
Kasauli is a hilly cantonment town in the southwestern part of Himachal in the Solan district and is on the lower edges of the Himalayas. It makes for an ideal peaceful holiday location, especially for a weekend getaway. It is nestled amidst beautiful woody forests of pines and cedar trees. This place is not about particular attractions or activities, but about the beautiful villas to stay in and the serene environment. Kasauli is a cantonment town dotted with lavish Victorian buildings built by the Britishers who resided here years back. Kasauli is also a major attraction for trekkers and campers. The chapel and mall road here says a lot about the magnificent past of this slope station.
4. Nalagarh fort
Nalagarh Fort is one of the most famous heritage hotels situated in Himachal Pradesh. It is located at the top of a hill with well-manicured gardens and a panoramic view of the city below. This majestic structure adorns both Mughal and Indian styles of architecture. Situated in the middle of lush greenery combined with modern amenities, it serves as an ideal getaway for the weekend clubbed with a fantastic view of the Shivalik Hills. The fort has now been converted into a hotel and has a conference hall known as Diwan-E-Khas. Winters with its snow-capped mountains are a perfect time to visit the place and enjoy it with family and friends.
5. Mohan Shakti Heritage Park
Head down to mesmerising Mohan Shakti Heritage Park if you want to explore rich Indian culture. Simply a 30-minute drive from Solan, Mohan Shakti Heritage Park is the ultimate place to visit in Solan. It is North Indias first-historical antiquated legacy park with a central temple structure, with multiple statues of deities and sculptures. The sheer beauty of the place is breathtaking. It is known for its Vedic Science study and education about findings of the Vedas and ancient Indian Culture. Located amid magnificent mountains, Mohan Shakti Heritage Park is an exceptional place and is widely acknowledged as the biggest legacy park in Himachal Pradesh.
6. Churdhar
The captivating Churdhar peak is one of the highest peaks of the Shivalik ranges at a height of 11965 feet (about half the height of Mount Everest). A trip to the mountains is inadequate without a trek. Visit Churdhar for a flawless trekking experience and for a wonderful perspective on a rainbow. A view of the rainbow emerging on the horizon after the rain is a memorable sight, and the sky looks like a huge chandelier. Here, the sky resembles an enormous ceiling fixture. Churdhar, normally known as Churdharni (Bangle of Snow), is blessed with some of the most spectacular and beautiful landscapes in this region.
7. Menri Monastery
Visit the monastery to celebrate calmness, spirituality, and Buddhism in this commercial town of Solan. It is one of the oldest monasteries in India, and one of the most colourful places in Solan. The best time to visit a monastery is New Years Eve, as the day is celebrated with much festivity and colour. In fact, the monastery houses a large statue of Lord Shenrab Mibo.
8. Jatoli Shiv Temple, Solan
If you want to see a grand and spectacular temple, perched on a hilltop then Jatoli Shiv temple is the place to be. Considered Asia's most noteworthy Shiva sanctuary roosted on a ridge, this holy place is another architectural wonder. It is famous for a water tank called 'Jal Kund' which is considered as pious as the holy river Ganga, and the water of this tank is said to have some medicinal qualities that can treat skin diseases. Fables and stories associated with the historical backdrop of Jatoli Shiv Temple are also intriguing.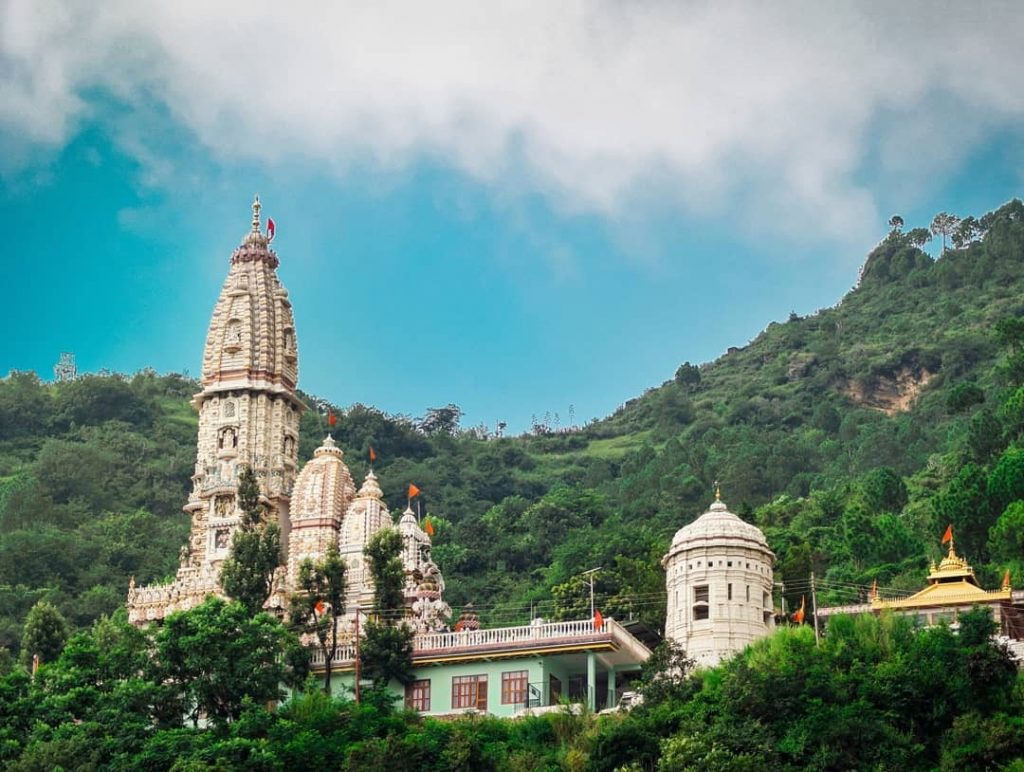 9. Shopping in Solan
Solan has countless options for your shopping spree. You find several malls and shopping complexes here such as the Anand Cineplex Mall, Platinum Mall, and Aesthetics in Solan. There is also the popular Mall Road, Lakkar Bazaar, Upper Bazaar, and Lower Bazaar where one can also find some traditional items. Visit this beautiful place for both captivating scenic beauty and shopping.
10. Arki
About 60 km from Solan is the town of Arki. Take a day trip to Arki and witness its rustic heritage and centres of spirituality and religion. This place offers a unique blend of art, culture, and heritage. Famous for its legendary past, Arki has monuments to highlight the heritage left by the rulers ruling it. Also, visit this place for the beautiful temples which adorn striking architecture. The pleasant climate and beautiful landscape of Arki make this place a favourable tourist destination.
Enjoyed reading the blog? We bet you did! The places in and around the district of Solan are completely capable of providing you with a memorable holiday experience. With ample preparation and the right timing of the vacation, a plethora of options awaits all kinds of travellers looking for places to visit in Solan be it spiritual, adventurous, nature lovers, history fanatics. So, plan a wonderful trip to Himachal right away!