Mansi Gupta

Lemongrass is a wonder plant used for a variety of purposes. However, the long and time-consuming process of Citronella Oil extraction from plants is a major challenge.
This is where Shoolini University researchers Dr Rajesh Kumar and Dr Mamta Sharma stepped in. They came out with a miraculous solution named Rayansh. This miraculous solution is an innovative, solar-based Essential Oil Extractor. Now, it is not only easy to extract the oil, sold at Rs. 6,000 per litre, but the solar-based process will also increase the production of oil manifold.
Solar-based Oil Extractor
Rayansh is economically viable. Hence, it will help small farmers across the country. A patent has been filed for the same as well.
This new technology is for effective, cheap and harmless extraction for secondary metabolites and oil extraction from plants materials, while using solar energy. It is also meant to frame flat plate solar air collectors with packed bed thermal energy storage.
The innovation, says Dr Rajesh Kumar, will have numerous benefits. It will not only save energy but oil can be extracted in less time and it will help reduce carbon emission with the utilisation of solar energy and solar storage system.
Earlier, he said, we used the traditional lab method to extract the essential oil from the lemongrass plant. About 12ml of oil was extracted in 15 hours." Dr Rajesh added that the Soxhlet instrument used in the traditional method requires electricity for its operation.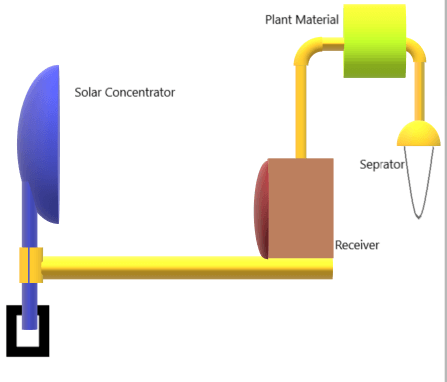 Benefits of the model
Dr Rajesh said that they repeated the same extraction procedure with the solar method. With this method, the results were very encouraging, and the same amount of lemongrass produced 18ml of essential oil in merely 45 minutes.
Another important benefit of the model was its portability. It is convenient for farmers to carry it to their fields. They can place the raw material in the unit and procure essential oil within an hour. Yet another advantage is that farmers can grow lemongrass that will not attract monkeys, as most farmers have stopped the cultivation of other crops due to the monkey menace.
Dr Rajesh Kumar said the new technique would help farmers raise their income more than five times. The manufacturing expenditure on one unit will be approximately Rs 30,000, requiring a one-time investment and zero maintenance. The same unit can be used to extract essential oil from jasmine, lavender, etc.
Researchers have already contacted Him Saur Pvt Ltd, a solar energy-based company for its manufacturing and marketing and hope to get some subsidy on its per-unit sale to farmers.
Benefits of solar-based extractor
Saves energy
Less time consuming
Helps reduce carbon emission
Portalbility boon for farmers
Will help farmers raise income 5 times
One-time investment
Zero maintenance
Lemongrass is used in the treatment of digestive tract spasms, stomachache, high blood pressure, convulsions, pain, vomiting, cough, rheumatism, fever, common cold, and exhaustion. It is also used to kill germs, keep mosquitoes at bay and is also a mild astringent.
Lemongrass: The miracle plant
Treats digestive tract spasms, stomachache, high blood pressure, convulsions, pain, vomiting, cough, rheumatism, fever, common cold, exhaustion, insomnia
Kills germs
Keeps mosquitoes at bay
Vibrant flavouring agent in exotic cuisines
Is a mild astringent
Used in soaps, as insect repellent in sprays, candles, aromatherapy
Lemongrass tea is refreshing, healthy
Whats more, it tastes great, smells great, and when you cut it, the plant grows right back! It is used for the production of Citronella Oil, which is an antiseptic, and used in the production of soaps, as an insect repellent in sprays and candles, and in aromatherapy. Lemongrass is also used for culinary purposes, as a flavouring agent.