Dean-cum-Professor at Faculty of Basic Sciences, Shoolini University, Dr Adesh K Saini is one of the most experienced teachers associated with Shoolini University and deals with the research and scholarships. Dr Saini talked to KHYAATI SHARMA on a wide variety of topics. Here are excerpts from the interview:
How long have you been associated with Shoolini University and what all institutions have you worked with?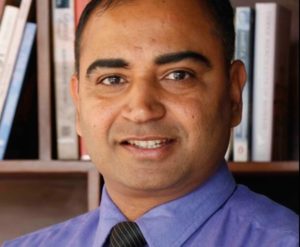 Im with the University since August 2011. I completed M.Sc. Zoology from Kurukshetra University and then I cleared the NET JRF exam after which I joined IGIB in Delhi for research. Subsequently I completed my PhD. from University of Delhi and thereafter I joined NIH for Post Doctorate. I was there for five years during which I also worked with John Hawkins Medical School. Then, I joined Shoolini University as an Assistant Professor in Biotechnology.
How was working with Shoolini different from other educational institutions?
I think it is pretty much the same but the kind of work which I do here revolves around genetics and hence I feel much comfortable here. I also get funding from Government of India and hence I have four projects currently with me.
What opportunities are there for Shoolini to operate on the global stage in terms of research ?
Shoolini is located in the Himalayan region which is the biggest benefit we have. We can use Himalayas as a resource. There are many challenges Himalayas are facing right now starting from socio economic and health related issues. In a way I would say, Himalayas give you topics of research. For example the cancer Biologists have the material and the plants that cure cancer here. Shoolini has another advantage that it is an institution where cross thinking takes place. The different schools work together which is a great thing.
What are the issues or concerns in conducting research?
There are certain challenges and issues that deal with research. The most important aspect for any institution is to have the right faculty which I think, Shoolini has it all. We have great faculty from diverse fields. Coming back to the issues dealing with research, the biggest challenge is funding. Irrespective of any size of the lab, the issue is that if your lab does not have funds you will lag behind. Government of India is very fair and generous in giving proper funding to every situation based on their research capabilities. Innovation is the other major challenge in research. You cannot work on the topic or question that is already been chosen by somebody else. Also, labs are run by funding as well as great students. Developing research ethics in a student is very important.
What are the steps involved in Research Process? How can a student proceed with the idea of research in the university?
For a researcher, based on their interest and training, he or she needs to develop questions and then eventually find out what he or she can work on. Show the first steps by asking the right questions and then eventually designing the correct experiment for answering the question and then also looking to how the world is answering the question. And at last, the conclusion you draw from your research is very important as well.
What are the types of research?
There are different kinds of research. One is the descriptive science where you observe things different phenomenon and try to describe them. Then there is research to discover in which you come forward with some inductive idea. Similarly, some resources are hypothetically driven. Also, there are other kinds of researches which engineers do where they try to solve the real world problems. In Shoolini, all these four kinds of research are doing really great.
What experiences does a student get during his/her academic career that will benefit them for a career in research and development?
As a career, research is passion driven. I would like to quote one of my Post Doc superiors lines that resources are already difficult and unless and until you are driven with passion, it will become more complicated. So, my advice to every student is that that he or she should be passion-driven and once you enter this field, then skys the limit. Failing is also an important part of research as when you fail, you also develop as a researcher. Research is not merely early experimenting – rather it is solving the problems of the mankind.
What does leadership mean to you? What are your views on making a strong team?
For me, leadership means making the team happy, full stop. If your time is focused and you are heading in the right path, then you are developing is a leader. If your team is not inspired to work with you, then you fail as a leader. And a leader should grant specific goals to every team member which they should work on.
What is your message to the students?
Student should find a good leader for themselves whose interests match theirs. Write interpretation and being honest with the results are very important for students. It is really alright to fail; it will develop you as a good person.